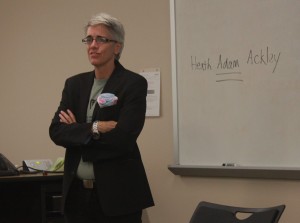 The story of H. Adam Ackley has caught a significant amount of media attention in recent weeks, as noted over at Theoblogy, and at greater length at the Religion News Service website.  In short,
A California Christian university has asked a professor who was once its chair of theology and philosophy to leave after he came out as transgender.  Heather Clements taught theology at Azusa Pacific University for 15 years, but this past year, he began referring to himself as H. Adam Ackley. "This year has been a transition from being a mentally ill woman to being a sane, transgendered man," he said.
My friend Carrie Marjorie Peirce has taught in the department of global studies and sociology at APU for many years, and in the time I have known her it has been as a fierce defender of human rights and dignity for all members of the human community.  What follows originated as a Facebook post for friends, and as I read Carrie's thoughts, I was struck by her remarkable ability to synthesize the issues, stand in the middle of complexity, and focus on what it means to be community.  With permission and a few edits, here is what she says:
I know my response to the way Azusa Pacific University has been working with HeathAdam Ackley as a transgendered person is one about which many of my students and colleagues will be disappointed. However, I am very pleased with the hospitality, love and respect the Dean of Theology and the "Powers That Be" have shown during this difficult period in HeathAdam's life within the very messy context for the life of our university community.
There is no doubt in my mind that the university will accept transgendered students with unconditional love and acceptance. But, faculty have a different obligation to our community which includes keeping those in administrative capacities both in Theology and the larger academic administration, informed of this kind of extremely significant and very acceptable changes in someone's life–especially those who are transgendered.
As a faculty member, I am paid by the university who is supported by donors who are more conservative in their ideas about sexual and gender identity in a way that is in contradiction to their commitments to Christ's love; but we must respect their perspective as well as affirm HeathAdam's transition–while at the same time we rejoice in his freedom to finally be the person he was always meant to be.

My understanding is that no one was fired but that all parties came to a mutual understanding that the best plan of action would be to part ways and the university would provide for the faculty member until the end of this academic year.
Social media and the press are having a field day with this– sensationalizing and really missing the true nature and intent of the larger APU community. My hope is that Azusa Pacific University will be characterized as a community who is trying to live and negotiate hospitality within very difficult circumstances. If anyone–students, faculty, staff has problems with the way the situation was handled than we have the responsibility to walk out in protest and forfeit the salary the university pays us. That is the kind of protest that would authentically reflect our perspective on this situation and HeathAdam's transition.
To be clear, we are all complicit in ignoring our commitment to living the life Christ calls us to. And we are all responsible for responding in love and with hospitality to all–even those with whom we may disagree.  COMMUNITY IS ALWAYS THE PLACE WHERE SOMEONE WE DO NOT WANT TO INCLUDE LIVES WHERE WE LIVE–that is inherent in the content of any community.
It is easy to offer hospitality to those who think like we do. It is a challenge to extend hospitality to those with whom we vehemently disagree.
Given APU's culture and the expectations that are made abundantly clear when we become part of the university–particularly as it relates to faculty and staff–it is only natural for there to be a range of responses to this situation. Attempting to be hospitable is by it's very nature fluid–always changing as we grow in our understanding of difference and the qualities of a hospitable community.
http://www.youtube.com/watch?v=r2mOadjo9TY
Sometimes we must make decisions that protect all members of our university community. Indeed, it is not HeathAdam's desire to be who he really is, who he has been all his life, that is transgressive.  He has found the freedom to make a courageous choice.  He is finally who God made him to be.  It is our inability to be truly hospitable that is transgressive.  But, just as I refuse to judge HeathAdam for choosing sanity over mental illness, I will not judge the university for making decisions that protect the financial solvency of our institution.  After all, I continue to take a paycheck which makes me absolutely complicit with the University's decisions.
In my perfect world, all of this would have played out differently: the University would be throwing open their arms to draw all into the community despite their struggles or their desire to transition from one gender to the other. But we do not live in a perfect world, so, like with so many other difficulties in our lives, we must muddle through this with a sincerity and authenticity that is in line with the Christ of Matthew 25, at the same time knowing that this is a paradox without resolution.
Having said all this, I hope those who disagree with me, or are disappointed with my response, will trust in the person you have known me to be.  I hope I have proven myself to be someone who desires to speak for the marginalized and oppressed.  I hope you will reflect on what I believe about love, hospitality, and inclusiveness.
The entire APU community: students, faculty, staff, administrators and donors have failed to take the risk necessary for including–unconditionally–HeathAdam and for loving him the way we are called to love as Christians. But we continue to try to do our very best to love and open our hearts, houses and minds to all who challenge our view of how the world should work–or how we think it works.
I hope we can work all of this through together as members of a flawed community who never seem to put "God First"–but every day we continue to try–and I have faith in our trying!
For more of my own posts on trans* issues and theology, click here and here.