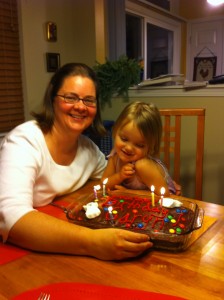 October seems to be full of things of which you should be aware, only one of which is my birthday today.  Here are a few others that you should check out:
Hispanic Heritage Month (September 15 – October 15):  Have you been watching Latino Americans on PBS?  Check it out … I have it DVR'd.  Then, read why Latina Feminista has a problem with Hispanic Heritage Month.
LGBT History Month:  Yes, there is a history and no, you might not know much about it.  Read here about why Gay Straight Alliances in schools are essential tools for establishing safe spaces for kids, and read my post here about President Obama's linking the struggle for gay rights with struggles in U.S. history for women's rights and African American civil rights.
Breast Cancer Awareness Month:  I'm more than a little averse to pinkwashing and ribbon-mania, so my colleague and I are organizing a HairRaiser (raising hair instead of raising funds!) to donate our hair to Beautiful Lengths, a partnership between the American Cancer Society and Pantene to make wigs for women surviving cancer.  I'll post more about that later in the month after I have some groovy before and after pics.
Domestic Violence Awareness Month
:  If you haven't seen it, I recommend that you get your hands on the powerful documentary
Every F—ing Day of My Life
.  The brutal title comes from Wendy Maldonado's response when, upon calling 911 after killing her husband, she was asked by the dispatcher if her husband had hurt her.  It's about survival, desperation, and a complicated justice system.
I'll let you decide what to do about Squirrel Appreciation Month, and National Stamp Collecting Month.
The denomination of which I am a member, the Evangelical Lutheran Church in America just formally installed its first female presiding bishop on Saturday, October 5, about whom I wrote here.
And just because they're awesome, read about how these Lakota grandmothers captured the neo-Nazi flag when some racist pigs descended on Leith, North Dakota.
Enjoy my birthday!
(The picture above of me and a young friend is from a birthday celebration a few years ago … including a chocolate cake with M&M's and ghost peeps!)