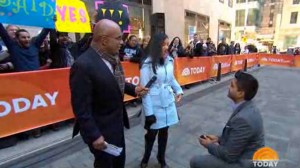 A whole lot of people read my post last month in response to Simone Jhingoor's on-air proposal. Even Yahoo! picked it up. On Friday, Jhingoor wrote a great piece over at The Aerogram reflecting on the media frenzy that ensued her Today Show moment, and how it affected her experience of getting engaged.
In particular, she appropriately called me out for my snarky title, and said:
After reading the pieces, including all of the comments from people engaging in the conversation, I was angry and hurt. At the same time, I tried to stay present and celebrate with my now fiancé and our family and friends who shared in our joy. …

I find it necessary to call out how traumatic the experience was for me, especially with it happening simultaneously with such a special occasion in my life. It is also important to point out that myths and cultural biases were being projected onto me by many women; specifically, these bloggers projected narratives about what womanhood means to them. This included how one "should" react to a marriage proposal according to what has been deemed appropriate by the wedding industrial complex: jumping up and down, kissing and hugging, screaming out loud and crying.

Sorry, folks, but this is not who I am: I am proud to be a calm, centered woman who is a feminist and social justice activist deeply rooted in my spiritual and cultural traditions.

I embody a very unique history and experience as an Indo-Caribbean woman of South Asian ancestry. I honor my ancestors who came before me, who endured the oppressive colonial system of Indentureship, and fought against their culture being stripped away by self-determining their own destiny. I value the strength of my story and proudly speak it because I follow in their footsteps daily and that is what shapes my stance in the world as a woman. …

I am thankful for the possibilities that have been presented to me through my happy moment gone viral including the many opportunities to speak about my work with the Women's Housing and Economic Development Corporation, my place of employment, and Jahajee Sisters, an organization that I co-founded.

I am choosing to share my own voice as a woman of color and as an Indo-Caribbean feminist, to affirm my own agency and experience.
I am very glad that she did, and responded to Jhingoor on Twitter thusly:
And for a great and funny re-proposal, check out Simone & Chirag on Totally Biased with W. Kamau Bell here:
http://www.youtube.com/watch?v=SelKS1NfH38