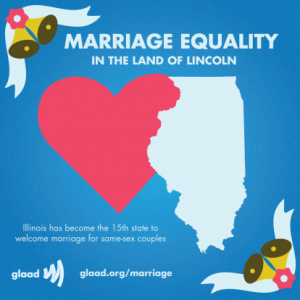 Despite the efforts of the leaders of intolerance, Governor Pat Quinn signs marriage equality into Illinois law today:
A huge crowd is expected Wednesday at the University of Illinois at Chicago to watch history unfold. After years of struggle and many false starts, Gov. Pat Quinn will sign Illinois' same-sex marriage bill with great fanfare.

At the same time, not to be outdone, a rogue bishop in Springfield will preside over a prayer service of "supplication and exorcism." Bishop Thomas Paprocki, bishop of the Catholic Diocese of Springfield, said last week that same-sex marriage is a union that "comes from the devil and should be condemned as such."

Human nature compels us to crane our necks at the car wreck in Springfield.

But please, the real action will be in Chicago.
I plan on celebrating this milestone today, despite the fact that Springfield is geographically closer to me and the bishop's actions continue to command our local attention. I've had the unfortunate opportunity to write about Bishop Paprocki several times in the past year:
In Vote Wrong and Go to Hell?, I talked about his attempt at exercising political influence over voters by telling them that to vote for a Democrat is to put their eternal souls in jeopardy.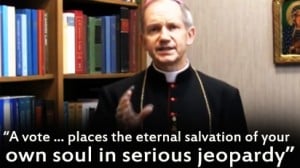 In Political Bishops, I contrasted Paprocki with Episcopal Bishop Gene Robinson, pointing out that churches and religious leaders have options when confronted with cultural change and political conflict: They can affirm love and human dignity, or they can exclude and threaten people with damnation. Conducting prayers of exorcism is just the logical next step I suppose.
And the piece I shared on the worth of college subtitled Justice, Opportunity, and the Practice of Freedom was originally an address I gave at an alternate baccalaureate service on my campus. It was an alternate to the official baccalaureate across the quad where Bishop Paprocki was speaking simultaneously.
Yesterday, Reverend Lynn Bohlmann, pastor of the Jacksonville Congregational Church, wrote a piece in our local newspaper "to offer another perspective" to that of the local Catholic Bishop who commands so many headlines:
Christians and Christian faith traditions affirm that people, all people, are made in the image of God (Genesis 1:26). Most Christians and Christian faith traditions believe that "all people" includes people who are heterosexual as well as people who self-identify as gay, lesbian, bisexual or transgendered.

People who identify as Christian strive to follow the path of Jesus. Jesus was all about inclusion of all people, scandalizing many religious authorities of his day. Some of his most outrageous acts involved eating with "tax-collectors and sinners." He was reputed to have associates who were prostitutes. The stories of his healings included people who were Gentiles, women, and people who were ritualistically "unclean." Why? Because God's love and God's reign included everyone.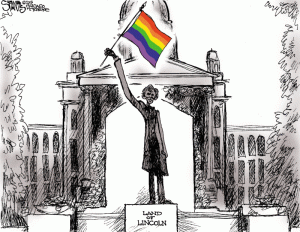 She also refers to the recent march in Springfield supporting passage of this bill, pointing out that:
Our United Church of Christ congregation, as well as other UCC, Presbyterian, Lutheran, Methodist, Episcopal and Unitarian congregations, were present at the recent March on Springfield. I was thanked by some in the crowd who were encouraged and surprised by visible support from the Christian churches. …

But our groups from various churches weren't the only ones who assembled in support of marriage equality. There were at least two banners professing both their Catholic faith and their support. One organization was Catholics for Marriage Equality. The other, a loose collection of mothers and fathers, under a large handmade sign saying Catholic moms and dads supporting their gay and lesbian children.

Isn't that love of God and love of family what it's all about?
Of course it is. Because of this, I also think that the Chicago Sun-Times editorial got it right when they concluded:
It's always a good day when our elected officials get their marching orders from their consciences and their constituents, not from their religious leaders — be they Catholic, Muslim, Jewish or otherwise.
Cartoon via.