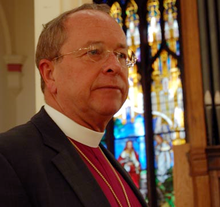 Earlier this week I wrote about and shared the video of the Bishop of the Episcopal Diocese of New Hampshire, Gene Robinson, on The Daily Show promoting his new book God Believes in Love.
Earlier this fall, I wrote about the Catholic Bishop of the Diocese of Springfield, Illinois, Thomas Paprocki, and his charged political statements that voting for Democrats would place a the eternal salvation of Catholic souls in jeopardy. (And since Obama won the Catholic vote, that strategy didn't work out so well for the bishop.)
These two church leaders provide two examples of options that churches have when culture changes and political conflict emerges.
1: Affirm the humanity and love in families of many shapes and sizes.
2: Threaten with damnation anyone who does just that.
So, which model is proving more effective as we close out this contentious election season?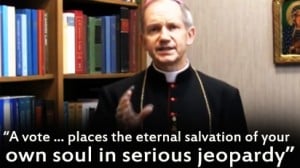 First, some good news that was an underreported footnote to the unprecedented attempts of Catholic bishops to influence federal healthcare law and lay members' votes during the last year: Most Catholic laypeople don't agree with their bishops on these issues.
Just before the November 2012 election, Catholics for Choice released results of a recent survey:
[A] new poll of 1,000 self-identified Catholic likely voters shows that, despite the best efforts of the bishops, they are least concerned about abortion and gay marriage. Catholic voters are most concerned about jobs, public education and healthcare.

Amidst growing concerns about Catholic priests and bishops using the pulpit and church resources to tell Catholics how to vote, a large majority does not feel a religious obligation to listen to them. More than four out of five Catholic voters (83 percent) feel no obligation to vote the way bishops recommend and three-quarters of Catholic voters (76 percent) do not believe Catholic politicians are obligated to vote the way bishops desire.

"As we prepare to vote in this election, we have witnessed a concerted effort by the US bishops to convince Catholics that some issues are more important than others," said Jon O'Brien, president of Catholics for Choice. "The Fortnight for Freedom was just one part of their campaign. Some bishops and priests have been less subtle, giving explicit voting advice to congregants. In short, the bishops are trying to bully Catholics to vote in a certain way. This poll shows that the bishops' efforts have been a spectacular failure. Catholics reject this type of politicking from the pulpit and refuse to be cowed by their religious leaders. Just like other Americans, Catholics care most about the bread and butter issues that affect our families when we consider the political decisions to be made come November 6."
And, as many of us have written about, social issues like abortion and gay marriage are at their core for so many people, bread and butter economic issues.
Second, Lourdes Rodriguez-Nogues, president of DignityUSA, the national organization advocating for the dignity and equality of LGBT Catholics, wrote more recently: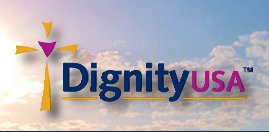 As a nation we have just gone through a time where classism, sexism, racism, and homophobia appeared to be themes of political ads, political pundits, and even political candidates. Polarization and personal attacks became headlines of the day. It was scary and disappointing to say the least. At the end of the day, however, fairness and equality won: The people of this country said NO to all forms of discrimination, in favor of continuing to build a society where more are included.

My heart is so full of gratitude for the choices we have made as a country. For us as a LGBT community, the gains have been unprecedented. That four states have chosen to be on the side of marriage equality is pretty amazing. Let us be reminded that it was the stand taken by people of faith that made a difference. Two Catholic governors, in Maryland and in Washington, led the fight and stood up for equality, not in spite of their Catholic faith, but precisely because of it. Catholics of all sexual orientations in Maine and Minnesota, rooted in their faith and commitment to their Gospel values, stood up and rejected the bishops' mandate to oppose gay marriage.
Some people rightly ask:
"If you don't agree with what the leaders of your church are saying, why are you identifying with that church?"
That is a question with which the Catholic church will continue its own internal wrestling, but relates to a larger question of what you do as an individual when you are part of an institution whose leaders you don't always agree with.
You can leave.
You can speak up.
You can work for change within that institution.
You can make a stronger case for a better way of thinking and acting.
Each person chooses and acts according to her or his own strengths and abilities. In concert, these are, in fact, the only ways that real and lasting change has ever been effected in law, in religion, in educational institutions, and in local communities.
And it will continue to be so.
Exhibit A: Students on my campus currently have a petition over at Change.org, asking the college administration to rescind the invitation for Bishop Thomas Paprocki, mentioned above, to speak at their baccalaureate service this May.