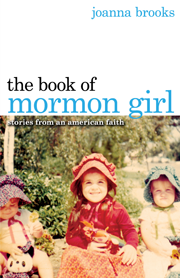 Students in my first year seminar read a series of religious autobiographies this fall, including Joanna Brooks' The Book of Mormon Girl. I've written a bit about the book previously here and here, and shared a bit about Mormon feminist activism here.
On the last day of our discussion of the book last month, I invited students to write out a few tweetable questions that I sent on to @askmormongirl, and here are her kind responses:
For another Twitterview from another class earlier this semester, check out
this chat
with Sarah Sentilles.
And, stay tuned!