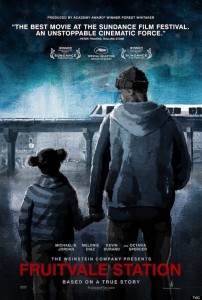 The two movies I wrote about here last year, Fruitvale Station and The Butler, were inexplicably shut out of the Academy Award nominations this year.  The Butler has received some nominations and acknowledgement by other awarding organizations like the Screen Actors Guild, and Michael B. Jordan has received much critical praise for his performance in Fruitvale Station.
But the black man nominated for a lead acting Oscar played a slave.
To be sure, Chiwetel Ejiofor's performance in 12 Years a Slave is powerful and Oscar-worthy.  The film itself is a beautiful portrait of human tragedy and systemic evil, if such a thing is possible.  Under Steve McQueen's Oscar-nominated direction, it seems to be.  Lupita Nyongo's Oscar-nominated portrayal of Patsy stays with you after Ejiofor's Solomon Northup leaves her crying out in the middle of the road as he is transported back to freedom.  The concluding scene at Northup's home leaves us with the image of traumatized man trying to find his way back to his family and some semblance of civilization.
It is a remarkable story, and worthy of every accolade it receives.
I'm not the only one who wonders:  Will the Academy and the movie-viewing public ever REALLY make room for non-slave roles for black men and women?  Can't we award and shower them with praise in the same way?  Incidentally (or not), behind the camera, Steve McQueen is only the third black man ever nominated for best director (after John Singleton for 1991's Boyz in the Hood and Lee Daniels for 2009's Precious).
The movies I wrote about last year are just two examples of complex, human, and true stories of black men that aren't heard and acknowledged enough.  Oscar Grant was a young man on the cusp of figuring out fatherhood and his own future, gunned down for no good reason.  Michael B. Jordan plays the role with a sweet fierceness that has to be seen.  He's not perfect, no hero this young man, and in many ways eminently relatable for anyone who has tried to find their way in a world that seems to be working against them at every turn.  As his mother, Octavia Spencer is heartbreaking.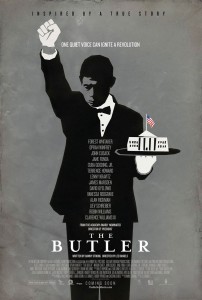 Forest Whitaker played Cecil Gaines in a story inspired by the life of
Eugene Allen
, who worked for 34 transformative years as butler at the White House.  While many people found the historical scope of his story to be the draw of the film, I thought that the fractious relationship between him and his son, especially the generational gap between them and their forms of black political activism, the most compelling.  The moment that this hard working father has a consciousness-raising moment related to U.S. support for apartheid near the end of the film was one of the best things on screen all year.
I haven't yet seen Mandela and Idris Elba's performance of the recently deceased South African activist-turned-president.  There too, on screen, is a black male character who has some measure of triumph despite his own flaws that the Academy failed to recognize.
Some critics suggest that the Academy makes room for one "black film" in any given year.  This year it was 12 Years A Slave.  At the risk of oversimplifying things, I've come to the conclusion that the reason it wasn't Fruitvale Station, The Butler, or even Mandela is that those films portray black men as something other than slaves.  Yes, Solomon Northup wasn't only a slave.  No enslaved person ever was "only" a slave.  But the hours we spend with him in the theater are in captivity, subject to torture and humiliation.  It's also worth noting that the other black man nominated for an acting Oscar this year (in a supporting role) is Barkhad Abdi, who plays a Somali pirate in Captain Phillips.
Black men on screen.  Slaves and pirates.
The Academy isn't really lifting up complex portrayals of black fatherhood or black politics across the generations or black men whose deaths implicate white racist policing tactics.  This in effect keeps black men in big screen roles that white powerbrokers understand.
We can do better.