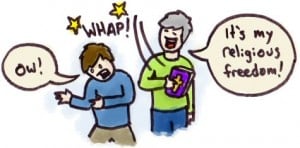 On March 25, the Supreme Court will hear two cases in which the argument will be made that your boss's beliefs should determine your access to healthcare.
Sounds preposterous, right?
And yet, that's what the lawyers for Hobby Lobby and Conestoga Wood will argue. That a boss' religious freedom trumps an employee's religious freedom. That scientific recommendations about the overwhelming health benefit of women's access to low- or no-cost contraception are to be ignored. That the millions of women who have benefited from this increased access since the implementation of key provisions of the Affordable Care Act in August 2012 should no longer have it.
Can a for-profit corporation exercise religious freedom? ("Corporations are people, my friend!") The plantiffs seem to think so.
I agree with Americans United for the Separation of Church and State that it makes no sense … (Among other questions: Whose religion? The CEO? The board chair? The shareholders? Majority rule?)
In the Center for Reproductive Rights' statement on this case, Nancy Northrup said:
"The right to religious freedom belongs to individuals, not for-profit institutions. Our fundamental individual liberties must be protected so that these for-profit companies are no more entitled to deny women insurance coverage for essential health care than they are to dictate how any of us can and cannot spend our paychecks.

"The U.S. Supreme Court should use this opportunity to strongly reinforce the bedrock principles of individual liberty on which this nation was founded, and to establish clear limits on the assertion of corporate rights in defiance of federal law and individual rights."
A lot of major religious traditions support the right of individuals to plan their own families, and over at The Religious Institute, Rev. Debra Haffner has organized a campaign in support of the National Coalition of American Nuns who are taking a public stand in support of women's health:
"These nuns need you. A few weeks ago, Sister Donna Quinn of the National Coalition of American Nuns (NCAN) asked me to help spread the word that their coalition of more than 2000 Roman Catholic sisters has endorsed providing birth control through the Affordable Care Act. Because of their faith, they believe "that women should not be singled out by any organization or group through its refusal to insure a woman's reproductive needs."
I have written before about why the Affordable Care Act matters for women, and how religious freedom is for everyone, not just for the boss.
And Stephen Colbert has provided a fine summary of the issues in this case for us here:
You can sign the petition to Stand With the Nuns in support of women's health here.