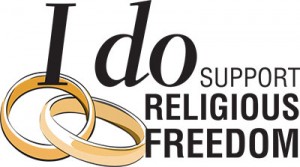 I've written before about the problems with so many claims of protecting "religious freedom" in recent reproductive justice debates. On the U.S. Council of Catholic Bishops' Fortnight for Freedom (and against contraception) I noted that:
We don't have to compare apples and oranges to make the point that the religious freedom the USCCB seeks to preserve is theirs alone. They want you and I to be 'free' to do as they want us to do.
Efforts like those of the USCCB, and now private corporations like Hobby Lobby, are not really about protecting religious freedom; they are about imposing restrictions on women and families according to certain conservative views.
So I am more than delighted to see this week that the United Church of Christ has filed suit in North Carolina to have its religious freedom protected:
The General Synod of the United Church of Christ (UCC) has filed suit against the State of North Carolina, arguing that the state's marriage laws violate the First Amendment rights of clergy and the principle of "free exercise of religion."

Under Amendment One, which passed in late 2012, it is a crime in the State of North Carolina for clergy to officiate a marriage ceremony without determining whether the couple involved has a valid marriage license. United Church of Christ ministers, interested in conducting a religious marriage ceremony for same-gender couples, could face up to 120 days of jail and/or probation and community service if found guilty, since North Carolina marriage laws define and regulate marriage as being between only a man and a woman. As lead plaintiff in this lawsuit against the State, the United Church of Christ asserts that these laws are unconstitutional and violate clergy's First Amendment rights.

"The United Church of Christ is proud to defend the religious freedoms upon which this nation was founded," said the Rev. Geoffrey A. Black, general minister and president of the UCC. "It is unfortunate that, even today, laws are designed to treat gay and lesbian people unequally. In its efforts to restrict gay marriage, the State of North Carolina has restricted one of the essential freedoms of our ministers and of all Americans."
If religious freedom is really what the bishops and the corporations care about, I can't wait to see them rally to support the UCC and its disenfranchised ministers.
Here is a message from Rev. Black explaining the denomination's argument:
Finally, Rev. Dr. J. Bennett Guess, points out that
"The United Church of Christ believes in advocating for justice. We believe that the UCC is called to be a prophetic church. God calls the church to speak truth to power. We are standing up for the freedom of religion, and to protect the rights of our ministers to do their jobs in faith."