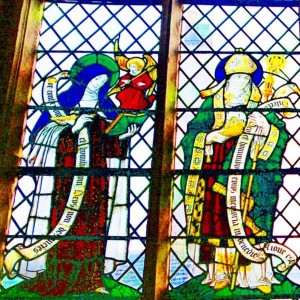 When I first heard about Pope Francis' offer of forgiveness for women who had had abortions, provided they were "with contrite heart," during the upcoming Holy Year of Mercy (starting December 8), my first thoughts were: What if a woman isn't contrite? What if she knows it was the right decision for her? What if she is unapologetic?
Compassion and mercy are lovely when offered; and I believe to be the intent of the pope's statement to be compassionate. However, it presumes an evil and a sinfulness that shames and blames women. And, it's sad when basic human compassion makes headlines. It does so, however, because the alternate, the hateful rhetoric that is typical, is so much worse.
I also appreciated the question from a woman in the NBC Nightly News piece about this last night: "It's only for one year, come on. What about the people next year or the year after that?"
Toddie Peters provides a longer discussion of this today over at To Do Justice:
"For many women, abortion is a morally good decision. For these women abortion is a healing and life-giving experience. It allows some women to be responsible parents to the children they already have. For other women it is a responsible decision that allows them to have life abundantly by finishing their education and becoming responsible adults. For still other women not being pregnant helps to maintain the thin thread of sanity that allows them to survive amidst mental illness, poverty, domestic violence, or a host of other challenges.

"In the midst of a culture that shames, blames and calls women sinners who have abortions – it takes a great deal of moral courage to terminate a pregnancy.

"It takes moral courage to ignore the bullies and hate-mongers who seek to shame you for your decision. To reject the Christians who want to make you feel guilty for making a life-defining decision that you know is right with God. To navigate and survive the hundreds of state regulations across the country that seek to pressure you to change your mind by showing you mandatory ultrasounds. Or make you wait for three days like a child in time-out to "think about" your decision – as if you haven't already thought about it for weeks on end!

"During this media blitz highlighting the Catholic Church's generosity of absolving women of their "sin of abortion," I want to celebrate the moral courage of women who have terminated pregnancies as a morally good act in the larger story of a life well-lived, or at least the journey to live the most faithful life possible."
This is yet another reason why you need to be a regular reader of Toddie's new blog here at Patheos.
And for those women out there who aren't contrite, you deserve compassion too … for having to put up with the shame game.
Image via wikimedia commons. From the description: "Teresa of Avila, Spanish mystic, is shown with an angel holding an arrow and heart and carries a scroll from the Miserere (Psalm 50-51, v.17): 'Cor contritum et humiliatum Deus non despicies – A broken and contrite heart, O God, shalt thou not despise' – her last words."