TO SUFFER IN LOVE
Why when my head does pound
And weakness slows my senses down
Yes, why when I am tired and now so well today
Do I find it most difficult to sit still for to pray?
For look at Jesus crucified, as pained and pained could be
'Twas then He gave Himself in love for the sake of you and me
As for me to suffer just a tiny little bit
I say please forgive my laziness, and prayer, the heck with it
Ought I not increase my fervor and offer up my cries
And pray, and pray, and pray, even though my body sighs
For Jesus gave so much to God when He suffered on the cross
For me to ignore God in suffering, oh what a horrid loss
I must offer up each sacrifice and pain
And think on the crucified Jesus and all that His love did gain
So I offer up all my difficulties to You my Crucified Love
That I might cherish every cross sent me from above
So when my head does pound
And weakness slows my senses down
Yes when I am tired and not so well today
May I fall more in love with Christ and never cease to pray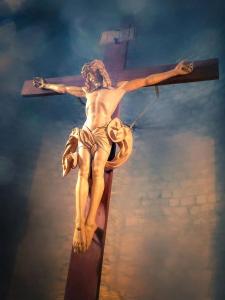 MY SHADOW
I looked up from my prayer to see
My shadow praying there with me.
I do not see her all the time.
This shadow about which I rhyme.
She is so kind to come and pray.
Before Jesus she too likes to stay.
She makes no noise anywhere she goes.
Always in silent reflection, I suppose.
It must be easy for a shadow to pray,
Because she cannot hear anything we say.
She cannot turn herself from prayer to me
And become as distracted as I seem to be.
Ought I wish I were a shadow who never ceased to pray?
Who followed her friend o the Tabernacle every single day?
Oh my holy shadow friend,
Will you follow me to Heaven in the end?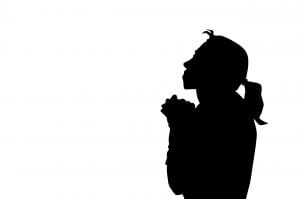 STRANGER
And if I do not get to Fitchburg till I am old and gray;
And all my Fitchburg friends have long since passed away.
So many changes will I see then.
No one left to remember these women and men.
Some buildings still standing and some not.
The same old college where I got smart.
But a stranger will I be
To everyone I see.
No familiar faces
In any of my old Fitchburg places.
All alone a stranger weeping
For the memories that I am keeping.
Maybe someone will stop and say
"Who is this stranger here anyway?"
A stranger? Not really I fear
For I knew this place before you were born my dear.
But my friends here were much older than me
And they've passed on to eternity.
I shall go and find them so that we can talk and remember
All the things we did since my freshman year, September.
But to the homes and churches to visit this time I shall not go,
But to a lonely cemetery blanketed in snow.