The diversity of thought within Catholic teaching, like variety within the strictures of sonnets,  is one of its most beautiful features. It is nevertheless important to listen, as much as we can, to a broad chorus of Catholic thinkers. I have found great consolation in the fact that someone holier and smarter than myself has likely asked my questions already; my job is to find them and to listen, and then to make as many people as possible read block quotations about it.
Sharon Kabel , OSB vs. UFO: Stanley Jaki and the Theology of Aliens (June 16, 2021)- OnePeterFive
So you know what to expect and what your getting into here is…
Obligatory and Helpful Introduction
I tried to keep this intro short. I think it is helpful to know what this post is all about before you dive in.
Who has time to read all the zillions of webpages with nifty neat Catholic content that is worth thinking and pondering about? It can be a chore to search, find and keep up with your favorite authors, podcasters and youtubers. So I've done you the eager reader a service by gathering some (mostly) recent cool tunes (a lot from june)  from the Broad Chorus of Catholic Thinkers that I found worthy of  bracketing off into small bits for you to browse through. Like a short version of Catholic Blog Readers Digest.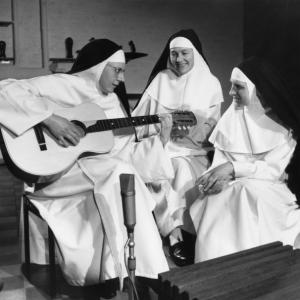 In this blog post you will find both bleeding heart liberal and traditional heartful conservative Catholic writers.  I quote all types of Catholics, as long as they give 100% acceptable Orthodox ideas about the faith and aren't jerks about it in the particular selection I select to share. By quoting a particular person or magazine  doesn't mean I endorse all their ideas or writings. I am selecting certain points that stand out to me as worth looking at, with this in mind.
Whatever is true, whatever is noble, whatever is right, whatever is pure, whatever is lovely, whatever is admirable—if anything is excellent or praiseworthy—think about such things. Philippians 4:8 NIV
In my selection of what and whom to include in this semi-long buffet of Catholic thought I used the Kind Gaze to Look Past Splinters in my selection of quotes. A splinter can take the form of  dispising Pope Francis and Vatican II.  I love Pope Francis and the Second Vatican Council regardless of your opinion about him.  I know I'll probably upset some people with my selections or my choice of selectees. I'm also sure I made little formating and perhaps some grammar type errors. But…
Tough Cookies to You.
Get over it and offer it up.
"I myself am not the Catholic Church, I may have my own misconceptions regarding what she teaches, and  I cannot exclude my own pet heresy from the judgment of the whole of the Catholic Tradition. "-Dr. John Rao.
Read on and use the kind gaze on other members of the Choir and think about good, true and beautiful things that are also witty, creative and humorous. There is a lot here. I could have added more authors and left out others. But of who is here read them all, skp some, and maybe discover somebody new.  Click on a link and read more if you so desire.
Or be a cotton-headed ninny muggins scruffy looking nerf herder and disagree with them and then Keep Calm and Carry On somewhere else. Just so you know Your Mom was Probably A Hamster and you Dad Smelled of elder berries"
This post is subject to change and updates.
So without further babbling and movie quoting here are some of those Catholics who are
Writing Right Now
 If you want to find more Catholic content not focused in this post,
Here is a guide to
Surfing the Catholic Web | Mark Wilson (patheos.com)
Perpetual Adoration live from St Benedict's, Melbourne
Spirituality, Lifestyle, World News & Culture —
Aleteia is a worldwide network sharing stories that inspire readers daily
In early June, VOCES8 released this stupendous rendition of William Byrd's "Ave Verum Corpus." The piece is a stand out work in Byrd's collection, which is prized as some of the most adept music composed in England during the Renaissance.
VOCES8's treatment of the 17th-century tune is phenomenal, as they pronounce the Latin text with all due reverence. Their hushed tones maintain a somber atmosphere for the work, which speaks of the sacrifice Christ made for the world. J-P Mauro – VOCES8 treats our ears to William Byrd's "Ave Verum Corpus" (06/26/22) (aleteia.org)
The Cathedral of Saltillo, also dedicated to St. James the Greater, became news on Pentecost Sunday this year.
It wasn't because it's one of the architectural jewels of the Mexican state of Coahulia and recognized as one of the tallest cathedrals in the country, but because of a curious incident in which the protagonists were bees.
According to local newspaper Zócalo, on the morning of Sunday, June 5—the Solemnity of Pentecost—a swarm of European bees attacked the people who were attending morning Mass at the cathedral of Saltillo, the capital of Coahuila in northern Mexico.
Curiously, this episode with the bees in Mexico took place on a date which, in addition to being Pentecost this year, was celebrated internationally as World Environment Day.
Pablo Cesio Bee attack forces cathedral to close and suspend Masses in Mexico (06/26/22) (aleteia.org)
American Catholic
This site has an impressive set of links to other Catholic sites not listed in this article.
Being still means to stop doing what you are doing. Forget your plans and schedule, forget what you have to do right now, and forget what you want to do. Be quiet, immobile, silent, and stop focusing on all these things in your life that are in and of the world.
If one has never done this, it may not be easy. For most of us, doing this, intentionally being quiet and doing nothing in today's world, includes no talking, no texting, no emailing, no phone calls, no keyboarding, no gaming,  no working, no social media-ing, no chats, and no staring at a screen.  It is the difference between waves crashing constantly on rocks along a shore and the flat, tranquil, glassy mirror surface of an undisturbed pond. You have to make the conscious choice to relax, settle down, and chill out – with God.
Guy McClung Be Still & Know That I Am God –(June 25, 2022) The American Catholic 
America Magazine
The Jesuit Review of Faith and Culture
Being a father is an embodied thing—biological, psychological, social, legal. It is—or should be—a total thing, owning wholly the man who dares to become a father. Which is why it is also an exhausting thing; it is weariness both moral and beautiful. It is a profound thing; it changes fundamentally the man made a father, deeply and hopefully for the better. At least, it should. At least, it did me. At least, I hope.
Joshua J. Whitfield A married Catholic priest's lessons from two kinds of fatherhood (June 17, 2022) America Magazine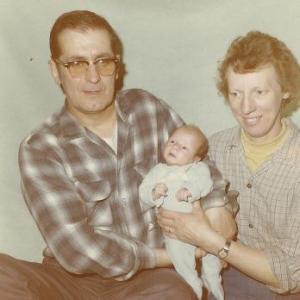 Alleviating poverty would not end abortion, but it would reduce the demand for it. For myriad reasons, there will continue to be people who become pregnant and do not wish to give birth. But whether you count yourself as supporting a philosophy of "choice" or "life," you are not being consistent unless you are also working toward the end of poverty—for as long as mothers are stuck in poverty, they have neither true freedom nor a fully dignified life.
In the richest society in human history, we could reduce poverty if only we had the political will to do so. Every day, we Americans make a collective choice on economic justice, and every day we choose poorly.
Colleen Shaddox Pro-life and pro-choice groups are both overlooking the link between abortion and poverty | (June 06, 2022)  America Magazine
Ascension Presents
The Leader In Catholic Faith Formation | Top-quality Catholic media, books, and study programs
In response to countless requests, Ascension is launching The Catechism in a Year (with Fr. Mike Schmitz) on January 1, 2023!
With this podcast, Catholics will:
Read the entire Catechism of the Catholic Church in 365 days
Understand the essentials of the Catholic Faith and why they matter
See how Church teaching is rooted in Sacred Scripture
Absorb over 2,000 years of Sacred Tradition
Encounter God's plan of sheer goodness
Transform their relationship with the Church that Christ founded.
If you have ever wanted to understand what it means to be Catholic and allow those truths to shape your life—this podcast is for you!
We can't wait to start this incredible journey with you!
Keep up-to-date on all things Catechism in a Year (CIY) by joining our Facebook group here.
The Catechism in a Year – Ascension (ascensionpress.com)
NEW BOOK: On Earth as It Is in Heaven: Restoring God's Vision of Race and Discipleship by Fr. Josh Johnson
This book follows Fr. Josh's journey of serving as the only Black priest in the diocese of Baton Rouge, Louisiana. Fr. Josh draws from the riches of Scripture, personal experience as a Catholic of color, his priestly ministry, and the wisdom of the Church to encourage Catholics to understand more deeply the call of Christ to make disciples of "all peoples and nations (Matt. 28:19)."
Ave Maria Press
Catholic publisher of books, textbooks, and parish resources.
A ministry of the United States Province of Holy Cross.
Four Ave Maria Press titles won 2022 Excellence in Publishing Awards from the Association of Catholic Publishers.
In the general interest category, Our Not-Quite-Holy-Family by Mark and Melanie Hart took first place.
St. Dymphna's Playbook by Tommy Tighe and A White Catholic's Guide to Racism and Privilege by Daniel P. Horan tied for third place in the general interest category. Deacon Harold Burke Sivers also won a third-place award in resources for ministry for his book for deacons, Our Life of Service.
First-, second-, and third-place awards were given in sixteen categories. An overall resource of the year from among the first-place winners will be announced later this summer.
See the complete list of winners on the ACP website.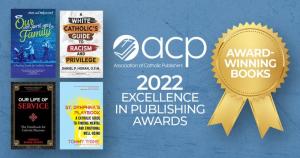 AVP also publishes
Our Lady of Hot Messes Leticia Ochoa Adams November 11, 2022
Reclaiming Catholic History Series by Mike Aquilina
Reclaiming Vatican II by Fr. Blake Britton
The Way of Beatitude by Casey Cole, OFM
Befriending St. Joseph Deacon Greg Kandra
Pray for Us by Meg Hunter-Kilmer
My Badass Book of Saints by Maria Morera Johnson
Becoming Eucharistic People: The Hope and Promise of Parish Life by  Timothy P. O'Malley
Jane Austen's Genius Guide to Life by Haley Stewart
Catholic Hipster Book 1 & 2 Tommy Tighe
What to Say and How to Say It, Volume 1 – 3 by Brandon Vogt
Ave Maria Radio
Build the Church. Bless the Nation. http://avemariaradio.net/live
Three Titans of Christian Thought discuss the Eucharist  
Black Catholic Messenger
Nonprofit media in the tradition of
Daniel Rudd's 'American Catholic Tribune' (1885-1897).
Amplifying Black Catholic voices.
To state the obvious, those who affirm that abortion violates the right to life are happy, and those who chiefly emphasize the freedom of women are upset. But in order for our nation to truly prosper in regard to human dignity, we must examine the sanctity of life from a holistic, or Whole Life approach. In this worldview, women's rights are protected and catered to, but so are the lives of the unborn. A holistic approach would also bring to light the underlying economic issues that contribute to abortion—such as underpaid or unpaid maternity leave, as well as lower wages in the workplace.
The Church can be a powerful witness when it works together in unity to tackle the life issues of the age and does not allow politics to dictate its works of mercy. A house divided cannot stand, and hypocrisy will always rob us of justice. Our heavily Catholic Supreme Court, for example, overturned Roe in the same week that it shot down gun control, while conservatives in Congress—many of them Catholic—blocked protections for breastfeeding mothers.
Briana Jansky Overturning Roe demands commitment to Black women's health ( (blackcatholicmessenger.com)
Busted Halo
Busted Halo is a media ministry dedicated to sharing the faith joyfully! Listen on @SiriusXM  Channel 129 M-F, 6-8 p.m. ET
In "The Mountain Trail and Its Message," Albert W. Palmer tells about a conversation he allegedly had with the great naturalist John Muir, in which Muir suggests:
"[The word 'saunter' is] a beautiful word. Away back in the Middle Ages people used to go on pilgrimages to the Holy Land, and when people in the villages through which they passed asked where they were going, they would reply, 'A la sainte terre,' 'To the Holy Land.' And so they became known as sainte-terre-ers or saunterers."
It turns out I also enjoy a good saunter — although in this case, my destination isn't "the" Holy Land but rather to be fully in the presence of all the holy creation around me. It's so refreshing to take a wandering and meditative walk through wherever I happen to be with the experience itself as its end. It's when sauntering that solutions to problems materialize, creativity flows, and my soul is inspired.
 MEGAN ARTEAGA The Parable of the Saunterer: How To Take It Slow and Enjoy the Journey ( – Busted Halo
Cardinal Seán's Blog
Cardinal Seán O'Malley shares his reflections and experiences
I welcome the Court's decision, but I do not underestimate how profoundly divisive the issue of abortion has been and will continue to be in our public life.  Even more tragic has been the personal suffering of women facing unplanned pregnancies in difficult situations.  The Church has consistently opposed the moral and legal dimensions of Roe v. Wade; we also adamantly reject stigmatizing, criminalizing, judging or shaming women who have had abortions or are considering them.  Too often isolated and desperate, women have felt they had no other choice.  They need and deserve spiritual, emotional, and material support from the Church and from society.
In the Archdiocese of Boston, we have sought, through Project Rachel and Pregnancy Help, to support women facing a crisis pregnancy and women whose lives have been impacted by an abortion.  In addition, the Church offers the Lord's boundless mercy and healing to those suffering from the spiritual harms of abortion.  In the face of recent statistics indicating an increase in abortions, our pastoral and social support for women will continue, will be welcoming, and will be available to all who need them.
Cardinal Sean O'Malley A day many thought would never come (June 24, 2022)Cardinal Seán's Blog (cardinalseansblog.org)
Carmelite Today
A Blog about Ancient Insights on Modern Living
The schedule in our monasteries includes an activity called the hour of recreation, in which the community gathers in a common room to talk together. It typically follows the evening hour of mental (silent) prayer, and the two share a lot in common. Both require the same attentiveness of heart, both require patient perseverance to gain their reward, and in both that reward is an experience of getting to know the other and being known by them
Recreation is a time set aside for the whole community to gather together for conversation, storytelling, and humor. It's not a diversion from our life of prayer, but a necessary part of it. St. Teresa-Benedicta was a welcome presence at her community recreations. Her novice mistress tells us "She was a first rate storyteller and could turn even the most trivial incident into a thrilling adventure" (Edith Stein: Life of a Philosopher and Carmelite, pg. 137). St. Thérèse made the community laugh with her rare talent for impersonations (if you can imagine that). No doubt she saw her participation during the hour of recreation as an essential part of living her little way, practicing virtues that go largely unnoticed and in ordinary settings.
Br. Isaiah of the Holy Face What I've Learned from Recreation –(June 5th, 2022) Discalced Carmelite Friars
Catholic 365
Explore the Catholic faith and its impact on our world through the different perspectives
of Catholic authors, bloggers, evangelists and theologians.
Science has proven it and the Bible has affirmed it long before.  Music is good for us.  The bible is replete with verses [dozens] exhorting us to sing and dance and clearly these two art forms are strongly imbedded in our culture and at mass.
Catholic Answers
Catholic Answers is a media ministry that serves Christ by explaining and defending the Catholic faith. See all the ways we do it.
Catholics do everything the hard way. Just look at our saints: rich people who decided to be poor, attractive people who became nuns, powerful people whom everybody respected until they decided to be all picky about doctrine this or dogma that. Then there are countless people who, in the prime of life, practically volunteered to be dead.
These people are the Catholic Church's celebrities. The thing is, nobody thought so at the time. Everybody thought they were nuts. Nobody looked at St. Francis and said, "Someday you are going to make a great garden statue." They said, "You just gave up a fortune to live like a leper. Aren't you taking this God thing a little far?"
Susie Lloyd Catholic Life the Hard Way Is Easier (June 16, 2022) Catholic Answers
Catholic Apostolate Center
Light is what draws us to the Heavens on a day with a clear sky. It is what makes us wonder at the millions of stars bursting in radiance in the night. It is what can illuminate any darkness no matter how small the flame may be. The light we see in the Sacraments passing from Christ into His people is nothing short of a miracle. The light we witness on the Cross, expelling all sin and darkness from our twisted up hearts, brings us closer to the very nature of love, the deepest kind of love, the love of Christ. In Him I see my guiding Light and my strength to carry on each and every day of my life. He is my starlight in the dark of the sky, letting me gaze of his majesty.
William Clemens Starlight -(5/24/2022) Catholic Apostolate Center
Catholic Central
Sharing the wisdom & tradition of the #CatholicChurch w/ wit, thoughtfulness and a bit of wackiness.
Hosts Kai + Libby want to be central to your faith! ✝️
Throughout history, the Church has been at the forefront of "food movements." Monks began brewing beer in the Middle Ages for their own consumption and then sold it to the public. Religious Orders all over Europe made wine, cheese, bread, and other products. This tradition continues today in Religious communities that farm the land, roast coffee beans, make wine and beer, raise animals, and sell gourmet food items. In fact, Catholics are the perfect people to champion the rebirth of a culinary culture.
How to eat like a Catholic – Catholic Digest
Catholic Education Resource Center
A pope who openly and repeatedly speaks about the language of the devil, the father of lies, the war against God, and prayer to the Holy Family as a way to combat it clearly isn't trying to win points with the progressive media. Argentina's President Cristina Kirchner accused him of medievalism for these remarks, but that didn't intimidate him or others. And she was forced to withdraw the criticism.
It may only be a personal reaction after hearing so many different political, liturgical, and theological views about Pope Francis, but any pope who can seriously assert again that sin exists, that it's more than a matter of mere human weaknesses and errors, that the whole of the old Christian drama as a contest between God and Satan is still the center of the Faith — and the reason that the Church exists — just may have something fresh to say to the world.
Robert Royal, The Devil and Pope Francis (catholiceducation.org)
Catholic Guy Show
Updates from Lino Rulli's The Catholic Guy.
Show airs M-F from 4-6 pm ET and replays 8-10pm ET
on The Catholic Channel, Sirius XM 129
Lino Rulli@linorulli (Jun 14, 2022): Its not Christmas, but this is why our producer Tyler is a true gift:
He actually thought the song was called Round Young Virgin.
Bears Are Fast@bearsarefast (Jun 14, 2022) This Day in BearsAreFast History: [2/6] Round Young Virgin – a description of the pregnant, youthful, and motherly Virgin Mary in the classic Christmas song "Silent Night".
Example: "Of course the song says, 'Round, young virgin, mother and child." Who says "yon?"" (6/14/19)
Catholic Herald
I can't quite put my finger on it. When was the moment I was converted? Was it after a friend, whose virtues stood as a witness to the supernatural grace of God, unexpectedly forgave me with true Christian charity, despite all the injury I'd done him? Was it after being moved by the magnificence and soul-striking beauty of Florence and Venice, or the peaceful reverence of an Andalusian mountain town on a Sunday? Or was it rather upon the encounter with Holy Mother Church's rich wellspring of truthful and sensical philosophy and theology?
What I do know is that, today, I'm home. More than that, it would be an insult to the graces I've received to pretend I'm anything less than certain about the Faith. My soul, intellect, and will have been shown more than enough for any doubts to flee.
The Catholic Faith closely reflects a great Gothic cathedral; it's not a simple thing. And, in the same vein a great cathedral is built, none of this happened overnight.
Thomas Colsy, Discovering the Gothic foundations of Faith -(June 25, 2022) Catholic Herald
Catholic Insight
Yes, devotion to the 'Sacred Heart' may descend into saccharine spirituality and kitsch art, but the central point is sound:  That Christ loves us with His whole being, not just as God, but as Man, with His human heart that moves Him to have mercy and pity, willing the salvation of all men, and drawing all to Himself, even to the point that we from our humanly, earthly perspective might find mysterious, even disconcerting. His mercy always triumphs over His justice. Get behind me Satan, was Christ's response to the 'logic' of Peter, trying to find a non-suffering way for Christ to save Man. Christ follows a higher, supernatural 'logic', if you will, the way of the word. Suffering is the way of love, and love always, always implies giving oneself for the other, in some way.
John Paul Meenan, Editor The Logic of the Sacred Heart (June 24, 2022) Catholic Insight
Catholic-Link
We are a Catholic site with hundreds of audiovisual Catholic resources for the New Evangelization. Free to use and share!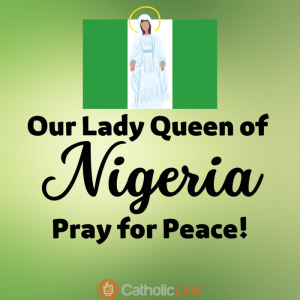 Catholic News Agency
HIS name is Juan Vicente Pérez Mora, he's Venezuelan, passionate about his faith, prays the rosary twice a day, and was named in the Guinness World Records as the oldest man in the world.
Mr Mora was born on May 27, 1909 and this year he turned 113 years old.
Catholic Review
On the eve of the World Meeting of Families and with a view toward the beatification Sept. 4 of Pope John Paul I, attention turned to his initial openness to softening Catholic teaching on contraception and his later support for the teaching of St. Paul VI.'
The editorial director of Vatican News, Andrea Tornielli, and the vice postulator of St. John Paul's sainthood cause, Stefania Falasca, both focused in June on a document drafted in 1967 by then-Bishop Albino Luciani of Vittorio Veneto — the future pope.
"In the course of that conference he had said, 'For me this is the biggest theological issue that has ever been dealt with in the church. When there was Arius or Nestorius and they were talking about the two natures in Christ, they were serious issues, yes, but they were understood only at the top of the church, by theologians and bishops. The poor people understood nothing about these things and would say, 'I adore Jesus Christ, I love the Lord who redeemed me,' and it was all there, there was no danger."
When, however, the pope published Humanae Vitae, Luciani acknowledged the disappointment of many Catholics, but insisted the pope "put his trust in God" and was inspired to uphold "the constant teaching of the magisterium in this most delicate matter in all its purity." '
Cindy Wooden  of Catholic News Service John Paul I and the pill: He wanted change, but accepted 'Humanae Vitae' (Jun 23, 2022)– Catholic Review
Notes about your extended family in heaven.
Who's the patron of your state (political or spiritual)? Condition (physical or spiritual)? Vocation (monetary or spiritual)? Hobby? Maybe you can find out here.
This site has information on topics with patron saints, and profiles of those saints. Profiles have portraits, biographical information, areas of patronage, prayers, links to related sites, readings, etc. It's not complete – I keep finding new topics, there are hundreds of saints not yet listed, and there's lots of information to add, so the site will continue to grow and change. Thanks for stopping by.
Catholic Stand
CATHOLIC STAND is an e-publication owned by Little Vatican,
offering perspectives on issues that challenge people living the Truth the Church teaches.
Upon the heels of the glorious Easter season, Catholics celebrate Pentecost, followed by two more liturgical feasts. Ordinary Time has begun, and yet our spirits feel the extraordinary effects of Lent, Eastertide, Pentecost, Trinity Sunday, and Corpus Christi. Amidst the flowering roses, wedding bells, and vacation destinations of June, our spiritual selves need continual nourishment as we move on with the business of life in a secular culture. As the month of May is dedicated to the Blessed Virgin Mary, so Catholic tradition dedicates June to the Sacred Heart of Jesus. This proceeds from Jesus' apparitions to Saint Margaret Mary Alacoque, a young girl in 17th century France.
Mary Ennis Meo Claiming June for the Sacred Heart of Jesus –(22 June AD 2022) Catholic Stand
Catholic Talk Show
The Catholic Talk Show features Ryan DellaCrosse, Ryan Scheel, and Fr. Rich Pagano. The show is hilarious, entertaining, and informative!
Episode 191:
In this episode, we will discuss:
• The most important sites in The Holy Land
• The site of the Annunciation
• The site where Christ was born
• The site where the Angels visited the shepherds
• Where was St. Joseph's workshop?
• The birthplace of The Virgin Mary
• and much more
(The) Catholic Thing
The Catholic Thing is a forum for intelligent Catholic commentary.
For better or worse, Christianity is not simply a matter of moral goodness; it is also a matter of doctrine, as it has been since the time of the Apostles.  If morality is the superstructure of Christianity, doctrine is its foundation.  Do away with the foundation, or simply don't take the trouble to keep it in good repair, and the structure will collapse.
David Carlin Is Love All You Need? – (JUNE 24, 2022) The Catholic Thing
Since God chose to intervene in human affairs, writes Newman, it should not surprise us that He would "make provisions for retaining in the world a knowledge of Himself." Left to our own devices, we would inevitably bring God's saving message to ruin. So He established the Church and provides her the gift of infallibility, whereby, through His power, she teaches without error what God has revealed and wishes the whole world to know.David G Bonagura, Jr. Infallibility: An Antidote to Intellectual Madness –,( JUNE 25, 2022)  The Catholic Thing
CatholicTV
America's Catholic Television Network®. Mass every day, live and on demand.
http://WatchtheMass.com, http://CatholicTV.com.
Catholic Vote
How can a Carmelite Monastery of cloistered monks in the middle of Wyoming become a premier coffee company? Prayer and creativity fueled the astonishing success of Mystic Monks Coffee, now an international success and boasting multiple gourmet collections of coffees, teas, and chocolates.
When one of the monks' sister bought a small coffee plantation in Costa Rica, the community launched an entirely Internet-based company to sell their special blends roasted (for the first batches) in cast-iron skillets. 12 years later, the monks had enough income to purchase a mountain property and build 24 hermitages. Today, the gothic church at the center of the monastery is under construction, and every bag of Mystic Monk Coffee goes towards its completion and the daily life of the monks.
Erika Ahern  Make Your Coffee Break Catholic: 5 Catholic-Run Roasters (– CatholicVote org
Catholic Weekly
The Divine Liturgy of the Christian churches is best understood as a mystical remembering, renewal, and participation in the saving work of the Saviour, through which eternity entered time, so that we might be redeemed from death. What eternity worked in history, is endlessly actualised on altars all over the world. It is our privilege to be allowed to share in this.
Words fail us, but the Divine Liturgy is also a return to the Father's house, to share in the communion of the Son; an Exodus from earthly to heavenly realities, and a climbing of the holy mountain of the Temple.
The Eucharistic summit of our liturgical services replicates on earth the essence of the worship eternally offered in heaven.
Fr Yuhanna Azize Melto D'Moronyo: When eternity enters into time (June 26, 2022) catholicweekly.com.au)
Catholic World Report
Catholic World Report provides a Catholic perspective on news in and outside the Church.
Popular author Fr. Dwight Longenecker and his children, along with veteran filmmaker Stan Williams, are producing a documentary chronicling their intercontinental family trek to the seven monastic sites known as "the Sword of St. Michael".
Dotting the mountaintops of Europe, stretching 2,500 miles and aligned like pearls on a string, lie seven ancient monasteries. Some of the historic structures still house the cloistered religious orders which founded them, hundreds of years ago. Others have been recommissioned for a secular purpose; and still others stand vacant, stark reminders of the prayer and sacrifice which marked the days inside their walls.
And while the medieval monasteries and shrines were founded at different times and in different countries, served by different religious orders, yet there is a continuity which is hard to attribute to chance.
Kathy Schiffer Monasteries linked to the Archangel Michael share a mission and a message –(June 17, 2022)  Catholic World Report
Catholic Writers Guild
I brought a chocolate peppermint plant a few weeks ago. It looked strong and healthy. Suddenly Thrips(a tiny bug) attacked the plant. Thrips are deceiving because you can't see them right away. They blend in with the color of the plant.
They remind me of the spiritual life. Sometimes sin appears small. If not treated properly, it takes over and destroys us spiritually. Confession is very important! After we confess our sins to the priest, God removes the sin from our lives. He picks off the spiritual bugs that are bugging us.  Sometimes God uses plants and flowers to remind us of our spiritual lives.
Angela Lano i Lessons from a Chocolate Peppermint Plant –( The Catholic Writers Guild
Catholics Come Home
Inviting Catholics and non-Catholics home to the Catholic Faith using TV commercials and the Internet
Catholicism.org
Run by St. Benedict Center which is A Catholic apostolate working for restoration of tradition and the conversion of America.
Another idea that came to mind was to talk about everybody's favorite mythical mammal, the unicorn, an inoffensive subject if there ever was one, and one upon which I happen to be an expert. Not that it's difficult to be an expert on something that does not actually exist; having a good imagination is all that's required.
Now, as for unicorns, the subject of my expertise, it might surprise you to know that it, too, has long been a Christian symbol. Along with the pelican and the phoenix, symbols of the Precious Blood and the Resurrection respectively, the unicorn was treated in a second-century Greek patristic text called the Physiologus, where we learn that the unicorn can be captured only in the lap of a pure virgin, making it a wonderful allegory of the Incarnation of Our Lord in the virginal womb of Mary, as well as a symbol of chastity.
BROTHER ANDRÉ MARIE We Are Measured by the Quality of Our Loves – ( Catholicism.org
The Center for Action and Contemplation
The Franciscan worldview is that the Christ is everywhere. In fact, this was my Bachelor of Arts thesis in college. I wrote it on the quote from Francis where he says, "Don't speak to me of Benedict; don't speak to me of Augustine! The Lord called me to a different way."
Francis didn't need to create a monastery, as the Benedictines and Augustinians had done. He didn't want us to be enclosed monks. He wanted us to be friars, living in the middle of the people. To this day, Franciscan friaries are in the heart of most major European cities.
Fr. Richard Rohr A Ministry of Action and Contemplation (June 12th, 2022) Center for Action and Contemplation (cac.org)
One of the great tasks and challenges of being a Catholic minister or faith-sharer of any sort is to help one's listener understand the timelessness of this body of faith and practice. The importance of that timelessness is not to "prove" anything but, more than anything else, to give hope. You, there – you are not alone in your weakness, pain, suffering and fears. It's called being human and in Christ, no matter who you are, when or where you live or what the specifics of your situation are, in him and his Body, the Church, you will find comfort, healing, hope and answers.
In other painfully well-worn words, we don't have to reinvent the wheel every generation. We have the spiritual resources, if we understand them properly and at a deep level, to point the suffering, questioning soul in the right direction, to open their hearts so they can hear Him.
Amy Welborn St. Cyril and OLPH |(June 27, 2022 ) Charlotte was Both (wordpress.com)
America's leading source for #Catholic perspectives on news, culture, and politics since 1982.
In God's Divine Providence, we can just never know how our actions or interactions might affect another. Everyone is created by God and loved infinitely by Him, and we are called to be examples of His love in the world—even to the tattooed skinheads of the world, even when they look to be hostile to the true, the good, and the beautiful. This I have learned and I encourage my children to look past some of the outlandish antics of people and to judge them for who they are—children of God who are in need of our prayers and good example.
Tom McFadden Skinheads, Nose Rings, and Tattoos, Oh My! (JANUARY 20, 2022) (crisismagazine.com)
Crux: Taking the Catholic Pulse
Providing the best in smart, wired and independent Catholic news
both in the United States and throughout the world. Edited by@JohnLAllenJr
An Irish Pilgrimage Guide to the Holy Land is available from Columba Books, and was written after a decades-long relationship with the region.
"I was lucky enough to go to the Holy Land for the first time when I was 18 years old. And I completely fell in love with the place. I found Jerusalem absolutely intoxicating. I found the Old City almost calling out to me," Kelly told Crux.
Decent Films
Film critic, Catholic deacon, father of 7. http://decentfilms.com creator.
For a while it seems Dominion wants to be the franchise's Mission: Impossible. Instead, it's the anti–Top Gun: Maverick.
The achievement of this summer's extraordinary Tom Cruise legacyquel includes projecting the characters, themes, and trajectories of the original Top Gun more than three decades into the future, gracefully revisiting nearly everything fans loved about the 1986 blockbuster while also shrewdly patching up its issues and improving on it at every turn. Jurassic World Dominion can't even manage to carry on the themes and trajectories of its immediate predecessor, Jurassic World: Fallen Kingdom, let alone any of the prior Jurassic films. Maverick almost makes Top Gun a better movie retroactively. Jurassic World Dominion can't touch the Jurassic Park trilogy, but, capping the Jurassic World trilogy, it makes its two predecessors retroactively worse.
Steven D. GreydanusJurassic World Dominion (June 10, 2022 ) – Decent Films
Divine Office
EWTN