There are a lot of members of the Broad Chorus of Catholic Thinkers posting articles, videos and podcasts online. So much in fact that one really doesn't have the time, energy or computer bandwidth to read all the good things being written up and slapped on a web page. And so I decided to bring examples of a 132 of them together in one post. It consists of bits of Orthodox Catholic thoughts from the Catholic Rigorous Vortex and the Liberal Hippie Catholics and everyone else in-between.
WRN # 18 Cool Tunes From the Broad Chorus of Catholic Thinkers
Easy Access to Tunes and Tweets from the BCCT JULY 29, 2022
The diversity of thought within Catholic teaching, like variety within the strictures of sonnets, is one of its most beautiful features. It is nevertheless important to listen, as much as we can, to a broad chorus of Catholic thinkers. I have found great consolation in the fact that someone holier and smarter than myself has likely asked my questions already; my job is to find them and to listen, and then to make as many people as possible read block quotations about it.
Sharon Kabel , OSB vs. UFO: Stanley Jaki and the Theology of Aliens (June 16, 2021)- OnePeterFive
But of course with so many samples of things to look at in one semi-long post, several nifty, pithy and unique writings and more can get lost in the shuffle. So I decided to take what I gathered and break it up into smaller posts based on themes instead of particular individual Catholic websites. I even added a few other things not found in the larger collage of writings.
In this issue I present to you tunes from the BCCT on…
Liturgy and the Eucharist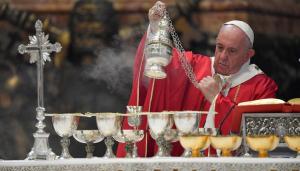 Liturgy and the Eucharist: Adoration
Liturgy and the Eucharist: Adoration Flash Mob
Liturgy and Eucharist: 12 Things About…
Here are twelve things I like about the Latin Mass. I'm not making this up. I really do like these twelve things in the same way I really do like the twelve things I like about the Novus Ordo. In fact, I have half a mind to write a "Twelve Things I Like" column about a whole slew of churchy things: "Twelve Things I Like About the Charismatic Movement" or "Twelve Things I Like About Evangelicals" or "Twelve Things I Like About Life Teen" or "Twelve Things I Like About the New Ecclesial Movements." or "Twelve Things I Like About Baroque Churches"…although I admit some of these lists would be more difficult to compile than others.
Fr. Dwight Longenecker, Twelve Things I Like About the Latin Mass (January 11th, 2019)
Like many, I'm critical of the abuses of the new Mass–the dreadful architecture, banal art, saccharine and heterodox music, poor preaching etc etc that too often has gone along with the reforms of the Second Vatican Council, but my point has always been that these are abuses and when you take the Ordinary Form of the Mass–simply what's in the book–just the words and rubrics–there's not much wrong with it. Can there be some improvements? Sure, but  I've asked traditionalists if they can tell me what is so terribly wrong with it–just the words in the book–not all the other abuses and things they don't like that are associated with Vatican II.
Nobody's given me a good answer yet.
Fr. Dwight Longenecker,Twelve Things I Like About the Novus Ordo Mass (January 1st, 2019)
Liturgy and Eucharist: Bee Gone
The Cathedral of Saltillo, also dedicated to St. James the Greater, became news on Pentecost Sunday this year.
It wasn't because it's one of the architectural jewels of the Mexican state of Coahulia and recognized as one of the tallest cathedrals in the country, but because of a curious incident in which the protagonists were bees.
According to local newspaper Zócalo, on the morning of Sunday, June 5—the Solemnity of Pentecost—a swarm of European bees attacked the people who were attending morning Mass at the cathedral of Saltillo, the capital of Coahuila in northern Mexico.
Curiously, this episode with the bees in Mexico took place on a date which, in addition to being Pentecost this year, was celebrated internationally as World Environment Day.
Pablo Cesio Bee attack forces cathedral to close and suspend Masses in Mexico (06/26/22) (aleteia.org)
Liturgy and Eucharist: Children at Mass
I miss the days when I could go to Mass and just immerse myself in the sacred instead of doing battle with a small nemesis with nearly infinite stamina. But I also know that the Mass doesn't require my participation at all to be efficacious. That my presence alone is sufficient, and nothing I do adds one iota to the ministerial action of the priest. That by living my state in life as a husband and father and teaching my children that Mass is a place where the faithful come together to pray in mutual respect and Christian love for one another and their crucified Lord, I am doing what God wants. That sometimes, the best way to teach the little ones that Mass is important is by showing them it's too special for them to be allowed to disturb with bad behavior, because God comes first.
Steve Skojec, A Letter to the "Hipster Husband" With the Annoying Kids at Mass (January 8, 2016) OnePeterFive
Liturgy and Eucharist: Clapping At Mass
"Wherever applause breaks out in the liturgy because of some human achievement, it is a sure sign that the essence of liturgy has totally disappeared and been replaced by a kind of religious entertainment. Such attraction fades quickly – it cannot compete in the market of leisure pursuits, incorporating as it increasingly does various forms of religious titillation.
-Cardinal Joseph Ratzinger (before he was  Pope Benedict XVI) The Spirit of the Liturgy
Liturgy and Eucharist: Church Building
Recently I was giving a tour of St. Peter's Cathedral Basilica in London Ontario to Our Lady of the Pillar Academy Catholic Private Elementary School. Its one of my favorite things to do as a priest – to welcome children into the Church and point out where Jesus is, how to pray, and what the liturgy is all about.
I began by speaking of the Church in 3 ways: the world of darkness (the narthex); the redeemed world (the nave); and the world to come (the sanctuary). When speaking about the world of darkness, I pointed out that the Baptism ritual often begins at the back of the Church. There we find the holy water fonts, where we remind ourselves of our baptism. I stressed that its in the darkness that Christ comes to greet us, to save us. When I say these things, I tend to have personal experiences in the back of my mind.
Fr. Chris Pietraszko, He Found Me in Darkness   (June 23, 2022)  (missiodeicatholic.org)
Liturgy and Eucharist: Eastern Churches
I encourage you to find an Eastern Catholic Church near you and enjoy their roots in orthodoxy. This liturgy is always beautiful and submersed in a tradition established by one of the Apostles. I have been fortunate to attend, as well, the Ge'ez liturgy (Eritrean/Ethiopian Catholic), the Syro-Malabar (Indian Catholic) and the Maronite (Lebanese) here in Charlotte. All these experiences have brought their own enjoyment and understanding of God and His people in the Catholic Church. These ancient traditions have been preserved in the same manner the Roman Church preserves latin.
Liturgy and Eucharist: Eucharistic Ecumenical Thoughts
Three Titans of Christian Thought discuss the Eucharist  
We're celebrating the Feast of Corpus Christi. Peter Kreeft has imagined a dialogue between three great Christian minds of the last century – CS Lewis, JRR Tolkien, and Billy Graham. What would a Southern Baptist evangelist and a devoutly Catholic philologist and author have to say about the Eucharist? Dr. Kreeft joins us.
Kresta in the Afternoon – June 17, 2022 – Hour 2 – Ave Maria Radio
Liturgy and Eucharist: Eucharistic Revival
Abp. José H. Gomez@ArchbishopGomez:
Let us ask our Lord to help us to love the Eucharist with greater intensity and to increase our desire to be in his presence and to live by the bread that he gives us.
#EucharisticRevival
Liturgy and Eucharist: Feeding Others
Sometimes there is the risk of confining the Eucharist to a vague, distant dimension, perhaps bright and perfumed with incense, but rather distant from the straits of everyday life. In reality, the Lord takes all our needs to heart, beginning with the most basic. And he wants to give an example to his disciples, saying, "You give them something to eat" (v. 13), to those people whom he had listened to during the day. We can evaluate our Eucharistic adoration when we take care of our neighbour like Jesus does. There is hunger for food around us, but also of companionship; there is hunger for consolation, friendship, good humour; there is hunger for attention, there is hunger to be evangelized. We find this in the Eucharistic Bread – the attention of Christ to our needs and the invitation to do the same toward those who are beside us. We need to eat and feed others.
Angelus – Activities of the Holy Father Pope Francis | Vatican.va
Liturgy and Eucharist: Heavenly Liturgy
The Book of Revelation affords us a glimpse of the heavenly liturgy which the Church triumphant
conducts in heaven. St. John describes an innumerable multitude before God's throne adoring Him, a panoply
of angels and saints arranged in hierarchy, resplendent with the virtues of apostles, prophets, evangelists,
martyrs, pontiffs, doctors, confessors, virgins, widows, kings, queens, all arranged to reflect the glory of God.
This heavenly liturgy is ordered, hierarchical and oriented: the choirs of angels and saints are arranged
before the throne of God, focused on Him. John writes: There was a throne set in heaven, and upon the throne
one sitting… And they rested not day and night, saying: Holy, Holy, Holy, Lord God Almighty, who was and who is
and who is to come. And … in the midst of the throne and of the four living creatures and … of the ancients, a
Lamb standing, as it were slain.
Sermon_2017_All_Saints_Heavenly_Liturgy.pdf (stfrancislincoln.org)
Liturgy and Eucharist: Liturgical Year Mess
Liturgy and Eucharist: Liturgy Wars
You see, ordinary worshipers want Jesus.  They don't want Liturgical Abusers shouting "Hey! Look at Me!".  But they also don't want angry Liturgical Police constantly pointing to Liturgical Abusers (both real and imaginary) and saying, "Hey!  Look at Them!"  We want to look at Jesus, not to be entertained by Liturgical Abusers.  We want to look at Jesus, not feel an icy stare on the back of our heads if we enact gestures or say words that bishops have approved but that self-appointed Liturgical Police have rejected as inaccurate renderings of the rubrics.  And we especially don't want to be told that our contentment with whatever Liturgy the Church proposes to us is some sort of indication of infidelity.  Lack of interest in Liturgy Wars is not lack of interest in loving, worshiping and obeying God.
Mark Shea, Unity, Liberty, Charity – Stumbling Toward Heaven (markpshea.com)
Liturgy and Eucharist: Mass Colors
The British scholar Margaret Baker observed that the curtain in the temple that separated the Holy place from the Holy of Holies was woven in four colors: white, red, purple and blue. The four colors represented the four elements of air, earth, fire and water from which the ancients believed the whole material realm was forged. Red stood for fire. White for earth because the white fabric was linen which was refined from flax which grew in the earth. Purple stood for water because the dye for the purple was taken from the gland of a mollusk which was found in the seabed. Learn more here. Blue was for air–the color of the sky.
These four colors therefore symbolized the material realm of reality. What is interesting is that the priests' also wore a vestment woven from the four colors. Once a year the priest, wearing the woven vestment went through the curtain into the Holy of Holies. He would then return through the veil/curtain to continue his ministry. Barker points out the beautiful symbolism: God would come from his invisible realm (the Holy of Holies) and enter our realm through the veil of the physical realities. This is expressed in that beautiful Eucharistic hymn Alleluia Sing to Jesus where we sing, Thou within the veil has entered, robed in flesh our great high priest…thou on earth both priest and victim in the Eucharistic feast.
Fr. Dwight Longenecker, The Meaning of the Four Colors at Mass(June 14th, 2021) Fr. Dwight Longenecker
Liturgy and Eucharist: Mass Comparison
The Tridentine Liturgy can be compared to the distribution of a "holy card": a mass-produced image of a religious scene, likely at least a little dated-looking, probably showing Christ as looking strangely European, and laminated in plastic to avoid any tampering. Identical holy cards are handed out to a bunch of people. The Mass of St. Paul VI can be, by contrast, compared to a painting class, in which each of the students, guided by an instructor, paints a depiction of the same religious scene. There is an important similarity between these two scenarios.
In both cases, the participants each end up with a sacred image representing the same subject. The similarity ends there, however. With the holy cards, everyone's card is identical. The cards belong to those who receive them, but only in a very limited sense. The images produced in the art class will have a very different effect. The ultimate result will still be a sort of unity; each canvas depicts the same image according to the guidance provided by the instructor. Each painting, however, will bear the particular stamp or style of the painter, and these images will belong to the students in a much deeper sense.  Better still, because they had to paint the scene for themselves, the students will probably be more attached to these images than the recipients of the holy cards will be to theirs.
MALCOLM SCHLUENDERFRITZ Prayer Cards, Painting Class, and Liturgy Wars –(DECEMBER 9, 2021) Where Peter Is  
Liturgy and Eucharist: Mysticism and the Liturgy
One of the tensions in our life that I note especially, having studied liturgical spirituality so much and also having immersed myself in the mystical traditions and practices of both east and west, is the tension between the kataphatic and the apophatic, the way of positive images versus the negative way. Specifically of note is how that plays out is the tension between liturgy––which is so symbolic and even at times pretty prolix (wordy)––and contemplative prayer, which leads to silence, beyond name and form.
The early Christian tradition and the spiritual writers of the Middle Ages didn't know any conflict between "public" and "privat" prayer, or between liturgy and contemplation. This is a modern problem! Thomas Merton wrote as much in The Climate of Monastic Prayer, that "Liturgy by its very nature tends to prolong itself in individual contemplative prayer, and mental prayer in its turn disposes us for and seeks fulfillment in liturgical worship." Or there is a great phrase that Fr. Zacchaeus taught me, referring to adoration of or meditation with the reserved Blessed Sacrament; it is "the action of the Mass held in contemplation." It's like breathing in and breathing out.
mysticism and the liturgy | New Camaldoli Hermitage (contemplation.com)
Liturgy and Eucharist: Mystical Remembering
The Divine Liturgy of the Christian churches is best understood as a mystical remembering, renewal, and participation in the saving work of the Saviour, through which eternity entered time, so that we might be redeemed from death. What eternity worked in history, is endlessly actualised on altars all over the world. It is our privilege to be allowed to share in this.
Words fail us, but the Divine Liturgy is also a return to the Father's house, to share in the communion of the Son; an Exodus from earthly to heavenly realities, and a climbing of the holy mountain of the Temple.
The Eucharistic summit of our liturgical services replicates on earth the essence of the worship eternally offered in heaven.
Fr Yuhanna Azize Melto D'Moronyo: When eternity enters into time (June 26, 2022) catholicweekly.com.au)
Liturgy and Eucharist: Mercy for Unworthy Reception
I trust that our loving God will treat with mercy those who objectively commit frequent sacrilegious Communions because they don't know any better, they have been so poorly catechized.  Alas, we have arrived at a point where perhaps a third of church-going Catholics believe the Church's teaching about the Eucharist and yet the lines for Communion include virtually every person who shows up. Go to confession.
Fr. John Zuhlsdorf Worthy Communion -(June 18, 2022)  OnePeterFive
Liturgy and Eucharist: Commentary On Pope Francis Apostolic Letter
Liturgy and Eucharist: Receiving Communion
I am not opposed in principle to Communion in the hand; I have both administered and received Communion in this way myself. The idea behind my current practice of having people kneel to receive Communion on the tongue was to send a signal and to underscore the Real Presence with an exclamation point. One important reason is that there is a great danger of superficiality precisely in the kinds of Mass events we hold at St. Peter's, both in the Basilica and in the Square. I have heard of people who, after receiving Communion, stick the Host in their wallet to take home as a kind of souvenir.
In this context, where people think that everyone is just automatically supposed to receive Communion—everyone else is going up, so I will, too—I wanted to send a clear signal. I wanted it to be clear: something quite special is going on here! He is here, the One before Whom we fall on our knees! Pay attention! This is not just some social ritual in which we can take part if we want to.
Pope Emeritus Benedict XVI  (Light of the World, 2010)
Liturgy and Eucharist: Sacred Art
When discussing the merits and qualities of sacred art, a distinction is often made between art that has a didactic function – primarily for teaching purposes – and liturgical art which is intended to deepen engagement with God directly during the liturgy itself. Didactic art, it is assumed, engages the person primarily through the intellect, deepening the understanding of salvation history or of a feast. Liturgical art, on the other hand, it is said, engages the heart of the person, and engages both the intellect and will in an ordered and balanced way, so that the whole person is directed to the contemplation of God through worship of Him.
DAVID CLAYTON The Distinctions Between Liturgical Art, Didactic Sacred Art, and Illustration: Is There Really Any Difference?( June 28, 2022)New Liturgical Movement
Liturgy and Eucharist: Sacred Music
To give an answer to the question, "What is sacred music?," we must answer that it is the great treasury of music, written over the ages by the greatest composers for use in the sung liturgy of the Roman Catholic Church, beginning with the Gregorian melodies and continuing on through the polyphonic pieces of the middle ages and the renaissance, up to the orchestral settings of the last three centuries and into our own time; it is simple for the singing congregation and more elaborate as the degree of musicianship increases.
Monsignor Richard J. Schuler What is Sacred Music? | EWTN
Liturgy and Eucharist: Sacred Liturgical Music
One of the beautiful aspects of the Catholic tradition is the diversity (without adversity) of cultural and liturgical expressions.  Even within the Latin (or Roman) Catholic Church, one finds diversity in liturgical expression down through the years.  For example, the 12th century saw a liturgical revolution within monasteries that manifested itself in varied celebrations.  Cluniac monasteries favored huge choirs singing complex polyphony, many large, ornate candlesticks, incense, and golden vessels while Cistercian monasteries celebrated the liturgy with simple chants, a few modest candles, minimal incense, and wooden or copper vessels.  Similarly today, good and appropriate elements of modern music can and should be incorporated into the liturgy to speak to modern Christians (of course without marginalizing or replacing traditional music.)  The two can peacefully coexist.  In fact, way back in 1947, Venerable Pope Pius XII wrote, "It cannot be said that modern music and singing should be entirely excluded from Catholic worship. For, if they are not profane nor unbecoming to the sacredness of the place and function, and do not spring from a desire of achieving extraordinary and unusual effects, then our churches must admit them since they can contribute in no small way to the splendor of the sacred ceremonies, can lift the mind to higher things and foster true devotion of soul" (MD 193).
Mike Tenney A Defense of Modern Worship Music in Liturgy November 3, 2016 Holy Ruckus
Liturgy and Eucharist: Senses
The truth is, a liturgy engaging more of the senses is a liturgy that engages more parishioners. This includes especially disabled parishioners, since many disabilities impair some senses but not others. A deaf person would get less out of a primarily aural liturgy, a blind person less out of a primarily visual one, and so forth. For this reason, a strong argument can be made that the liturgy should be designed to enter as many of the sense gates as possible, so that "the poor, the maimed, the lame, the blind" may be invited to the feast (Luke 14:13).
NATHAN TUROWSKY · Opening the Sense Gates with the Liturgy  (APRIL 28, 2022)– Where Peter Is
Liturgy and Eucharist: Science of the Eucharist
One of the most fascinating discoveries in the studies of the Eucharist is the type of tissue. In these miracles, it not only contains blood, but tissue that is part of the heart. Not skin, lung or stomach, but of the heart. Under normal 'human' conditions, these cells degrade after the death of a person, but in each of the Eucharistic miracles, the cells remain 'live' and whole.
Laura Hensley Scientific Proof for the Eucharist –(May 12, 2022) EpicPew
Other Related Posts include
Using The Kind Gaze to Look Past Splinters 
The Rites of Write(ing) – A List of Catholic Authors and some of their books.
Surfing the Catholic Web 
Tweeting to the Choir: A Collection of Tweets