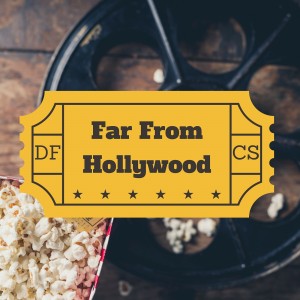 Hey everyone!
One of the most fun and challenging things I've taken up in the past year has been podcasting. I currently co-host two podcasts each month — a pop culture one with friends called "It's My Favorite," and one for the Detroit Film Critics Society called "Far From Hollywood." Both are rewarding and extremely fun highlights of my month; the first because it's just sitting around with friends talking about the things we love and the second because it's movie talk between some great critics.
Well, I've been a bit tardy in posting them here, so I wanted to rectify that!
The latest "Far From Hollywood" just posted, and it's a great episode. My co-host, Perry, and I are joined by two other members of the DFCS to vent about "Batman v Superman: Dawn of Justice." It was a ton of fun to record. And even given my scathing review of the film, we managed to find a (very) few positive things to say about the film!
I mentioned my co-host, and that's a rather new development. But I've known Perry through the DFCS for years and bumped into him casually at screenings. I had him on the podcast a few months ago to talk Coen Brothers, and his enthusiasm and film knowledge really excited me. Recording with him has been a lot of fun. We did our first episode together a few weeks back and it was one of the most fun things I've been involved with. We talked about favorite film experiences and the movies that have shaped us. If you want to know a little about my history and the films I love, it's a great place to start.
But "It's My Favorite" has also been going strong, and we did an episode I'm really proud of a few weeks back. Yes, we have the normal pop culture talk and some banter about the movies and TV shows we love. But for the first time, we delved into politics, talking about the problem that is Donald Trump. It's worth a listen just for that, but the entire episode (as always) is a lot of fun.
I'm mulling over some ways to introduce podcasts or audio to this blog. It's probably going to be awhile, maybe late in the year or early next year, before that comes to fruition because I'm trying first to establish a voice here. But some fun ideas are taking shape that I'm excited to eventually work out on this site! Until then, I'll keep sharing these podcasts with you!