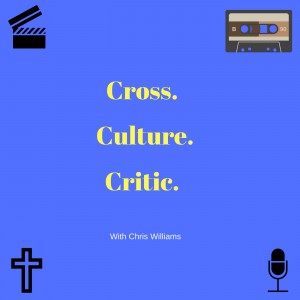 Hey everyone,
Episode 2 of my podcast "Cross.Culture.Critic." went live this weekend, and I'm really excited for everyone to hear it!
My original idea for the podcast, as I've said before, centered on the Christian music scene of the 90s and 00s. As a youth group kid in the mid-90s, I was greatly influenced by the music I listened to, and I've been curious what happened to some of the bands were regulars in my Walkman.
The podcast idea changed after that to incorporate a broader range of culture, including films, writers, etc. But I've still always wanted there to be a special love for Christian music, both to satiate my nostalgia but also because I think it's a topic of interest. We have a faith where music and poetry play a central role; our liturgies are largely not spoken, they're sung. So I feel like when you talk about the intersection of faith and culture, you can't ignore the power and artistry of musicians.
The Christian ska scene always fascinated me. It's about as niche a subgenre as you can get, but it seems fitting. Ska is happy music; it's party music. If Christians celebrate something called the Good News, shouldn't our music sometimes be loose and fun? And, as Joe says in the podcast, you need actual talent to pull it off. The fun lyrics and engaging music are probably why years after I've stopped listening to DC Talk, Third Day and the like, I still have Five Iron Frenzy, The Insyderz and the O.C. Supertones in rotation on my iPod.
When I first started this podcast, Joe was one of the names who immediately came to mind for an interview. The Insyderz were one of the big three Christian ska bands, but they were also a local band. They were based out of Royal Oak, Michigan, a suburb of Detroit only about 10 minutes from where I grew up. That always gave them a bit of an edge for my favorite. My best friend in my twenties actually went to church to Joe. Even though we only met briefly, he always seemed like an engaging guy, probably good for a podcast interview.
And honestly, it blew my expectations away. Joe and I met at a coffee shop that turned out to be a little loud for our recording purposes. When it became obvious that wasn't going to work, we did the interview in the front seat of his car on a hot Saturday. I wouldn't have blamed him for ducking out after a half-hour, but we talked for 90 minutes about the origins of the Insyderz, his experiences in the Christian music scene, and his journey afterward. It was a fun interview, and I'm happy to bring it to you all.
The responses to this podcast have been very gratifying, and I'm thankful for everyone who's listened. I'm not sure what's on deck for next week, but I can share that I think there are already some developments happening that, very shortly, are going to turn this into something really cool that exceeds even my initial plans. So, thank you for your support!