About 73% of Americans identify themselves as a Christian. Although this number has fallen about 10% in the last 15 years, it makes one wonder with all the self-professed Christians in America why America's culture is in such a rapid decline. The answer can be found by looking at how the word Christian is commonly defined, then examining how does the Bible define a Christian. Knowing the difference will make defining a real Christian mean so much more than just a definition.
What is the common definition of a Christian?
The word Christian is commonly defined as (1): 1. (Adjective) of, relating to, or professing Christianity or its teachings. Having or showing qualities associated with Christians, especially those of decency, kindness, and fairness. 2. (Noun) a person who has received Christian baptism or is a believer in Jesus Christ and his teachings. Origin: Late Middle English: from Greek Christianos.
How does the Bible define a Christian?
The word Christian is used three times in the Bible (Acts 11:26; Acts 26:28; 1 Peter 4:16). In each instance the Greek word Christianos is used, which is defined Biblically as a follower of Christ (2). The word Christ, which is the root of the world Christian, is defined as the Messiah or anointed One, referring to Jesus Christ (3).
The word Christian can be summed up Biblically as someone who is a follower of Jesus Christ. Unfortunately many people who claim to be Christians do not seem to exhibit the characteristics and lifestyles that demonstrate that they follow Jesus Christ. With this in mind, a short study of Acts 11:20-26 will clarify the characteristics and lifestyles of a Christian.
A Christian is someone who is saved (Acts 11:19-23)
This passage of Scripture starts by describing how Christians who heard of the stoning of Stephen had traveled throughout the eastern Mediterranean Sea. Some came to Antioch and preached the Gospel of Jesus Christ, which resulted in a large number of the Greeks living there, believing the Gospel and being saved. In order to preach the Gospel with "the hand of the Lord" that results in a great number of people being saved, a person must first know the clear Gospel and trust Christ as their Savior so that they can preach with understanding (2 Timothy 2:6-7).
At the moment of salvation a person receives the Holy Spirit (Ephesians 1:12-14), Who gives them the discernment to understand the things of God (1 Corinthians 2:9-16). They are then enabled to teach others the truth (2 Timothy 2:1-2) so that they may be saved too. Someone who rejects salvation through Christ cannot be a Christian (Acts 26:24-29). Therefore a Christian is someone who is saved.
A Christian is someone who exhibits a changed life (Acts 11:24)
When the word of what happened reached the church in Jerusalem they sent Barnabas to Antioch. When he arrived and saw with gladness what had happened, he began exhorting the believers to "cleave unto the Lord" from their hearts. Barnabas is described here as a good man who is saved and "full of the Holy Ghost…"
Barnabas demonstrated that a Christian who is saved is the product of a good work that God creates in a believer (Philippians 1:6; Colossians 1:9-11). God's good work motivates the believer to place serving God above his or her own desires so that they serve God and others with joy. A Christian demonstrates to others the love of Christ through a changed life that makes the Christian lifestyle and message attractive.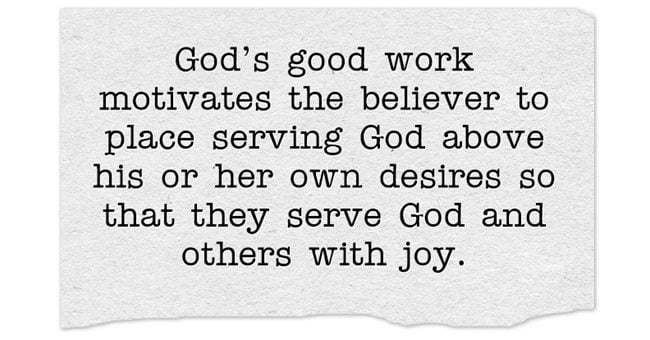 A Christian is someone who walks in faith (Acts 11:24)
In addition to being a good man and full of the Holy Ghost, Barnabas was full of faith. Faith, as part of the fruit of the Spirit (Galatians 5:22; Hebrews 11:1), enables ordinary people to do extraordinary things (Hebrews 11). Colossians 1:10 teaches that a Christian takes the knowledge and wisdom that God gives them so that they "might walk worthy of the Lord unto all pleasing, being fruitful in every good work, and increasing in the knowledge of God…" Christians walk in faith knowing that God will guide them and strengthen them to do great things.
A Christian is someone who shares the Gospel (Acts 11:24)
The result of Barnabas being saved, exhibiting a changed life, and walking in faith is that his preaching of the Gospel resulted in people being "added unto the Lord." In other words, Barnabas made it his mission to share the Gospel and God used His faithfulness to reach the hearts of others and save them. A Christian is someone who shares the Gospel because they love God because God first loved them (1 John 4:19).
A Christian is someone who helps teach others how to live like Christ (Acts 11:25-26)
With a large number of believers that needed to be taught how to grow to be like Christ, Barnabas went to Tarsus and got Paul to come to Antioch to help with the teaching. For an entire year they taught the new believers. This teaching was what Jesus commanded in Matthew 28:19-20 to go and teach all nations the Gospel and to follow the things that He taught. The result of this teaching was that these disciples in Antioch were the first ones to be called Christians.
The systematic teaching of believers by more mature Christians is called discipleship. Discipleship is designed to discipline or train believers, or disciples, to be like Christ and to help them grow in their faith (Ephesians 4:11-15). When a disciple is trained to be like Christ they then become known as Christians. Therefore, a mature Christian teaches others how to live like Christ.
Conclusion
A Christian is someone who is saved, exhibits a changed life, walks in faith, shares the Gospel, and helps teach others how to live like Christ. In doing these things, they demonstrate Christlikeness, which demonstrates how the Bible defines being a Christian.
Article By Dr. Michael Williams
Dr. Michael L. Williams is a pastor, author, Christian educator and Biblical counselor who has served in ministry since March of 2000. Dr. Mike holds under-graduate through post graduate degrees in Christian Education and formerly worked as a nurse. Dr. Mike is the Senior Pastor of Selah Mountain Ministries, which he founded in March of 2010 in Albuquerque, New Mexico, USA (selahmountain.org). In addition to counseling, he teaches how to overcome life issues Biblically on topics such as anger management, marriage, addictions, and other subjects typically referred to as mental illnesses. Dr. Mike is also a writer at What Christians Want To Know. Dr. Mike lives with his wife Pamela Rose and adult daughter Hollie Rose. He and Pamela have other adult children and several grandchildren as well. Learn more about Dr. Mike at his personal ministry web site Wisdom4Today
Resources – Scripture quotations are from The Holy Bible, King James Version. (1) Google. (2014). "Christian". Retrieved from https://www.google.com/?gws_rd=ssl# q=what+is+a+christian. (2) Strong, James, (2014). "Christian". Strong's Talking Greek & Hebrew Dictionary: #G5546. Retrieved from WordSearch 10. (3) Strong, James, (2014). "Christ". Strong's Talking Greek & Hebrew Dictionary: #G5548. Retrieved from WordSearch 10.