What lesson is there to learn from the empty tomb of Christ? Are there applications for the believer today?
What Does the Open Tomb Prove?
The tomb was not left open so that Christ could get out. It was left open so that those who saw Christ die on the cross could go in to see that the tomb was empty and that He was raised from the dead. The Pharisees were so concerned about Jesus, even after He died on the cross, that "The next day, that is, after the day of Preparation, the chief priests and the Pharisees gathered before Pilate and said, "Sir, we remember how that impostor said, while he was still alive, 'After three days I will rise.' Therefore order the tomb to be made secure until the third day, lest his disciples go and steal him away and tell the people, 'He has risen from the dead,' and the last fraud will be worse than the first." Pilate said to them, "You have a guard of soldiers. Go, make it as secure as you can." So they went and made the tomb secure by sealing the stone and setting a guard" (Matt 27:62-66). Can you imagine the apostles, who were all hiding away, coming to overthrow a Roman guard and snatching the body of Jesus away? That would be utterly imaginable. The tomb had been made totally secure by a Roman guard but the tomb couldn't hold Jesus.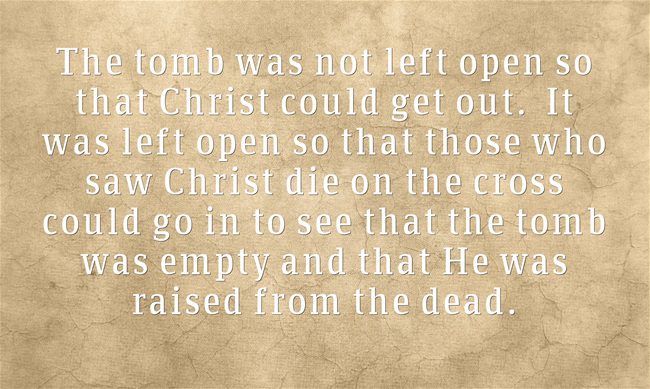 Death Couldn't Hold Him
Since the wages of sin is death (Rom 6:23) and Jesus was sinless (2 Cor 5:21), death couldn't hold him as Peter said, "God raised him up, loosing the pangs of death, because it was not possible for him to be held by it" (Acts 2:24) for it was written of Him, God "will not abandon me to the realm of the dead, you will not let your holy one see decay" (Acts 2:27). Peter was quoting Psalm 16:10 which was a Messianic prophecy written by David. On the third day after Jesus' death, "there was a great earthquake, for an angel of the Lord descended from heaven and came and rolled back the stone and sat on it" (Matt 28:2). The stone was rolled away so that they could see that Jesus was not there having already risen. It was not to let Jesus out. This fact is established when "the angel said to the women, "Do not be afraid, for I know that you seek Jesus who was crucified. 6 He is not here, for he has risen, as he said. Come, see the place where he lay" (Matt 28:5-6). After Mary Magdalene and the other Mary saw this "they departed quickly from the tomb with fear and great joy, and ran to tell his disciples. And behold, Jesus met them and said, "Greetings!" And they came up and took hold of his feet and worshiped him. Then Jesus said to them, "Do not be afraid; go and tell my brothers to go to Galilee, and there they will see me" (Matt 28:8-10).
Denial of His Resurrection
The two Mary's were not the only eye witnesses as "some of the guard went into the city and told the chief priests all that had taken place. And when they had assembled with the elders and taken counsel, they gave a sufficient sum of money to the soldiers and said, "Tell the people, 'His disciples came by night and stole him away while we were asleep.' And if this comes to the governor's ears, we will satisfy him and keep you out of trouble." So they took the money and did as they were directed. And this story has been spread among the Jews to this day" (Matt 28:11-15). This is so incredible that it shows the hardness of the religious leader's hearts. Here were Roman guards who had been eye witnesses to the emptied and opened tomb and they told the chief priests what "had taken place" but instead of investigating it, they told the soldiers to spread a lie about the disciples having come by night and having stolen Jesus' body, somehow overpowering the Roman guards. Later, "Peter and the other disciple started for the tomb. Both were running, but the other disciple outran Peter and reached the tomb first. He bent over and looked in at the strips of linen lying there but did not go in. Then Simon Peter came along behind him and went straight into the tomb. He saw the strips of linen lying there, as well as the cloth that had been wrapped around Jesus' head. The cloth was still lying in its place, separate from the linen. Finally the other disciple, who had reached the tomb first, also went inside. He saw and believed" (John 20:3-8). For them, seeing was believing and you have to wonder if the Roman guards became believers on that day too. Thomas still had doubts though even though "the other disciples told him, "We have seen the Lord" (John 20:25a)! A week later when Thomas actually saw Him, Jesus said "Because you have seen me, you have believed; blessed are those who have not seen and yet have believed" (John 20:29).
The Historical Record
The apostle John wrote at the conclusion of his gospel that "these are written that you may believe that Jesus is the Messiah, the Son of God, and that by believing you may have life in his name" (John 20:31). Paul states the historical fact of hundreds of other eyewitnesses seeing the resurrected Christ while also stating the gospel in a few sentences: "For I delivered to you as of first importance what I also received: that Christ died for our sins in accordance with the Scriptures, that he was buried, that he was raised on the third day in accordance with the Scriptures, and that he appeared to Cephas, then to the twelve. Then he appeared to more than five hundred brothers at one time, most of whom are still alive, though some have fallen asleep. Then he appeared to James, then to all the apostles. Last of all, as to one untimely born, he appeared also to me" (1 Cor 15:3-8).
Conclusion
Today, most are still denying the historical evidence of not only His life but of His death and resurrection. For these same people, sadly, it will be said "Behold, he is coming with the clouds, and every eye will see him, even those who pierced him, and all tribes of the earth will wail on account of him. Even so. Amen" (Rev 1:8). Why would they wail or as some translations have, "mourn" at His appearing? The Greek word for "wail" or "mourn" is "koptō" and this is a lot more than crying or mourning. This Greek word is a very interesting verb because it means "to cut, to strike, to smite" or "to beat one's breast" which in the Jewish vernacular is a term meaning deep, abiding regret or grief and when those who all their lives having rejected believing in Christ finally see Him, they will have such a terrible regret that the Greek word for it cannot even fully describe it. This regret will be so great because by then it will be too late. Their lives will then be examined by what they did in this life and since only the righteousness of Christ makes us acceptable to God (2 Cor 5:21) they will forever be separated from God with no hope for reconciliation (Rev 20:11-15). I pray that is not your future. Today if you won't continue to have such a hardened heart (2 Cor 6:2) and while there is still yet time (Heb 4:6-7), repent and trust in Christ.
Another Reading on Patheos to Check Out: What Did Jesus Really Look Like: A Look at the Bible Facts

Article by Jack Wellman
Jack Wellman is Pastor of the Mulvane Brethren church in Mulvane Kansas. Jack is also the Senior Writer at What Christians Want To Know whose mission is to equip, encourage, and energize Christians and to address questions about the believer's daily walk with God and the Bible. You can follow Jack on Google Plus or check out his book Blind Chance or Intelligent Design available on Amazon