Gold has always been a fascination of mankind. From the poorest of the poor to the richest of the rich, people have always desired gold. And, many literary tales and accounts have had gold as a central part of the story. King Midas is one example among many. Even the Bible, believe it or not, talks a lot about gold. At times, it is a significant color and object that is listed to signify or point to some type of truth. Although it doesn't mean it's always significant to the story, it's worth learning about to be a more informed reader of the Holy Bible. So let's ask the question: What does the color gold mean or symbolize in the Bible? A good way to figure this out is to look at some Bible verses.
Ezekiel 7:14 "They will throw their silver into the streets, and their gold will be like refuse; their silver and their gold will not be able to deliver them in the day of the wrath of the Lord; they will not satisfy their souls, nor fill their stomachs, because it became their stumbling block of iniquity."
Although money can be very helpful, the Bible tells people that it can also be a hindrance to spiritual growth. Gold, of course, has always symbolized wealth and monetary gain. It was desirable, so people placed a value on it, even today! In Biblical times it was no different; people sought after gold to be their refuge and savior—yet this verse in Ezekiel speaks of a time when gold will be meaningless because, in light of eternity, it cannot save them. Nobody can buy their way into heaven with gold. The only way to Heaven, according to the Scriptures, is by accepting Jesus Christ as Lord and Savior.
Psalm 119:127 "Therefore I love your commandments more than gold, yes, more than fine gold!"
Many times, throughout the Bible, gold is used as a way to show that something else is greater. Since so many people thought that gold was the most valuable thing on earth, it made sense that the Biblical authors would compare things with it. Here, as is often the case, the Psalmist is declaring that the Word of God is far more valuable to him than gold. Once again, gold seems to be something that (at least by inference here) is often misused. It's thought to be the most valuable thing in life, yet it's actually Jesus Christ that is.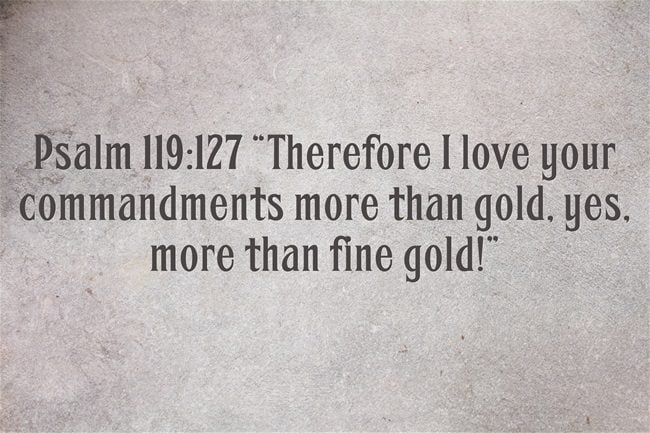 1 Corinthians 3:12-14 "Now if anyone builds on this foundation with gold, silver, precious stones, wood, hay, straw, each one's work will become clear; for the Day will declare is, because it will be revealed by fire; and the fire will test each one's work, of what sort it is. If anyone's work which he has built on it endures, he will receive a reward."
Gold, here, is not a negative thing. In fact, it is actually positive! The Apostle Paul is saying that all Christians will be tested when they leave this world. Their works, or what kind of ministry they did while here, will go through the fire—if it is weak things like hay or straw, it will not endure. If it is gold, however, it stands a likely chance of enduring. It was work that was eternal and meaningful. After all, gold is often refined by fire (Rev. 3:18), not destroyed.
Acts 3:6 "Then Peter said, 'Silver and gold I do not have, but what I do have I give you: in the name of Jesus Christ of Nazareth, rise up and walk.'"
It is not gold (or money/wealth) that people need, it is Jesus Christ. Peter and the other apostles understood this perfectly. They didn't go out and try to acquire wealth; rather, they went out to preach so people could have something far greater than gold—Jesus!
Conclusion
Gold, in the Bible, often symbolizes what it does elsewhere: wealth, power, and status. However, it is not always that way in the Scriptures. At times it can mean something that endures and withstands fire, which is precisely the way ministry should be. A person's work should be able to withstand the fire; a person's life should be able to be refined like gold. So, depending on the context, gold can be important in the Bible for various reasons. It could be used a compare/contrast, an enduring substance, or wealth. The Bible, however, never comes out and says gold is evil, but it does offer some caveats about it: don't trust it, don't hoard it, and abuse it. All things, after all, belong to God.
Article By Michael Krauzer