Here is a Bible study, commentary, and summary of Colossians chapter three.
Colossians 3:2-3 "Set your minds on things that are above, not on things that are on earth. For you have died, and your life is hidden with Christ in God. When Christ who is your life appears, then you also will appear with him in glory."
The Apostle Paul instructs the Colossians to set their minds on the things above or the things of God and not the things of the earth, or human things because these things should have been buried in baptism with the old man and old woman. Now our life is hidden in Christ and we're not to be walking in the ways of the world because the world and the lusts thereof are passing away.
Why things are Paul talking about that we're to set our mind on?
What does it mean to be "hidden with Christ in God?"
What does it mean that we "have died?"
Colossians 3:5-7 "Put to death therefore what is earthly in you: sexual immorality, impurity, passion, evil desire, and covetousness, which is idolatry. On account of these the wrath of God is coming. In these you too once walked, when you were living in them."
Once again Paul says to "put to death" what is earthly in us and we don't have to guess what these earthly things are as he describes them as "sexual immorality, impurity, passion, evil desire, and covetousness, which is idolatry." All these things did were to bring on the wrath of God that is coming upon all unrepentant sinners. These are the same fruits of the flesh that Paul mentions in Galatians 5:19-21, where he warns them "that those who do such things will not inherit the kingdom of God" (Gal 5:21b).
How can we put to death "what is earthly" in us?
Does this mean if a believer has an occasional sin they have the wrath of God on them?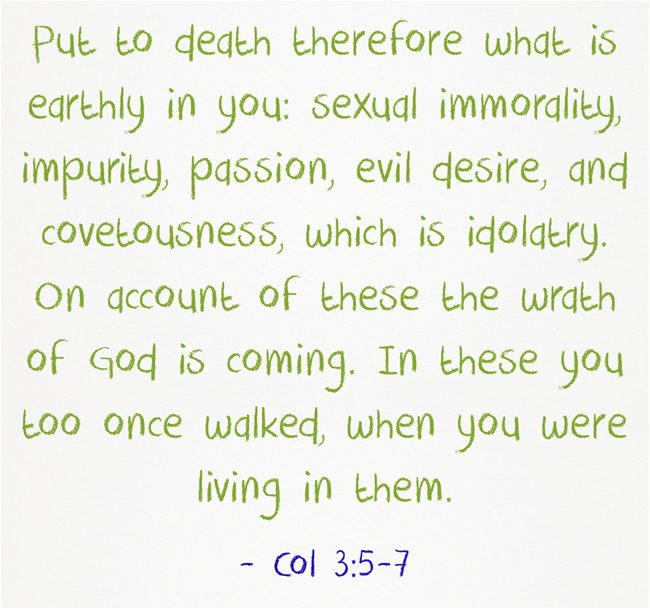 Colossians 3:11 "Here there is not Greek and Jew, circumcised and uncircumcised, barbarian, Scythian, slave, free; but Christ is all, and in all."
Here is a clear statement that race, skin color, or national origin doesn't matter to God. Whoever believes in Christ and has placed their trust in Him is saved. It doesn't matter where you are at in life…Christ is all and in all, meaning He lives within every believer. God looks at the heart and never the outward appearance (1 Sam 16:7).
Does this show that anyone can be saved?
Is there anyone who cannot be saved?
Colossians 3:12-13 "Put on then, as God's chosen ones, holy and beloved, compassionate hearts, kindness, humility, meekness, and patience, bearing with one another and, if one has a complaint against another, forgiving each other; as the Lord has forgiven you, so you also must forgive."
You hear the phase "put on" so many times in the New Testament that it reminds you of putting on clothing but the righteousness of Christ is what we put on and then the Father doesn't see our sinful nature but He only sees the righteousness of Christ which has been imputed on our behalf (2nd Cor 5:21). Since we've been chosen by God, we should have some of the attributes of God such as "compassionate hearts, kindness, humility, meekness, and patience." Why shouldn't we have compassionate hearts since God, through Christ, has forgiven us and so there's no reason we shouldn't be forgiving of one another.
Why does Paul often use the phrase "put on?"
Are we commanded to forgive others, even if they don't forgive us?
Was our debt greater than any debt we could ever have against another?
Colossians 3:18-20 "Wives, submit to your husbands, as is fitting in the Lord. Husbands, love your wives, and do not be harsh with them. Children, obey your parents in everything, for this pleases the Lord."
Submission is not an easy thing. Every one of us has to submit to at least someone. Even the president must submit to the voters, although today that seems to be more of a stretch. The point is, even though Jesus was with God and was God (John 1:1-2), He says, "I have come down from heaven, not to do my own will but the will of him who sent me" (John 6:38) and "I do as the Father has commanded me, so that the world may know that I love the Father. Rise, let us go from here" (John 14:31), even though "he was even calling God his own Father, making himself equal with God" (John 5:18). Husbands and wives are co-equals and co-heirs before God so submission doesn't mean one is greater or superior to another.
Is submission a bad thing?
Don't we submit to authorities (Rom 13:1-4)?
Why don't we like to submit to someone else?
Colossians 3:24-24 "Whatever you do, work heartily, as for the Lord and not for men, knowing that from the Lord you will receive the inheritance as your reward. You are serving the Lord Christ."
We all have a holy vocation because our work is done for God. Yes, we work for an employer but ultimately, we work for God and that is where our inheritance comes from. We can have a nice retirement plan and a bulging 401k but that will burn up someday. The inheritance we receive from God through Christ is for all time.
When you work, is it mankind or God that you really work for?
What is the inheritance that our reward will be?
Who are we really serving in this life?
Summary
The Book of Colossians and particularly chapter three shows us how we have died to ourselves but made alive and hidden with Christ. Because of this, we must strive to put to death the old nature which is what was caused the wrath of God to abide on us. Because of this indebtedness to God, we ought to love the brothers and sisters and be forgiving of one another, having compassionate hearts. Why would we not want to submit to God Who gives us all things, including an imperishable inheritance that will never be lost?
Article by Jack Wellman
Jack Wellman is Pastor of the Mulvane Brethren Church in Mulvane Kansas. Jack is also the Senior Writer at What Christians Want To Know whose mission is to equip, encourage, and energize Christians and to address questions about the believer's daily walk with God and the Bible. You can follow Jack on Google Plus or check out his book Teaching Children the Gospel available on Amazon.