Colossians 4: Bible Study, Commentary and Summary
Here is a Bible study with commentary and a summary of Colossians chapter four.
Colossians 4:2-4 "Continue steadfastly in prayer, being watchful in it with thanksgiving. At the same time, pray also for us, that God may open to us a door for the word, to declare the mystery of Christ, on account of which I am in prison— that I may make it clear, which is how I ought to speak."
The Apostle Paul closes the Book of Colossians in chapter four with an appeal to continue in prayer but being watchful, but to do so with thanksgiving to God. Pray also, he asks, for God to open a door for him so that the Word of God can be declared and the mystery of Christ, hidden for ages, will be made plain to those who are perishing. The very reason he was in prison was for preaching the Word, yet he still asks for an open door, not the prison door, but the door for the gospel and to have the right words to speak.
Did God answer Paul's prayer for an open door?
What is the "mystery of Christ?"
Do you pray for an open door and to find the right words which you "ought to speak?"
Colossians 4:5-6 "Walk in wisdom toward outsiders, making the best use of the time. Let your speech always be gracious, seasoned with salt, so that you may know how you ought to answer each person."
When we are professing to be Christians and we don't walk in godly wisdom, we are exposed as frauds or we are bringing shame to the cause of Christ, since if we're no different from the world, why would anyone want to become a Christian? We should make the best use of the time we have here on earth because the day is swiftly approaching where no one can work, so for now, Paul tells the believers in Colossae to walk as the children of light and to have our speech be "seasoned with salt" and to be prepared to give an answer to anyone who wants to know more about Christ.
What does "seasoned with salt" mean?
How can we make the best use of our time here on earth?
Would you know what to tell someone who asks you about the hope you have in you?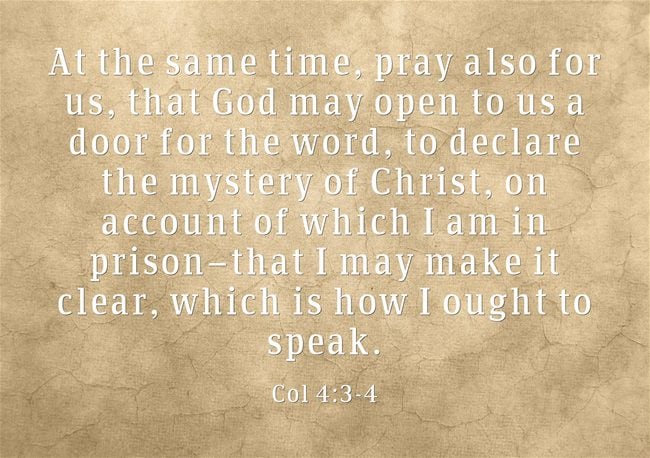 Colossians 4:10-11 "Aristarchus my fellow prisoner greets you, and Mark the cousin of Barnabas (concerning whom you have received instructions—if he comes to you, welcome him), and Jesus who is called Justus. These are the only men of the circumcision among my fellow workers for the kingdom of God, and they have been a comfort to me."
In closing, Paul acknowledges that he's not alone in prison. He has Aristarchus with him, who was also probably arrested for the sake of preaching the gospel, or even by being associated with Paul. The other men, Mark, who was Barnabas' cousin, Justus, and the other men were the only "fellow workers" he had with him. These men, even though they weren't in prison, had been a great comfort to Paul. Perhaps they brought him food and drink but also reports from the other churches and they in turn, may have delivered this very letter to the Colossians to the Christians at Colossae.
What does Paul mean by "the circumcision among my fellow workers?"
Why do you suppose Aristarchus was in prison too?
Why or how were these other men a comfort to Paul?
Colossians 4:12-13 "Epaphras, who is one of you, a servant of Christ Jesus, greets you, always struggling on your behalf in his prayers, that you may stand mature and fully assured in all the will of God. For I bear him witness that he has worked hard for you and for those in Laodicea and in Hierapolis."
Epaphras was apparently from Colossae and being a servant of Jesus Christ, like Paul was, sent his greetings to the church. Apparently, he is a prayer warrior (always struggling on your behalf in prayers) and prayed that they would stand firm in their faith a mature Christians and being able to know and discern what the will of God was. Paul was Epaphras' witness to how hard he worked for the Colossians and for those who were in Laodicea.
Did Paul mean that Epaphras must have spent hours daily in prayer for the Colossians?
Why did Paul and Ephaphras want them to know the will of God?
In what way was Epaphras serving Colossae? And serving Paul?
Summary
In closing, Paul mentions, "Luke the beloved physician greets you, as does Demas. Give my greetings to the brothers at Laodicea, and to Nympha and the church in her house. And when this letter has been read among you, have it also read in the church of the Laodiceans; and see that you also read the letter from Laodicea" (Col 4:14-16). Was Luke with him because Paul was sick and needed medical treatment, perhaps due to malnutrition, neglect, and beatings? Maybe he became sick while in prison. Whatever the reason Luke was there, Paul focused on praying for an open door for him to preach the gospel, even though he was imprisoned at the time. At the same time, Paul expressed concern that the Christians be living like Christians since others, outside of the church, were watching them. Just as they are watching us today.
Article by Jack Wellman
Jack Wellman is Pastor of the Mulvane Brethren Church in Mulvane Kansas. Jack is also the Senior Writer at What Christians Want To Know whose mission is to equip, encourage, and energize Christians and to address questions about the believer's daily walk with God and the Bible. You can follow Jack on Google Plus or check out his book Teaching Children the Gospel available on Amazon.