Here is a Bible study with commentary and a summary over Second Timothy chapter one.
Second Timothy 1:1 "Paul, an apostle of Christ Jesus by the will of God according to the promise of the life that is in Christ Jesus."
As he often does, the Apostle Paul gives his credentials for being an apostle and that is always that God chooses them as part of the will of God. It is according to the promises of life for those who are in Christ and so Paul states that it wasn't his idea but God (Acts 9). This is why it's so problematic to have others self-designate themselves as an apostle. Personally, I detest titles because they often are associated with pride but not so with Paul.
Why must God be the one who calls an apostle?
Can there be apostles today (Acts 1:21-22)?
Second Timothy 1:4-5 "As I remember your tears, I long to see you, that I may be filled with joy. I am reminded of your sincere faith, a faith that dwelt first in your grandmother Lois and your mother Eunice and now, I am sure, dwells in you as well."
What a tenderhearted image of Paul, who longed to see Timothy again. Sadly, he would not see Timothy again…at least in this life. With tears, he remembered the times when he was filled with joy in being with Timothy and remembers his sincere faith, of which he was brought up in. There is no way to place a value on a praying and godly mother and grandmother.
Why did Paul say Timothy's faith was sincere?
Did his mother and grandmother impact Timothy's faith?
Did they lead him to faith or did Paul?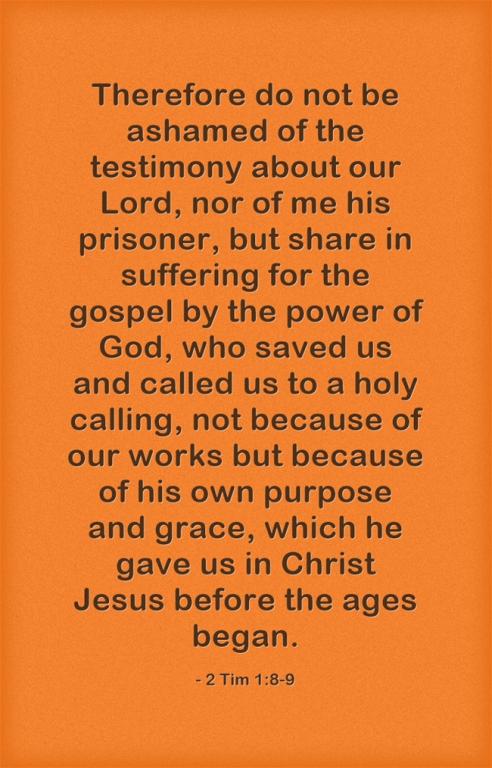 Second Timothy 1:6-7 "For this reason I remind you to fan into flame the gift of God, which is in you through the laying on of my hands, for God gave us a spirit not of fear but of power and love and self-control."
It was for the reason of Timothy's upbringing and his sincere faith that Paul wanted Timothy to stirrup into a flame this gift from God that Timothy had received by the laying on of hands, or by his ordination we could say. In reminding Timothy of this, he tells him that God doesn't give us a spirit of being fearful but of the power of self-control and of love. Without love and self-control, it's doubtful that Timothy would have been of any use to Paul, the church or God.
What does Paul mean by "fan into flame the gifts of God?"
What is the power of love and self-control?
What did the "laying on of…hands" mean?
Second Timothy 1:8-9 "Therefore do not be ashamed of the testimony about our Lord, nor of me his prisoner, but share in suffering for the gospel by the power of God, who saved us and called us to a holy calling, not because of our works but because of his own purpose and grace, which he gave us in Christ Jesus before the ages began."
In writing specifically to Timothy, Paul tells him that his "suffering for the gospel is by the power of God." He was not ashamed of the gospel any more than he was ashamed for being in prison because Paul knew that he was in prison for just that. He mentions sharing in this suffering as if there is some redeeming value in it and there most certainly is. The Apostle Peter knew about the value of suffering and wrote "If you are insulted for the name of Christ, you are blessed, because the Spirit of glory and of God rests upon you" (1st Pet 4:19) and so "let those who suffer according to God's will entrust their souls to a faithful Creator while doing good" (1st Pet 3:19).
What is this power of God in suffering for the gospel's sake?
Do you think Timothy may have been ashamed of the gospel?
Is suffering for righteousness sake a good thing?
Second Timothy 1:11-12 "for which I was appointed a preacher and apostle and teacher, which is why I suffer as I do. But I am not ashamed, for I know whom I have believed, and I am convinced that he is able to guard until that Day what has been entrusted to me."
Paul says that he was appointed a preacher as well as an apostle and teacher and that's the main reason that he was suffering in prison. Even so, Paul was still not ashamed of where he was because he knew why he was there. He understood Who he believed (God) and was convinced that God would guard his salvation up until that very Day, which is the day of Christ's visitation (Rev 1:7).
Why is "that Day" capitalized?
What does Paul mean by saying God will guard up to that Day?
Second Timothy 1:13-14 "Follow the pattern of the sound words that you have heard from me, in the faith and love that are in Christ Jesus. By the Holy Spirit who dwells within us, guard the good deposit entrusted to you."
In closing this first chapter, Paul reminds Timothy of the pattern of sound words or words that Paul had taught him and that is faith in Jesus Christ and the love that He showed us, while still His enemies (Rom 5:10). The Spirit of God Who dwelt in Timothy will guard that deposited by Paul and by the Spirit of God.
Why would Paul say "Follow the pattern of…sound words?"
What words were these?
Summary
In summary, the first chapter of 2nd Timothy told Timothy and us, about Paul's heart and desire to see Timothy again. He never did because this last letter of Paul's was written just prior to his death but it didn't matter in the end. Timothy must not be ashamed of the gospel or the suffering that comes with preaching it. Those who suffer for good are rewarded by God, not in this life but in the life to come, and that life is everlasting for all who repent and believe…otherwise, the end is not good at all for all who reject Christ (Rev 20:12-15; 21:8).
Article by Jack Wellman
Jack Wellman is Pastor of the Mulvane Brethren Church in Mulvane Kansas. Jack is also the Senior Writer at What Christians Want To Know whose mission is to equip, encourage, and energize Christians and to address questions about the believer's daily walk with God and the Bible. You can follow Jack on Google Plus or check out his book Teaching Children the Gospel available on Amazon.