Here is a Bible study with commentary and a summary of Second Timothy chapter two.
Second Timothy 2:3-5

"

Share in suffering as a good soldier of Christ Jesus. No soldier gets entangled in civilian pursuits, since his aim is to please the one who enlisted him. An athlete is not crowned unless he competes according to the rules."
Just as the Apostle Paul had mentioned in the first chapter of 2nd Timothy, he once again mentions sharing in suffering but this time, "as a good soldier of Christ Jesus," and as a soldier for Christ, Paul reminds Timothy to not get tangled up with the worldly pursuits of those who are trying to please themselves. A soldier for Christ is enlisted to please God, not their own self. Just like an athlete competes according to the rules, so the soldier in Christ must obey His Chief Commander, Jesus Christ.
Why does Paul use the analogy of an athlete?
Why does Paul use the analogy of a soldier?
What is our goal as a soldier for Christ?
Second Timothy 2:8-10 "Remember Jesus Christ, risen from the dead, the offspring of David, as preached in my gospel, for which I am suffering, bound with chains as a criminal. But the word of God is not bound! Therefore I endure everything for the sake of the elect, that they also may obtain the salvation that is in Christ Jesus with eternal glory."
Even though Paul was bound in chains, the Word of God wasn't bound by chains or prison walls as God's Word will go out, no matter what, and accomplish what He purposes for it to do (Isaiah 55:11). He had a captive audience as Roman guards rotated around the clock and so he had a fresh set of ears with which to share the gospel with. He endured for the elect's sake in the hopes that they might also obtain salvation with Jesus Christ and end up in "eternal glory" in His presence forever.
What is this "eternal glory" that Paul wrote about?
Why wasn't the Word of God bound with chains?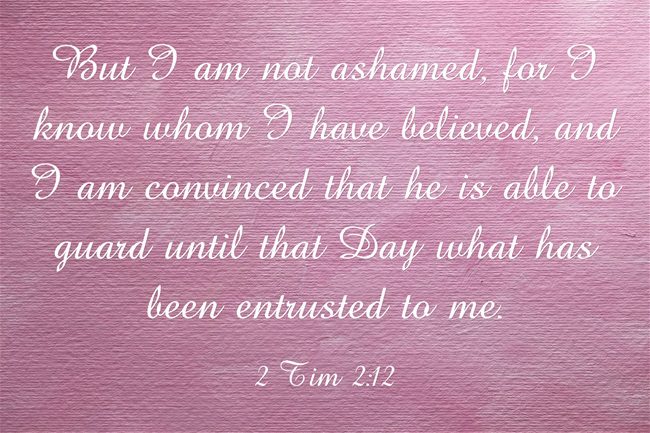 Second Timothy 2:11-13 "If we have died with him, we will also live with him if we endure, we will also reign with him; if we deny him, he also will deny us; if we are faithless, he remains faithful – for he cannot deny himself."
Much like in the Book of Ephesians and Colossians, Paul gives the imagery of dying with Christ but also living with Him and if we endure in this life, we will also reign with Him (Rev 1:6; 5:10). The other side of this is if we deny Christ before others, He will deny us before God and all of His holy angels must as Jesus said, "the one who denies me before men will be denied before the angels of God" (Luke 12:9).
How can we deny Christ?
What does it mean to "die with him?"
Why can't God deny Himself?
Second Timothy 2:14-15 "Remind them of these things, and charge them before God not to quarrel about words, which does no good, but only ruins the hearers. Do your best to present yourself to God as one approved, a worker who has no need to be ashamed, rightly handling the word of truth."
It is never a good thing to debate someone about the existence of God. No one was ever argued into heaven or debated out of hell. This is why Paul says to "avoid irreverent babble, for it will lead people into more and more ungodliness, and their talk will spread like gangrene. Among them are Hymenaeus and Philetus, who have swerved from the truth, saying that the resurrection has already happened. They are upsetting the faith of some" (2nd Tim 2:16-18). Arguing only read to the ruin of the hearers but also to the speakers because God is the Lord of the Harvest and we can't save anybody, however God can use us as a means to His ends in saving some.
Why do quarrels lead to nowhere?
Why is Paul concerned about Timothy handling the Word of God correctly?
How does irreverent babble lead to more ungodliness?
Second Timothy 2:21 "Therefore, if anyone cleanses himself from what is dishonorable, he will be a vessel for honorable use, set apart as holy, useful to the master of the house, ready for every good work."
Timothy was a young evangelist but because he was young, Paul reminded him to run from these youthful lusts that others are captured and destroyed by, therefore Paul says "flee youthful passions and pursue righteousness, faith, love, and peace, along with those who call on the Lord from a pure heart. Have nothing to do with foolish, ignorant controversies; you know that they breed quarrels. And the Lord's servant must not be quarrelsome but kind to everyone, able to teach, patiently enduring evil, correcting his opponents with gentleness. God may perhaps grant them repentance leading to a knowledge of the truth" (2nd Tim 2:22-25).
Why did Paul emphasize fleeing youthful lusts if Timothy was a godly man?
Why was Paul concerned about living a life of holiness?
What is it about arguments that hurt the church and the cause of Christ?
Summary
Apparently there were some contentious people in the church and so Paul was telling Timothy that these controversies only breed quarrels but If they avoid disputations but prayed that might eventually "come to their senses and escape from the snare of the devil, after being captured by him to do his will" (2nd Tim 2:26) and perhaps, God may grant them repentance and lead them into saving faith. This message is just as relevant today as it was in the day in which it was written.
Article by Jack Wellman
Jack Wellman is Pastor of the Mulvane Brethren Church in Mulvane Kansas. Jack is also the Senior Writer at What Christians Want To Know whose mission is to equip, encourage, and energize Christians and to address questions about the believer's daily walk with God and the Bible. You can follow Jack on Google Plus or check out his book Teaching Children the Gospel available on Amazon.