Here is a Bible study, commentary, and summary of Second Timothy chapter three.
Second Timothy 3:1-4 "But understand this, that in the last days there will come times of difficulty. For people will be lovers of self, lovers of money, proud, arrogant, abusive, disobedient to their parents, ungrateful, unholy, heartless, unappeasable, slanderous, without self-control, brutal, not loving good, treacherous, reckless, swollen with conceit, lovers of pleasure rather than lovers of God."
Does this describe our society today or what? No wonder the Apostle Paul wrote to Timothy that they are "having the appearance of godliness, but denying its power. Avoid such people. For among them are those who creep into households and capture weak women, burdened with sins and led astray by various passions, always learning and never able to arrive at a knowledge of the truth" (2nd Tim 3:5-7). All of these things that Paul lists are pride-centered and God will resist every proud person there is (James 4:6).
Do verses 1-7 give an accurate description of our society today?
Why would we need to avoid such people?
What does Paul mean by writing that they are those "who creep into households?"
What does Paul mean that they "capture weak women…and lead them astray by various passions?"
Second Timothy 3:8-9 "Just as Jannes and Jambres opposed Moses, so these men also oppose the truth, men corrupted in mind and disqualified regarding the faith. But they will not get very far, for their folly will be plain to all, as was that of those two men."
Do you remember in the wilderness journeying's of Israel how some opposed Moses to his face? What happened to them? They were those who rebelled against Moses, which is the same as rebelling against God, and the earth swallowed them up (Num 16:32). That will be the same fate for those who oppose God today and as Paul says, "they will not get very far."
Are there men in Moses' day like Jannes and Jambres who opposed Paul, Timothy, and ultimately God?
What does Paul mean "they will not get very far?"
Who will stop them?
If someone opposes the faith, are they "disqualified regarding the faith?"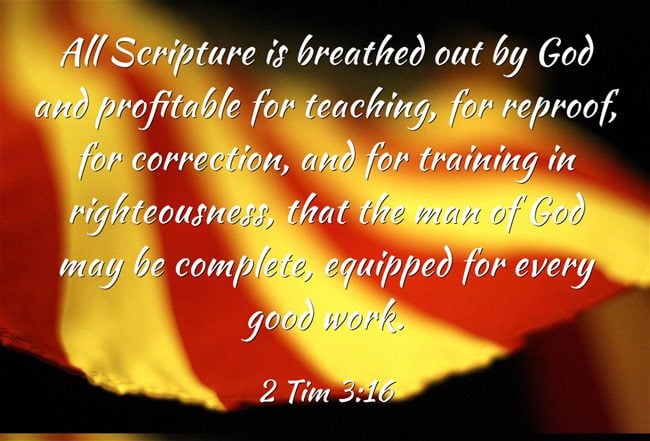 Second Timothy 3:12-13 "Indeed, all who desire to live a godly life in Christ Jesus will be persecuted, while evil people and impostors will go on from bad to worse, deceiving and being deceived."
Once more, Paul returns to the fact that suffering is normal, however it is only for those who "desire to live a godly life in Christ" that will be persecuted. Evil today is growing worse, day by day. Just a brief glance back of a few years ago compared with what we see today in movies, TV, magazines, and even advertising proves that more and more sexually explicit images are appearing and with more and more vulgarity. Things in the world are certainly going "from bad to worse" and many are being deceived into thinking, its normal, when it's absolutely not.
Have you ever been persecuted for your faith?
If you have never suffered from persecution, ask yourself why not?
Have you seen an increase in violence, sexual images, and profanity in just the past few years?
Second Timothy 3:14-15 "But as for you, continue in what you have learned and have firmly believed, knowing from whom you learned it and how from childhood you have been acquainted with the sacred writings, which are able to make you wise for salvation through faith in Christ Jesus."
After saying what is coming in the last days, Paul reassured Timothy to continue in what he's learned and firmly believed in and to reflect on his childhood as he's been well acquainted with the Holy Scriptures, most likely through his grandmother and mother. The "sacred writings…are able to make [him] wise for salvation through faith in Christ Jesus" because the Scriptures had much about the coming Messiah, the Son of David, Who is Christ Jesus.
Why does Paul tell Timothy that he was well verses in the Scriptures?
Why did Paul tell Timothy to continue in what he's learned and firmly believed?
Second Timothy 3:16-17 "All Scripture is breathed out by God and profitable for teaching, for reproof, for correction, and for training in righteousness, that the man of God may be complete, equipped for every good work."
Finally, Paul gets down to the Scriptures that Timothy's well acquainted with because all Scripture is God-breathed and it is useful for teaching, reproving, correcting, and training in righteousness so that a man of God and a woman of God can be complete in Christ and be equipped for ever good work that God has prepared for us beforehand to walk in (Eph 2:10).
Why does Paul mention reproving, correcting, and correction to Timothy?
Were there some who needed this?
Don't we all need it?
Summary
In this very last book or letter ever written by Paul, he warns Timothy (and by extension, us) that the last days are going to be bad…growing worse and worse, day by day. That day has now come when people don't want to be corrected, rebuked, and reproved so they seek out teachers who will give them what they want to hear but not what they need to hear. Sadly, they will fall further and further away from the truth and from the faith that was once delivered and bring in a different gospel, which is really no gospel at all. We had all better be in the Word so that we can more easily discern truth from error.
Article by Jack Wellman
Jack Wellman is Pastor of the Mulvane Brethren Church in Mulvane Kansas. Jack is also the Senior Writer at What Christians Want To Know whose mission is to equip, encourage, and energize Christians and to address questions about the believer's daily walk with God and the Bible. You can follow Jack on Google Plus or check out his book Teaching Children the Gospel available on Amazon.