There is a war on…a way against Christians, so what can we learn from others who have battled Satan and his demons?
Job and Satan
In the Old Testament, "there was a man in the land of Uz whose name was Job, and that man was blameless and upright, one who feared God and turned away from evil" (Job 1:1), so we know that Job was "one who feared God and turned away from evil" and was "a blameless and upright man, who fears God and turns away from evil," but that can create a self-righteous person. Job was declared righteous by God, but Satan believed it was only because God had blessed him, so Satan answered, "Does Job fear God for no reason? Have you not put a hedge around him and his house and all that he has, on every side? You have blessed the work of his hands, and his possessions have increased in the land. But stretch out your hand and touch all that he has, and he will curse you to your face" (Job 1:10-11), however, if you read Job 29 and before, you can see that Job had become, the great "I am" as he boasted, "I did this and I did that."  Notice Job says, "I was eyes to the blind and feet to the lame. I was a father to the needy, and I searched out the cause of him whom I did not know" (Job 29:15-16), so Job began to justify himself before others, and really, before God, even though Proverbs 16:8 warns us all that "Pride goes before destruction, and a haughty spirit before a fall." This is why we must remember that we can do nothing without Christ anyway (John 15:5), and the reason we must give Him all the glory. God Himself has appointed works for us to do, if only we walk in them (Eph 2:10), but to boast on doing this or doing that for others is only going to lead to a prideful attitude, and that pride is just what the Enemy wants. You're playing right into his hands.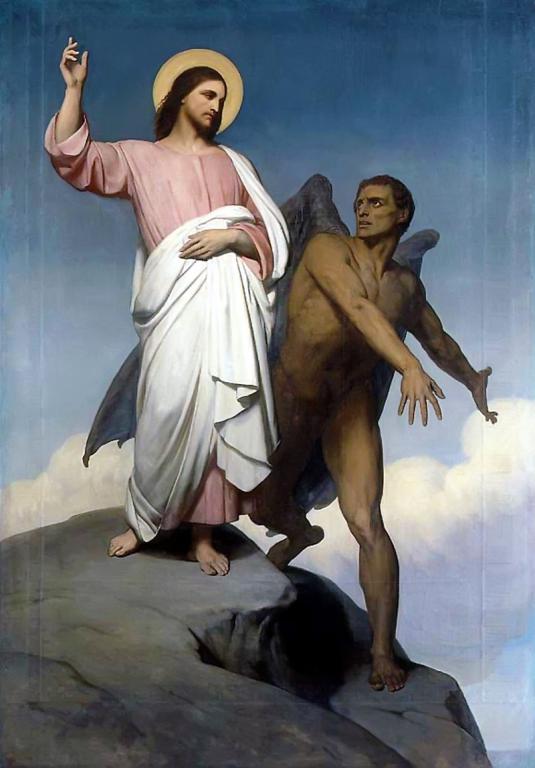 Peter and Satan
Pride is subtle and can sneak up on us without our even realizing it. A good example was when Peter said he would go so far as to die for Jesus, but Jesus told he will deny Him three times, then telling him, "Simon, Simon, behold, Satan demanded to have you, that he might sift you like wheat, but I have prayed for you that your faith may not fail. And when you have turned again, strengthen your brothers" (Luke 22:31-32). Notice, Satan "demanded to have" Peter and he may have had every right to demand him, knowing he would deny Jesus…not once, or twice, but three times. I think Satan knew the prophecy that he would "strike the shepherd, and the flock will be scattered" (Zech 26:31).   Jesus Himself said, "You will all fall away because of me this night. For it is written, 'I will strike the shepherd, and the sheep of the flock will be scattered'" (Matt 26:31). It didn't matter…Peter still believed he would be willing to die with and for Jesus. In fact, he told the others the same thing, but remember, Satan demanded Peter so he could sift him like wheat, meaning he must have had the ability to do that.   We must realize that Peter (like us) is no match for Satan, but that's just why Jesus prayed for Him. If Jesus had not prayed for Peter, he would have been putty in Satan's hands, however, Jesus did pray for him, saying, "I do not ask for these only, but also for those who will believe in me through their word" (John 17:20), so Jesus prayed for Peter, but He also prays for us.   This shows that Jesus is "able to save to the uttermost those who draw near to God through him, since he always lives to make intercession for them" (Heb 7:25).
Paul and Satan
There is a connection between knowledge and pride and it's a surprising connection too, but in many cases, suffering is to pride what water is to fire…it extinguishes it. Suffering seems to humble us…even those with great knowledge, and Paul knew that, so he said, "to keep me from becoming conceited because of the surpassing greatness of the revelations, a thorn was given me in the flesh, a messenger of Satan to harass me, to keep me from becoming conceited" (2 Cor 12:7). Make no mistake about it; Paul had plenty to be proud about, having been "circumcised on the eighth day, of the people of Israel, of the tribe of Benjamin, a Hebrew of Hebrews; as to the law, a Pharisee; as to zeal, a persecutor of the church; as to righteousness under the law, blameless. (Phil 3:5-6), so clearly, the knowledge that Paul had surpassed all in his day and ours too, I believe. That's because Paul was actually taught by Jesus Himself and had more revelations than any other human on earth. That's why God allowed Satan to be his thorn in the flesh. It would keep him humble, and from becoming conceited.  It was like Satan saying to Paul: "Knock, knock…here I am…your constant thorn and your constant reminder that you can't do anything in your own strength," and that's good because "God is opposed to the proud" (James 4:6a). The Greek word used for "opposed" is "antitassom," which means, "to range at battle with" or "be at war" with, so when pride surfaces in our lives, God is opposed to us. Suffering erodes our pride and that's good because God cannot use a man or woman greatly until they have first humbled themselves deeply.
Conclusion
Jesus took on Satan Himself, face to face, and yet Jesus conquered Satan by His obedience, by not tempting God, and by sticking to the Word of God. When we are in a spiritual war, we must make sure we're not aiding the enemy by being filled with pride, having a self-righteous attitude, and letting our head-knowledge puff us up, as knowledge will tend to do. We must remember that "we do not wrestle against flesh and blood, but against the rulers, against the authorities, against the cosmic powers over this present darkness, against the spiritual forces of evil in the heavenly places" (Eph 6:12). We are no match for Satan and his demons. We must armor up and be "praying at all times in the Spirit, with all prayer and supplication" (Eph 6:18a). When you begin to feel a bit proud over what you've done or are doing for the Lord, or when you feel like you would even be willing to die for Christ and state it publically, the enemy's got you just where he wants you.   Keep in mind that pride comes…just before the fall. And sometimes that fall is hard and fast.
Article by Jack Wellman
Jack Wellman is Pastor of the Mulvane Brethren Church in Mulvane Kansas. Jack is a writer at Christian Quotes and also the Senior Writer at What Christians Want To Know whose mission is to equip, encourage, and energize Christians and to address questions about the believer's daily walk with God and the Bible. You can follow Jack on Google Plus or check out his book Teaching Children the Gospel available on Amazon.