Sadly, Christians can become bullies, and often do when attacking other believer's whom they disagree with, so if you've been bullied by other believers, read these to put it all into a godly perspective.
Bully Believers
Bullies are not just found on the playground…bullies can be found at work, at church, among friends, and even in the family, but we cannot respond in kind to how they treat us with their words; otherwise we're doing just what they're doing and lowering ourselves to their level. That's something Jesus never did and is grieved when we do. We should be able to disagree but not be disagreeable. We don't have to believe everything others do, but we must agree on the essentials like the divinity of Christ, His sinless-ness, and His death and resurrection, but far too often Christians minor on the majors and major on the minors, and we end up seeing them use the Word of God as a sword against one another, and using it in a way it was never intended. One example is the gift of tongues. One man told me that tongues is so divisive in the church and that gift can become so elevated (even above Christ) that it's all they ever do or think about, and it's almost as if they removed the cross and eliminated preaching Christ, and worshipping a giant tongue on the altar. He said they worship the gifts rather than the Gift Giver, and more than one person has told me, "If you haven't spoken in tongues, you must not have the Spirit of God." What good is this kind of debate?! No good, that's what.
Persecuting Christ
When Jesus was telling Saul that he was persecuting Him, he must have wondered how that was possible because he'd been persecuting people of "the Way," but Jesus told him that by his persecuting believers, he was actually persecuting Christ (Acts 9:4), because when you attack other believers, you are actually attacking Christ. Here's the image many see today: The Bride of Christ is the church, so here she comes down the aisle…but something's terribly wrong; her dress is torn, her sleeve's ripped, her hair is a mess, she's got a black eye and a bloody nose, and someone outside of the church says, "Well, it looks like the church has been fighting again!" How tragic. Instead of being a light or a lamp to the world, we putting to flames those who don't agree with us. What a sad example we leave the world. Having written articles here, I find that most of the worst persecution comes from other believers, and Satan must be laughing with delight, but Jesus, "When he was reviled, he did not revile in return; when he suffered, he did not threaten, but continued entrusting himself to him who judges justly" (1 Pet 2:23). Would it not be better to suffer wrong than to drag other believers into arguments over non-essentials, and some even taking them to court?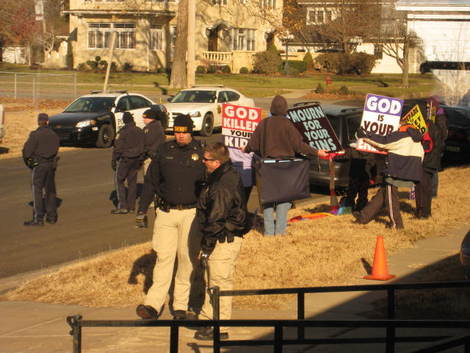 Leave it to God
The Apostle Paul once wrote, "Beloved, never avenge yourselves, but leave it to the wrath of God, for it is written, "Vengeance is mine, I will repay, says the Lord." To the contrary, "if your enemy is hungry, feed him; if he is thirsty, give him something to drink; for by so doing you will heap burning coals on his head" (Rom 12:19-20). Later, Paul adds, "See that no one repays anyone evil for evil, but always seek to do good to one another and to everyone" (1 Thess 5:15). Jesus told us that we are to pray for our enemies and do go to those who do bad things to us, and to "Love your enemies, do good to those who hate you, bless those who curse you, pray for those who abuse you" (Luke 6:27-28). Since we're told to pray for our enemies and bless those that curse us, why do so many believers treat others who they don't agree with, with contempt? So even though we're to pray for our enemies, many end up saying hateful thing to believers. How this must grieve the heart of Christ Who is the Head of the Church? Again, Jesus said, "Love your enemies and pray for those who persecute you, so that you may be sons of your Father who is in heaven. For he makes his sun rise on the evil and on the good, and sends rain on the just and on the unjust" (Matt 5:44-45). Even in the Old Testament we read, "You shall not take vengeance or bear a grudge against the sons of your own people, but you shall love your neighbor as yourself: I am the Lord" (Lev 19:18), but that and the other commands of Christ on loving others is often ignored if they don't agree with someone. Of course in doctrinal errors such as Jesus not being sinless, we must disagree with, but in other areas that are not essential to salvation, why do believers sometimes get so vicious with their words?
Our Words Betray Us
Jesus said that "out of the abundance of the heart the mouth speaks," (Matt 12:34), so our words can betray what's in our heart. We can claim to be a believer, but if our words are not loving, we expose what's really in our hearts, and we break Jesus' commands to love one another in word and in deed. We have ignored the Apostle Peter's admonition to "not repay evil for evil or reviling for reviling, but on the contrary, bless, for to this you were called, that you may obtain a blessing" (1 Pet 3:9), and even though we're told to "Let no corrupting talk come out of your mouths, but only such as is good for building up, as fits the occasion, that it may give grace to those who hear" (Eph 4:29), some believers are better at tearing down one another rather than building one another up as we're commanded to do (1 Thess 5:11). We sometimes treat our pets better than we do our sisters and brothers in Christ, and we know that "Everyone who hates his brother is a murderer, and you know that no murderer has eternal life abiding in him" (1 John 3:15). We might deny being a murderer, but our words are often anything but loving and often hateful, so "Whoever says he is in the light and hates his brother is still in darkness" (1 John 2:9). By all means, "Do not say, "I will repay evil"; wait for the LORD, and he will deliver you" (Prov 20:22).
How to Respond
When non-believers berate you and call you all sorts of names, this is actually a blessing (Matt 5:11-12), and we should expect it (2 Tim 3:12), but "If you are insulted for the name of Christ, you are blessed, because the Spirit of glory and of God rests upon you" (1 Pet 4:14). Don't you want that? So, "if anyone suffers as a Christian, let him not be ashamed, but let him glorify God in that name" (1 Pet 4:16), but sadly, the most painful persecutions come from the "religious" or "spiritual," and professing Christians. Contrary to that type of behavior, Christ-followers are commanded, "Love your enemies, do good to those who hate you, bless those who curse you, pray for those who mistreat you" (Luke 6:27-28). How do we respond? We must pray for these believers who are berating other believers (and us!) over non-essential issues. Jesus prayed to the Father to forgive those who did not know what they were doing (Luke 23:34), so we must at least pray for them, and if they know what they're doing, they need our prayers even more. Pray for them, ask God bless them, and prove to be the sons and the daughters of God (Matt 5:45). Hard? Yes…but love is the true test of the disciples of Christ (John 13:34-35; 1 Cor 13:1-7). You will know them by their fruits, not by their gifts!
Conclusion
Jesus says that others will know that we are His disciples if we love one another (John 13:34-35), but sometimes it's hard to tell true believers from non-believers because they are not showing others that they love one another in their words…especially if the disagree about the tribulation, the rapture, the millennium, tongues, or you name it. We should "Be kind to one another, tenderhearted, forgiving one another, as God in Christ forgave you" (Eph 4:32), instead of bantering back and forth over things that won't matter in eternity. Do you have a bully in your life right now? Have you ever thought about praying for them? Maybe someone else has a bully in their life, and maybe it's a believer, so why not share this with them right now so that they might repent of it and show the love of God with their words instead of using words to attack someone who they don't agree with. I can see bullies being in the world, because they don't have the Spirit of God…but for Christ-followers, we have no excuse. So the next time you hear criticism over what you believe or don't believe, or someone else has issues with you, remember that "out of the abundance of the heart the mouth speaks," (Matt 12:34), and our words reveal what's in our heart. They can tear down or they can build up. The choice is yours, but remember, "for every idle word men may speak, they will give account of it in the day of judgment" (Matt 12:26).
Article by Jack Wellman
Jack Wellman is Pastor of the Mulvane Brethren Church in Mulvane Kansas. Jack is a writer at Christian Quotes and also the Senior Writer at What Christians Want To Know whose mission is to equip, encourage, and energize Christians and to address questions about the believer's daily walk with God and the Bible. You can follow Jack on Google Plus or check out his book Teaching Children the Gospel available on Amazon.