Almost everyone's had a time of doubt and fear, so what does the Bible say about fear and doubt? Is it sinful?
Doubt
Doubt is a feeling of not knowing what to believe or what to do, or the condition of being uncertain or it's an uncertainty about something or someone, or even having difficulty believing in something or someone, but fear is more debilitating than doubt because fear is a feeling that can be induced by a perceived danger or a real threat. This causes a change in our metabolic and organ functions and can ultimately create a change in our behavior, so as you can see, doubt isn't the same thing as fear. Fear can create a dysfunctional life, affecting work, family, and other personal relationships, but doubt is something that we all experience from time to time. Doubt isn't exactly cynicism, but it's more about having an uncertainty about a particular expectation or upcoming event, but both fear and doubt can creep into a believer's life and stymie their walk with Christ…and as we shall read, fear and doubt are contagious.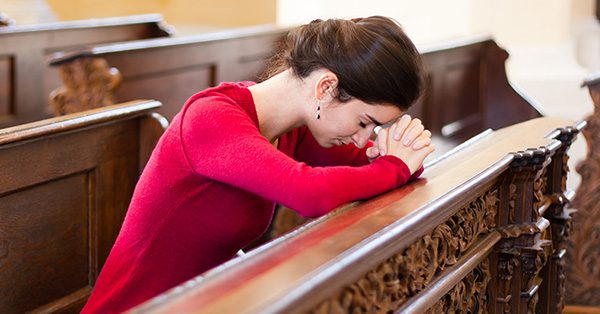 Fear
As I said, fear is contagious, and perhaps the reason why is given when Israel was being oppressed by the Midian's. God called Gideon to lead a small force to rid the nation of Midianite raiding parties. When Gideon had assembled over 30,000 men, "The LORD said to Gideon, "The people with you are too many for me to give the Midianites into their hand, lest Israel boast over me, saying, 'My own hand has saved me'" (Judge 7:2), so God tells Gideon, "'Whoever is fearful and trembling, let him return home and hurry away from Mount Gilead.' Then 22,000 of the people returned, and 10,000 remained" (Judges 7:3). I believe the reason why God removed the men who were fearful was because fear in contagious but more importantly, God wanted a small number to fight against the Midianites so that God would receive all the glory. When you see the battles between nations in the Bible, quite often, when one army flees, the others do too, so fear is like a disease…if you are around it, you can "catch it," so this may be why God sent all 22,000 of the fearful men home.
Self-Preservation
Even though doubting is not as bad as being fearful, doubt can still rob you of your joy, assurance, and self-confidence. When we begin to doubt ourselves, and perhaps even doubt others, we're projecting defeat before it ever happens. It's like we wave the white flag of surrender before the battle begins. That's how doubt can affect us, but when that doubt grows into fear, it can be especially crippling, however not all fear is bad. In some cases, fear can actually be a good thing and for several reasons. It can keep us from taking unnecessary risks or placing ourselves in danger. Fear can keep us alive. There's a natural tendency for self-preservation in every one of us, and that type of fear is not debilitating, but is life-preserving, so fear is good for some things, but it can be bad when there's no real reason to fear. If it's a rational fear, it can keep us alive, but an irrational fear can make our lives miserable, and perhaps the lives of those around us.
The Wisdom of Fear
One type of fear that is beneficial is the fear of the Lord, because the fear of the Lord is the very beginning of wisdom (Prov 9:10). This kind fear isn't the fear that comes from the judgement of God. The Apostle John wrote, "There is no fear in love, but perfect love casts out fear. For fear has to do with punishment, and whoever fears has not been perfected in love" (1 John 4:18), so if you fear God's judgment, you are either unsaved or you don't understand that Jesus took the judgement that was due us. Some fear kept people from being receiving eternal life, like many of the Jews who believed in Jesus, but "for fear of the Jews no one spoke openly of him" (John 7:13). Even though many "of the authorities believed in him, but for fear of the Pharisees they did not confess it, so that they would not be put out of the synagogue because they'd be put out of the synagogue" (John 12:42), so fear can be good, but fear can also be very bad, and yes, fear can be sinful. The only thing we should fear is God, but if someone's rejected Jesus Christ, Jesus warned them, saying "Do not fear those who kill the body but cannot kill the soul. Rather fear him who can destroy both soul and body in hell" (Matt 10:28). On one occasion, the disciples were in a boat with Jesus when "a great windstorm arose, and the waves were breaking into the boat, so that the boat was already filling" (Mark 4:37), but Jesus "awoke and rebuked the wind and said to the sea, "Peace! Be still!" And the wind ceased, and there was a great calm. He said to them, "Why are you so afraid? Have you still no faith?" And they were filled with great fear and said to one another, "Who then is this, that even the wind and the sea obey him" (Mark 4:39-41)? At first, they feared the storm, but when Jesus rebuked the storm, calming it, they feared Jesus more, but this was not a sinful fear but a fear of Who they were with…and it was God!
Conclusion
Fear and doubt are normal for some things, but when fear and doubt join hands in our minds, they can be debilitating, and these two can be exceedingly hard to get out of your mind. It takes the Word of God to calm the fear of man and bring him peace…and it's a peace that surpasses all human understanding (Phil 4:7). The peace of God comes from being at peace with God, and when we're at peace with God, we have no reason to fear. Jesus left us with His own peace, telling the disciples, "Peace I leave with you; my peace I give to you. Not as the world gives do I give to you. Let not your hearts be troubled, neither let them be afraid" (John 14:27). If you have trusted in Christ, you have no more reason to fear. The fear of the Lord is the beginning of wisdom, and it is the fulfillment of wisdom, but that's a healthy fear, not one of being struck down by God or fearing His judgment. To fear God means to reverence the Word of God and God Himself. The day is coming when God says, "I will set shepherds over them who will care for them, and they shall fear no more, nor be dismayed, neither shall any be missing, declares the LORD" (Jer 23:4). Today is the day to remove all doubt and fear, and you can do that when you repent and put your trust in Christ. Then, there is no more reason to fear, and I can say that with absolutely certainty, and without a doubt.
Article by Jack Wellman
Jack Wellman is Pastor of the Mulvane Brethren Church in Mulvane Kansas. Jack is a writer at Christian Quotes and also the Senior Writer at What Christians Want To Know whose mission is to equip, encourage, and energize Christians and to address questions about the believer's daily walk with God and the Bible. You can follow Jack on Google Plus or check out his book Teaching Children the Gospel available on Amazon.