Christopher Closeup Podcast – Guests: 1) Scotty McCreery, 2) Brooke White, Part 1
Christopher Closeup Podcast – Guests: 1) Brooke White, Part 2 and 2) "Les Miserables" segment with Hugh Jackman, Anne Hathaway, and more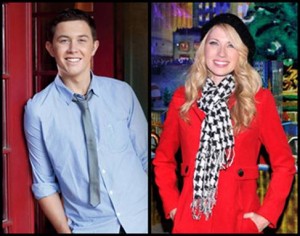 Great songs are often inspired by pain, even great Christmas songs. Yet music has a way of turning pain into a relatable way of connecting with others, a form of consolation, and even an opportunity to create a more hopeful situation.
When "American Idol" winner Scotty McCreery and season seven finalist Brooke White released their respective Christmas albums, they didn't just choose to record their own favorite joyful hymns and carols; they also included new songs that were personally meaningful to each of them, songs inspired by difficult times.
In the case of Scotty's album, "Christmas with Scotty McCreery," one of those songs is called "Christmas in Heaven." Though the 19-year-old with the immediately recognizable bass voice didn't write it himself, he felt inspired by his late grandfather, who always encouraged his singing and taught him about loving God, when recording its meaningful lyrics. During an interview on Christopher Closeup, Scotty told me, "As an artist and a singer, you want to make good music, but you also want your music to positively impact the people who are listening to it. I hope it touches people."
For Brooke, the song "Christmas Card," off her album "White Christmas," also has the potential to impact people in a positive way because it contains a message of reconciliation. She explained to me on Christopher Closeup, "I'd like to say that every relationship I've had is peachy and dandy and there's never been any sort of contention. But that's just not life. There's always a few people that something happens with or you lose touch with. So that was on my mind and my heart."
When she sat down to write an original song for the album, the idea of opening her address book to start writing Christmas cards popped into her mind. She thought of seeing the name of a person with whom a relationship has been severed and wondering if she should send them a card. Brooke said, "There's that thought that maybe this is my chance to reach out. It doesn't mean that everything's fixed or back to normal, but it's an attempt at either forgiving another person for being hurtful or apologizing to a person for, even in the most innocent ways, hurting them. I think every human being has a few people that they wish they could make things right with. So this song is my opportunity to put that into words."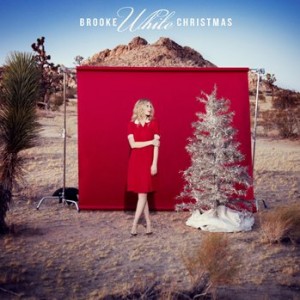 One of the motivations for Brooke's recording "Christmas Card" and other songs on the album – like "O Come All Ye Faithful," "Silent Night," and "What Child Is This" – was her faith. She said, "I wanted it to be, not just a fun Christmas record, but one that celebrates Christ. 'Christmas Card,' even though it doesn't necessarily bring up Christ, it's about forgiveness which is a strong Christian theme. And I felt like singing some classic hymns and making them new again, with a more stripped down feel."
That being said, "White Christmas" is also full of fun songs, from the infectious, Eagles-esque original "California Christmas" (free download here) to the brilliant re-interpretation of Paul McCartney's "Wonderful Christmastime." One of the standards that has personal meaning to Brooke is "Have Yourself a Merry Little Christmas," which is originally from the play "Meet Me in St.Louis." At age 15, the painfully-shy-at-the-time Brooke auditioned for the lead role in that play, got it, and sang that song as one of her first-ever solos. That experience helped her transition into a more confident person willing to explore her talents, so she honored the song by channeling her "inner Brian Wilson" and giving it a "God Only Knows" vibe.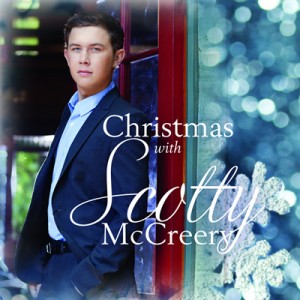 On Scotty's album, he channels his inner Elvis by covering "Santa Claus is Back in Town" – and steps into Burl Ives' shoes on "Holly Jolly Christmas." But he also expresses his faith in hymns like "First Noel" and "O Holy Night." That faith is a vital factor in his life and work.
For instance, Scotty is known for wearing a wristband that says "I Am Second." The purpose is to remind himself that God comes first in his life. The "I Am Second" movement exists all around the country, but the Garner, North Carolina native first heard about it in high school when his local church started feeding the football team dinner before games on Fridays. They'd gather to eat while listening to a message from someone in the community, always with the theme 'I Am Second.' All the players would then head to the game and walk onto the field wearing their wristbands to remind them there was something bigger in life—even bigger than Friday night football in the South.
That reliance on his family, friends and faith didn't go away once McCreery arrived in Hollywood to compete on "American Idol." He noted that the fame and constant pressure to perform came hard and fast. But he had a way to deal with the pressure. He said, "Sometimes, I would Skype with my church group back home when they were doing a service with the youth. I'd say hello, and we all prayed together. Then I'd go do the show."
After winning "American Idol," Scotty McCreery could have focused exclusively on his music career. Instead, he returned to Garner to finish high school, then toured with country star Brad Paisley while attending college at North Carolina State University. When I asked him why he made that choice, he explained, "It was a huge blessing that I got to go do 'American Idol,' but I still had things that were important to me back home. I still had my relationships that I'd made with my friends and community for 17 years of my life. I wasn't gonna be that guy who said, 'Forget about y'all. I'm going on to bigger and better things.' I still love those guys back home."
The traditions of home are also on Brooke White's mind this holiday season since she grew up in a family that always cut down its own Christmas tree (and still does) – and went for twice-weekly rides in their Aerostar van to look at Christmas lights in the neighborhood. But most importantly, this will be the first Christmas that Brooke spends not just as somebody's daughter, sister or wife; it'll be her first as a mom.
In May 2012, Brooke gave birth to her and her husband Dave's first child: a daughter named London. Since I had seen the movie "Les Miserables" a few days before interviewing Brooke, I had the lyric "To love another person is to see the face of God" in my head. I asked her if that reflects how she feels about her daughter.
She said, "I agree with [that lyric] completely. The other day, I had just gotten home from New York and performing at the Rockefeller Center tree lighting, which was incredible. I laid her down to take a nap and she locked eyes with me. For such a little person to make such meaningful eye contact, I was just stunned…I was stressed out at the moment and a little overwhelmed – and she looked at me and, truly, it was like the face of God. It's like she was telling me, 'This is what's important, and it's okay.' That was such a blessing. I needed it in that moment. Since she was born, everything shifted in my mind. I know most every parent goes through some sort of transformation, but for me it was instant with London. She came out not crying; her eyes were open, and she was this alert little person ready to live. I can't wait to see this little person blossom and grow. I love her. She's perfect. She is love."
(To listen to my full interviews with Scotty McCreery and Brooke White, click the podcast links):
Christopher Closeup Podcast – Guests: 1) Scotty McCreery, 2) Brooke White, Part 1
Christopher Closeup Podcast – Guests: 1) Brooke White, Part 2 and 2) "Les Miserables" segment with Hugh Jackman, Anne Hathaway, and more