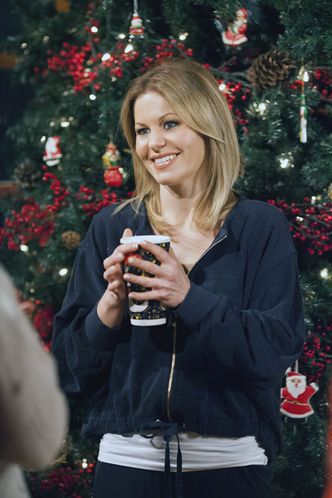 Actress Candace Cameron Bure, who grew up on television playing D.J. Tanner on the hit sitcom "Full House," knows first-hand that you can create a Christ-centered Christmas for kids, while still enjoying Santa Claus and the commercial aspects of the holiday. That's exactly what she does with her three children because it reflects how her celebration of Christmas has evolved through the years.
During a recent interview on "Christopher Closeup" about her new Hallmark Channel movie "Let It Snow," Candace explained, "Christmas for us growing up as kids was really about Santa and presents, and also serving because philanthropy or charity has always been important to my family, particularly to my mom, who modeled that so well. So we definitely were taught the 'giving' part of the season."
It wasn't until a conversion experience years later that Candace fully appreciated that Christmas was really about the birth of the Savior. Now she incorporates the best of both worlds into life with her husband, former hockey star Valeri Bure, and their children Natasha, Maksim and Lev.
Candace said, "As a mom, I make sure the season is really focused around Christ, but I still love the commercialism of Christmas too! I think it's wonderful, and I think that you can do both! With our kids over the years, we scaled way back on presents and told them, 'It's just not about this, but Christ gives us a gift.' And it's so true, the saying, 'It's better to give than receive.' I love watching my kids on Christmas morning when one of them has saved up their money and they give their brother a Christmas present. The joy of giving is almost bigger than the one receiving."
There's one tradition that's especially important to the Bures. Candace revealed, "For us as a family, we started serving at a shelter on Christmas morning. We wake up at about 5 AM and with some other family members and friends, we go to a local shelter that has about 40 or 50 people staying there. We bring breakfast and we cook it there for them and then we sit down and we eat, share stories and listen to them and encourage them. For us it's about giving back first, and then coming home and having the traditional present opening at our house and then a big family Christmas dinner with all of our relatives."

Creating Family Friendly Entertainment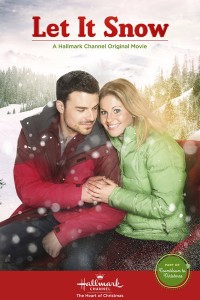 Candace's real-life experience of Christmas is the opposite of her character, Stephanie Beck's, in "Let It Snow," who starts off the film indifferent toward the holiday. The reason? She said, "Her mom had passed away when she was young, and her dad didn't want to have any of the traditional associations with Christmas; he just saw it as a shopping sale season. She took on this attitude towards Christmas because it was never a part of her life – at least until she experiences a real Christmas for the first time."
"Let It Snow's" themes, story and cast proved so appealing that the movie became the 2nd most-watched Hallmark Channel telecast ever, and will rerun throughout the network's annual Countdown to Christmas programming slate. It's the type of movie that Candace feels is part of her purpose in life. She said, "All the movies that I make are family friendly because I want to glorify God in them, and the books that I write shine a light towards Him."
Juggling Priorities and Purpose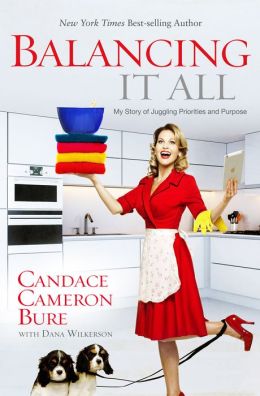 Candace's first book, "Reshaping It All: Motivation for Physical and Spiritual Fitness," became a New York Times best-seller. Her newest book is entitled "Balancing It All: My Story of Juggling Priorities and Purpose," and it's an autobiography about growing up in Hollywood and becoming the busy, successful wife, mother, actress, producer, writer and philanthropist that she is today.
She said, "In this book, I share what's worked and what hasn't worked in my own life and what has helped me to focus my priorities. The big takeaway is to realize that all of us are unique and different, and our situations and circumstances are all different. I think when we stop trying to fit into what society calls normal and we become grounded within our own family circumstances and using all of those circumstances for the glory of God, then those things will naturally balance themselves out."
Building a Foundation of Faith for the Family

One of the critical aspects of building a strong foundation for her family is God. Jesus isn't just someone that's talked about at Christmas-time, but someone she makes time for every day.
Candace said, "The busier you are, the more hectic it gets, it's easy to put [God] at the bottom of your list. I just can't and I don't and I won't. I make time to read my Bible. I just read the Bible this morning with the kids. Before going to school, at 6:45, we all sat on the couch and read a chapter, we're in Corinthians. We talk about it about 15 minutes before school, but it sets your day. And I make time to be in my small Bible study group and to read my Bible because that's the only way that I'm able to balance the things that God's given me to balance."
Though she wants to do everything that's asked of her and help whoever needs help, Candace realized that sometimes achieving balance requires saying "no." It was a difficult lesson to learn, but Candace laughingly admits she's finally getting there "in my old age."
"Just because things are good doesn't mean that they need to be done by you," said Candace. "And just because things are good, doesn't mean God wants you to do them. You can get overwhelmed and then you're more being a busybody when maybe priorities that really need to be done are being put aside."
Part of Candace's ability to do that comes from her ability to trust God to a degree that those of us who are control freaks struggle with. But as she said, "I can easily give God control just because I've seen it in other people's lives, I've seen it in my own life, and I know that when I give that all away to Him, things just are better! And I don't have the pressure or the burden of trying to control that stuff."
Ultimately, everything comes back to being humble before God for Candace. When asked how she moves forward in hope during times of darkness, she said, "It's on my knees, literally. I have my prayer spot in my room right by my bed. And [I use it] every day, not just when times get bad. When you have that ongoing relationship and dialogue with God, I think that, overall, you will just [be] calmer and more peaceful, even in difficult times."
(To listen to my full interview with Candace Cameron Bure, click the podcast link:)
Christopher Closeup podcast – Guest: Candace Cameron Bure