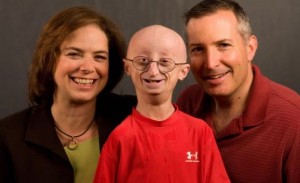 One of this year's Christopher Awards went to the documentary "Life According to Sam." It was about Sam Berns, who was born in 1996 with the rapid aging disease progeria, which usually results in death by age 13.
When his physician parents, Dr. Scott Berns and Dr. Leslie Gordon, received that diagnosis, they resolved to not give up their son without a fight. They founded the Progeria Research Foundation, through which Dr. Gordon embarked on a research project to discover the gene responsible for progeria and then develop a treatment. The film chronicles her rigorous clinical study — and the roadblocks she faces trying to bring a measure of healing to the 250 children afflicted with the disease worldwide.
The film also introduces viewers to Sam, a Lego-loving, aspiring inventor whose joyful spirit and mature soul defy the danger of his condition. Without a trace of self-pity, he teaches us all to embrace each of our days on this earth, and fill them with happiness, kindness and love. Sam Berns unfortunately passed away at age 17 in January 2014. His parents' battle to help others with progeria continues, in memory of their son.
Now, Sam will be remembered in another way as well. The new playing field at Sam's old school, Foxborough High School in Foxborough, Massachusetts, has been named in his honor because he was such a big sports fan as well as a member of the marching band. Debra Spinelli, superintendent of schools, told
WBZ CBS Boston
, "Every day is a good day to remember Sam and what he stood for. But today is really special, because this really ensures that a child who grew up here and was cherished here, will be cherished forever in the future."
Watch the whole segment.