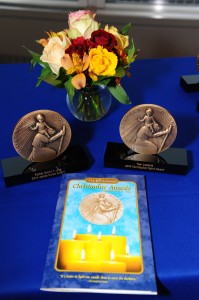 Joined by a capacity crowd, the 2014 Christopher Awards were another rousing success, thanks to several factors: the quality of the work created by our winners, their presence at the ceremony, and the outstanding presenters who left the crowd feeling inspired – Master of Ceremonies Ernie Anastos from Fox5 New York, NBC News's Senior White House Correspondent Chris Jansing, two-time Christopher Award-winning author Joan Bauer, and Father Jonathan Morris from The Christophers. We hope to have video of the ceremony in a few weeks, but for now, here are some pictures (courtesy of Paul Schneck) from last night with descriptions of the winning projects.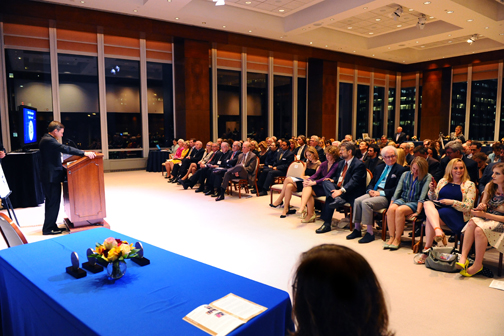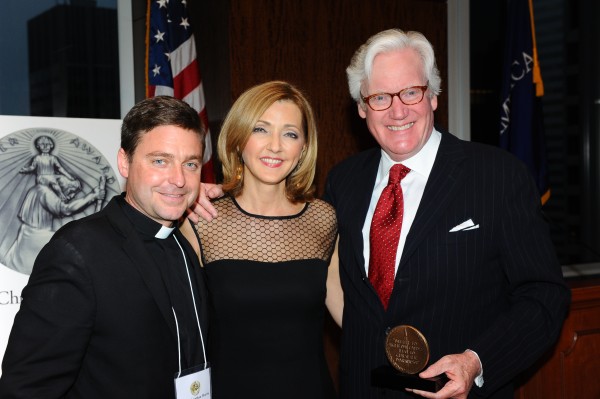 (from l to r: Father Jonathan Morris, Chris Jansing, and "American Story" author Bob Dotson)
Bob Dotson admits that he's been in more hotel rooms than the Gideon Bible while profiling this nation's unsung heroes for his "American Story" segments on NBC News. And after a 40 year career, he continues finding new people whose selflessness and compassion are creating a better world – people like the retired doctor who started a clinic for the working poor in South Carolina. Bob's admiration for 'can do' attitudes was born out of his childhood battle with polio. His stories, collected in this book, remind us that "nothing is more American than optimism that overcomes hardship."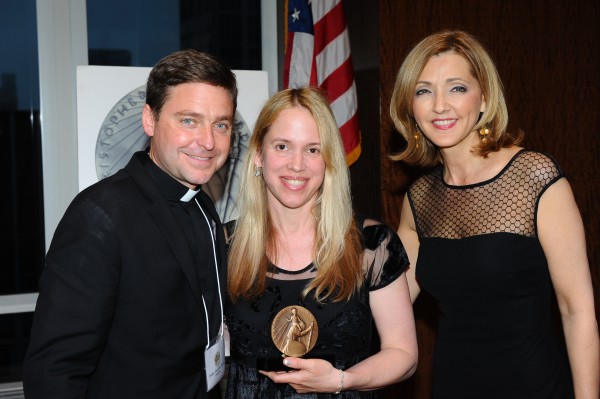 (from l to r: Father Jonathan Morris, "Love and salt" co-author Amy Andrews, and Chris Jansing)
When Amy Andrews and Jessica Mesman Griffith met in a writing class, they discovered their mutual love of God and literature. As a Lenten exercise, they decided to write daily letters to each other so they could work out their spiritual struggles on paper. Over a period of three years, they addressed topics, including faith, doubt, marriage, motherhood, and the acknowledgment of death as a tragedy, but not the final word. Combining a modern sensibility with ancient spiritual wisdom, "Love and Salt" vividly demonstrates how two friends can become companions on the road to God.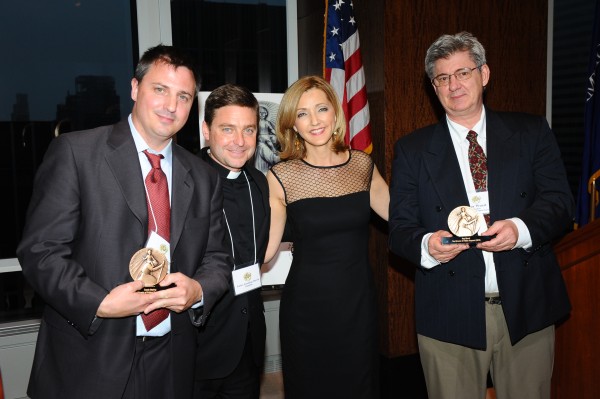 (from l to r: "The Miracle of Father Kapaun" co-author Travis Heying, Father Jonathan Morris, Chris Jansing, and co-author Roy Wenzl)
Captured as a P.O.W. during the Korean War, U.S. Army chaplain Father Emil Kapaun saw a Chinese soldier ready to shoot Sergeant Herb Miller in the head. Father Kapaun calmly walked over, pushed away the soldier's rifle, and carried Miller to the P.O.W. camp. That's just one example of Father Kapaun's courage under fire and heroic leadership that won over Catholics, Protestants, Jews and Muslims. "The Miracle of Father Kapaun" sheds new light on the priest's wartime experiences, the mercy he showed the captors who killed him, the 50 year mission to recognize him with the Medal of Honor, and his current road to sainthood.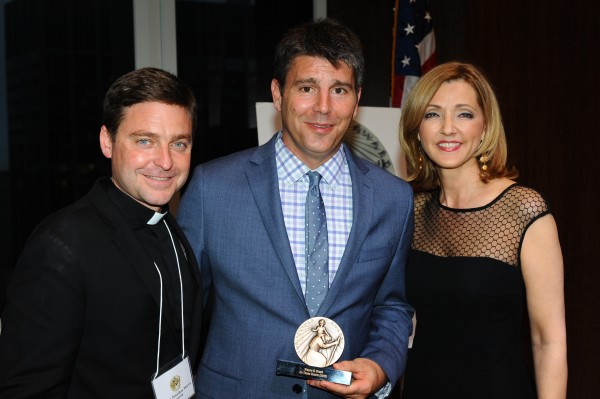 (from l to r: Father Jonathan Morris, "On These Courts" author and CNN.com writer/producer Wayne B. Drash, and Chris Jansing)
Injuries prevented NBA star Penny Hardaway from ever winning a championship during his career. But the values he learned from his grandmother growing up brought him victory of a different kind. After his friend, youth basketball coach Desmond Merriweather, was stricken with cancer, Hardaway returned to his hometown of Memphis to take over his job at Lester Middle School. "On These Courts" presents Hardaway's evolution from coach to role model, who helped guide his players through struggles with crime, gangs and failing grades. In the end, his efforts bolstered the entire community and earned him his first-ever championship season.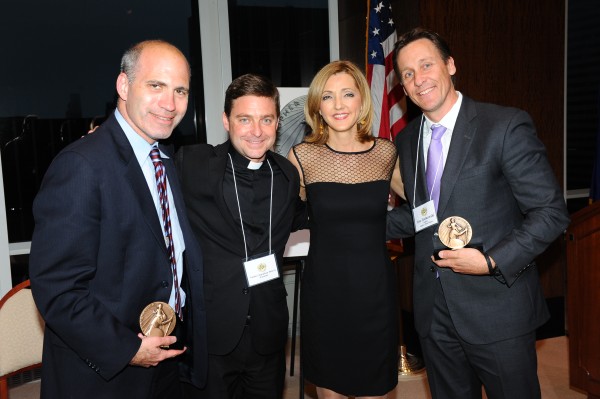 (from l to r: "Walk in Their Shoes" co-author James S. Hirsch, Father Jonathan Morris, Chris Jansing, and author Jim Ziolkowski)
Jim Ziolkowski is a combination of Indiana Jones and Mother Teresa. Inspired by his father's lessons about the importance of living your faith, Jim left his career in corporate finance 22 years ago to build schools in the poorest sections of Brazil, Malawi, and Nepal. Since then, his nonprofit – called buildOn – has gotten teens from America's inner cities involved in that initiative and built 550 more schools worldwide. As a result, these teens have found an alternative to drugs and gang life by learning that in helping others, they're also helping themselves.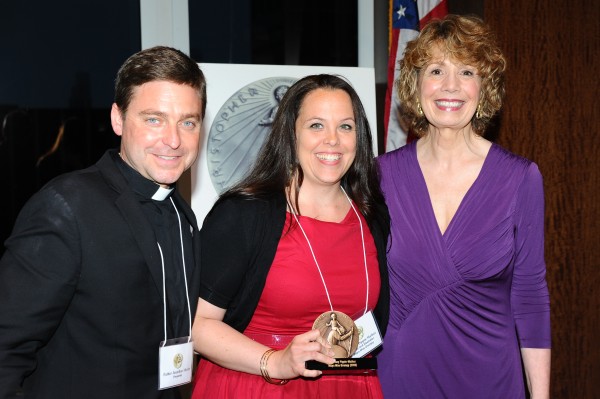 (from l to r: Father Jonathan Morris, "Maya Was Grumpy" author/illustrator Courtney Pippin-Mathur, and Joan Bauer)
When Maya wakes up feeling grumpy, gloomy, grouchy, and growly, she tries to spread her bad mood to her cat, her little brothers, and even her grandmother. But Gramma is pretty sharp and knows that the best way to handle angry little girls is through silliness. Instead of scolding Maya, Gramma suggests hunting for hippos, tickling tarantulas, and swinging with monkeys after breakfast. Maya's scowls soon turn into giggles, making this cheerfully illustrated book an ideal read for all grumpy children – and the parents who love them.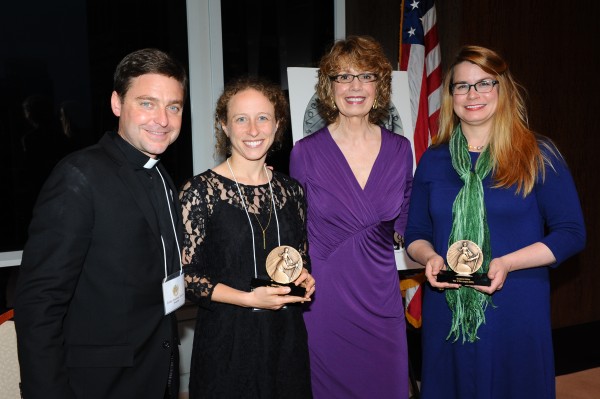 (from l to r: Father Jonathan Morris, Scholastic Press editor Emily Seife accepting for "Year of the Jungle" author Suzanne Collins, Joan Bauer, and Scholastic Press Publicity Manager Sheila Marie Everett accepting for illustrator James Proimos)
Suzy loves the Ogden Nash poem her dad always reads to her about a dragon who acts brave despite feeling afraid. That poem becomes more relevant when her father is sent to fight in Viet Nam. At first, Suzy imagines him in a jungle like her favorite cartoon character. But as time passes and his postcards ask for prayers, her worries grow until he finally returns home. The autobiographical "Year of the Jungle" offers a timeless reflection on the anxieties children face when their parents are at war – and how a scared-but-brave dragon can bring us all a little comfort and healing.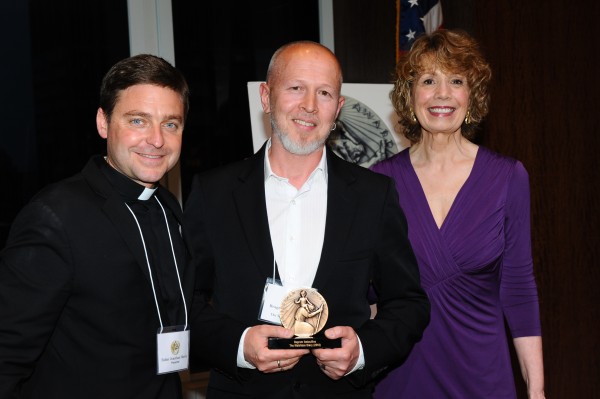 (from l to r: Father Jonathan Morris, "The Matchbox Diary" illustrator Bagram Ibatoulline, and Joan Bauer)
A little girl visits her great-grandfather for the first time and becomes captivated by his collection of matchboxes, each of which contains an object from his past. Through items like an olive pit, a fish bone, and typesetting letters, she learns about her great-grandfather's poor childhood in Italy, the challenges he faced as an immigrant in the United States, and the pride he took in learning to read and becoming a book printer. In a warm and engaging way, "The Matchbox Diary" reflects on the importance of passing on your family history to the younger generation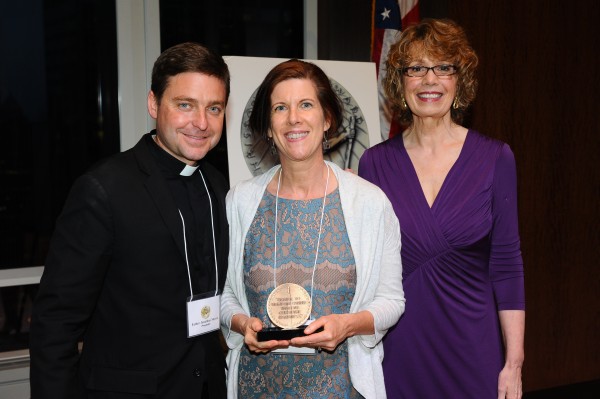 (from l to r: Father Jonathan Morris, Candlewick Press Group Editorial Director Joan Powers accepting for author Kate DiCamillo and illustrator K.G. Campbell,and Joan Bauer)
When a hungry squirrel gets sucked into a vacuum cleaner, he emerges with the power to fly and write poetry. 10-year-old Flora Belle Buckman immediately considers him a superhero, names him Ulysses, and adopts him as a pet. The rambunctious rodent's devotion soon breaks down the walls of Flora's cynicism, loneliness, and anger about her parents' divorce. Through a series of comical and poignant adventures, "Flora and Ulysses" shares a message about opening your heart to forgiveness – and realizing that there's more beauty in the world if you believe in miracles.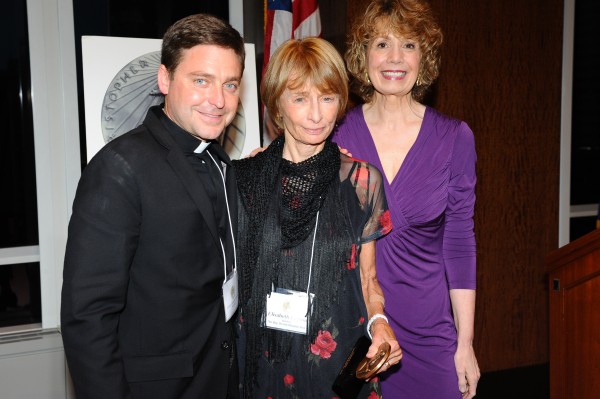 (from l to r: Father Jonathan Morris, "The Boy on the Wooden Box" co-author Elisabeth B. Leyson, and Joan Bauer)
10-year-old Leon Leyson's life changed when the Nazis invaded his homeland of Poland, bringing deprivation, persecution and evil with them. Yet this powerful memoir is actually a story of hope thanks to Leon's relationship with "the hero disguised as a monster:" namely, Oskar Schindler, the Nazi who saved over 1,000 Jews by putting them to work in his factory. Leon was so short, he had to stand on a wooden box to get his job done. But that job allowed him and several members of his family to survive the war and begin new lives in America. Though Leon passed away in 2013, this book remains as a testament to his spirit, which never allowed the world's darkness to overcome its light.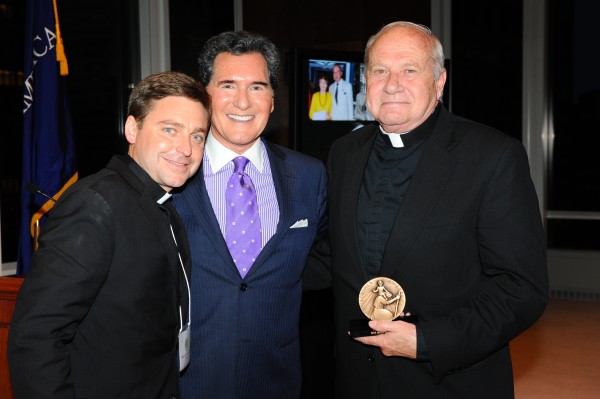 (from l to r: Father Jonathan Morris, Ernie Anastos, and James Keller Award winner Father David T. Link)
After spending his career as a lawyer and the Dean of Notre Dame Law School, David Link's wife Barbara suggested that he try prison ministry. He didn't think it was right for him, but he did it anyway to prove her wrong. Like many husbands, Dave discovered that his wife was right, after all. At Indiana State Prison, he found a new calling – one where he could transform the lives of people that society and the criminal justice system had given up on. He treated the inmates with civility, called them his brothers, taught them that God loved them, and encouraged them to take responsibility for their actions. After Barbara died in 2003, Dave stepped up his volunteer work at the prison because he felt the need to be needed. His bishop asked him to consider entering the seminary so he could serve as the prison chaplain. Dave took that suggestion and was ordained at age 71. The men with whom he works are grateful for Father Dave's spiritual guidance. One said, "God used him as a vessel of salvation for me." Another added, "He's for everybody here, not just the Catholics. I just wish we had more like him."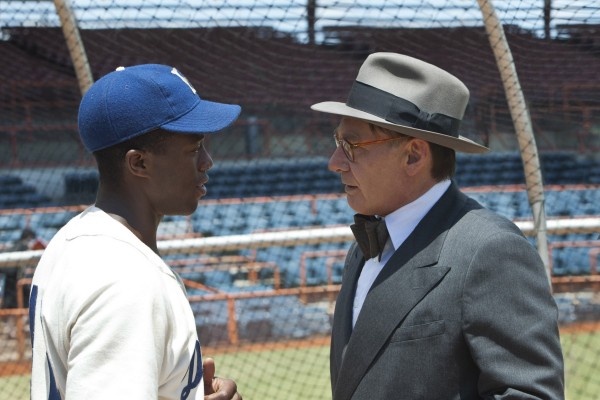 When asked to explain why he wanted to make Jackie Robinson Major League Baseball's first black player, Brooklyn Dodgers president Branch Rickey said, "He's a Methodist, I'm a Methodist, God's a Methodist. You can't go wrong." But Robinson's road to breaking the sport's color barrier came with many burdens to bear. "42" highlights the abuse and discrimination he endured, the courage he displayed in "not" fighting back, and the talent and class that slowly moved players and fans beyond old racial hatreds. As an empowering piece of history, "42" hits a deep-to-center-field home run.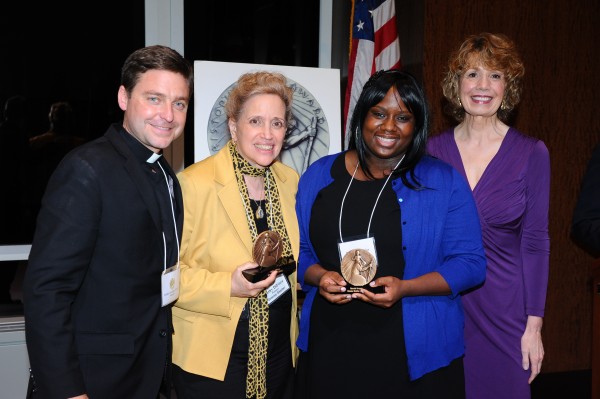 (from l to r: Father Jonathan Morris, "Gimme Shelter" producer and founder of Several Sources Shelters Kathy DiFiore, Darlisha Dozier who served as the inspiration for Vanessa Hudgens character in "Gimme Shelter," and Joan Bauer)
Sixteen-year-old Agnes "Apple" Bailey finds herself homeless, pregnant and alone after escaping from the grip of her abusive, drug-addicted mother – and getting little help from the rich father she just recently met. Ironically, her situation's turn for the worse leads Apple to the place where she finds a brighter future: a shelter run by Kathy DiFiore. Inspired by DiFiore's real-life work supporting homeless, pregnant women, "Gimme Shelter" provides a gritty look at the desperation and hopelessness of life on the streets – and the healing that results from a supportive community and trusting in God.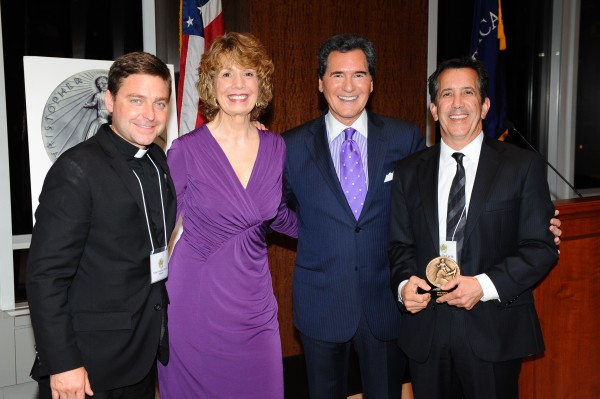 (from l to r: Father Jonathan Morris, Joan Bauer, Ernie Anastos, and Chris DeFaria, the executive producer of "Gravity" and President of Animation, Digital Production, and Visual Effects at Warner Bros. Pictures)
Since her four-year-old daughter died in a freak accident, astronaut Ryan Stone exists, but doesn't really live. However, her survival instincts kick in during a space mission when debris destroys her ship, leaving Ryan and her crew commander facing imminent death unless they can find a way back to earth. "Gravity" is a visually-groundbreaking, heart-pounding thrill ride about overcoming tremendous physical adversity. Beyond that, it's also an emotional and spiritual journey about rediscovering the will to live after tragedy strikes, by moving from the darkness of grief to the light of hope.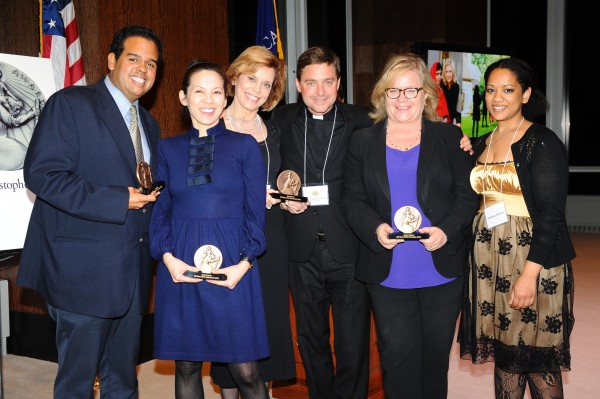 (from l to r: "20/20: Unbreakable" producer Joseph Diaz, senior producers Muriel Pearson and Teri Whitcraft, Father Jonathan Morris, executive producer Jessica Velmans, and field producer Jasmine Brown)
Shot in the head by a Taliban assassin because she dared to advocate for the education of girls, Pakistani teen Malala Yousafzai miraculously survived, and soon became a voice for the voiceless. This special episode of 20/20 provides an in-depth look into Malala's story, including her arduous recovery process, her forgiveness of the man who shot her, and her ongoing advocacy for changing the world peacefully through education. As Malala said at the United Nations, "Let us pick up our books and our pens. They are our most powerful weapon."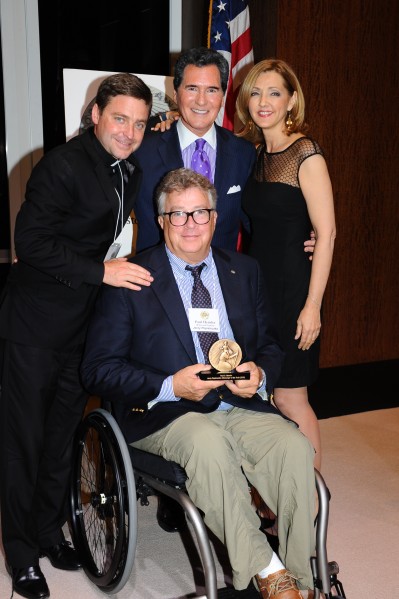 (from l to r: Father Jonathan Morris, "Jerzy Popieluszko: Messenger of the Truth" writer/producer Paul G. Hensler, Ernie Anastos, Chris Jansing)
The communists who ran Poland for decades could have easily squashed any military uprising by opposition forces. However, Father Jerzy Popielsuzko was a simple parish priest who mobilized his fellow Poles to nonviolently resist their oppressors. "Messenger of the Truth" explores Father Jerzy's commitment to peaceful protest, his government-sanctioned murder in 1984, and his human rights legacy, which led to communism's downfall. Currently on the road to sainthood, his message still resonates today. As he said, "Let's ask [God] to make us free from revenge and hatred, to give us freedom, which is the fruit of His love."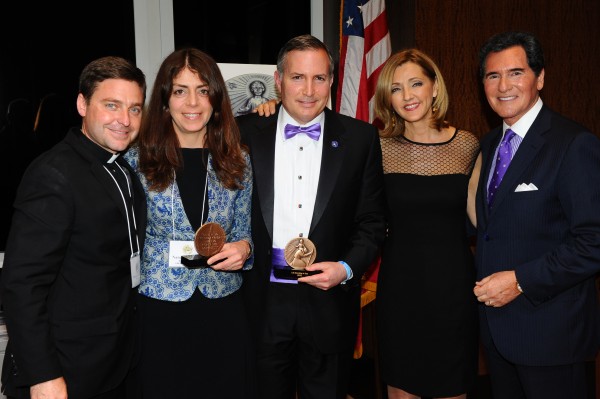 (from l to r: Father Jonathan Morris, "Life According to Sam's" senior producer Nancy Abraham, Sam Berns' father Dr. Scott Berns, Chris Jansing, and Ernie Anastos)
Because of the rapid-aging disease progeria, Sam Berns wasn't supposed to live past age 13. But his physician parents wouldn't accept that prognosis unchallenged. "Life According to Sam" chronicles three years in their race to develop a treatment for their 13-year-old son – and the 250 children afflicted with progeria worldwide. In addition, we meet Sam, a Lego-loving, aspiring inventor whose joyful spirit and mature soul defy the danger of his condition. Without a trace of self-pity, he teaches us all to embrace each of our days on this earth, and fill them with happiness, kindness and love. Sam Berns unfortunately passed away at age 17 this past January, so we were happy to remember him at the Christopher Awards and recognize his parents' ongoing efforts to help others with progeria.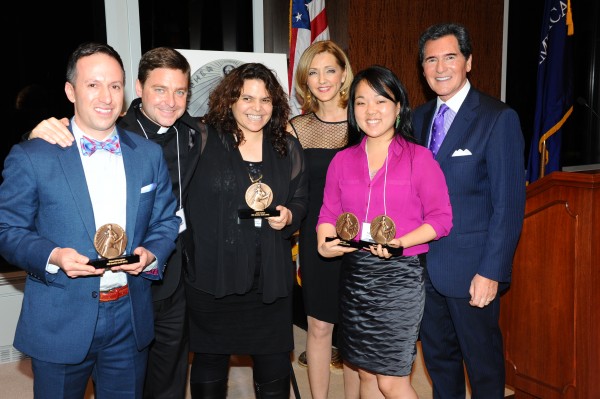 (from l to r: "POV: Brooklyn Castle producer Ed Schulz, Father Jonathan Morris, executive producer Judith Helfand, Chris Jansing, POV director manager Mary T. An, and Ernie Anastos)
If Albert Einstein were on the chess team at Brooklyn's I.S. 318 junior high, he would only be the fourth best player. That's because the geeks are the star athletes at this school that has won more than 30 national chess titles. Partially responsible are the teacher and the administrator whose passion for the game guides and motivates students – students who pursue chess mastery and academic excellence while struggling with anxiety, poverty, and even budget cuts that threaten the program. By depicting public education at its best, "Brooklyn Castle" demonstrates that extracurricular programs can be at the heart of students' future success.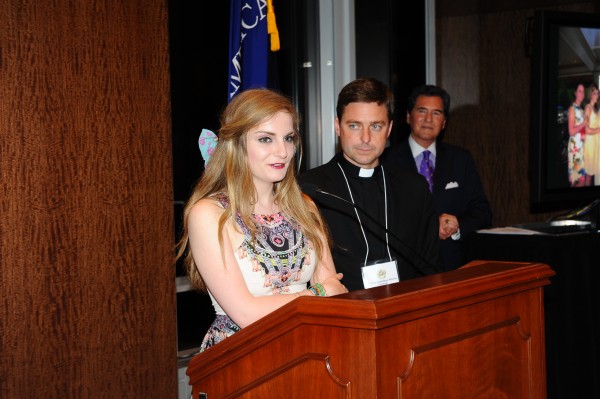 (Augusta Leopold introduces her father, Christopher Spirit Award winner Tom Leopold)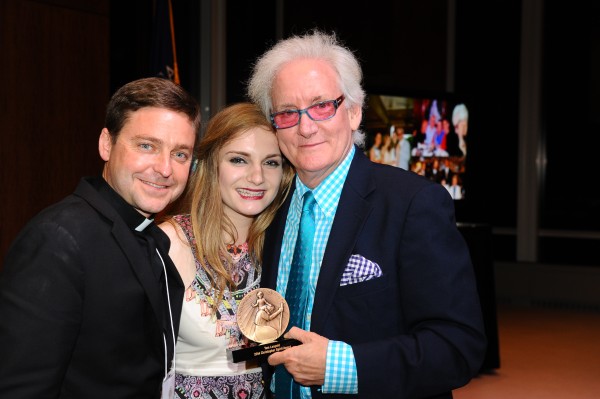 (from l to r: Father Jonathan Morris, Augusta Leopold, Christopher Spirit Award winner Tom Leopold)
After watching his 12-year-old daughter Augusta struggle with a life-threatening eating disorder, veteran comedy writer Tom Leopold endured a period of darkness in his life, which led him on a search for spiritual truth. Two years later, with progress still hard to come by, Tom prayed to God for help, saying, "I just can't make it alone." That simple prayer eventually led him to convert to Catholicism. Tom expresses gratitude for the kindness and compassion many people showed him during his struggles and search for God. He also shares his daughter's story so that others in similar situations know there is a kindred spirit out there who feels for them and has walked in their shoes. All these years later, Augusta expressed her appreciation for her dad by telling the Christopher Awards attendees how much his love and support have meant to her.