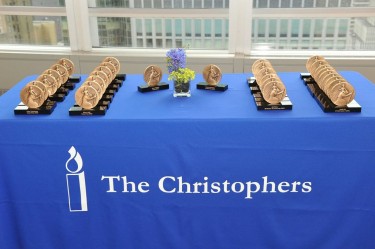 NEW YORK, April 2, 2014 — A Catholic chaplain and Korean war hero who posthumously received the Medal of Honor for his devotion to soldiers of all faiths. A Jewish boy who survived the Holocaust due to Oskar Schindler's infamous list. A Pakistani Muslim girl who advocates for women's education despite an attempt on her life. These stories and more are told in the 19 feature films, TV/Cable programs, and books for adults and young people being honored with Christopher Awards, to be presented in New York on May 15, 2014.
Created in 1949, The Christopher Awards are presented to writers, producers, directors and illustrators whose work affirms the highest values of the human spirit. Tony Rossi, The Christophers' Director of Communications, says, "In a culture where hope can be in short supply, The Christophers are happy to celebrate the creative artists behind these winning works."
One of those creative artists, Chris DeFaria, an executive producer of the film "Gravity" and a second-generation Christopher Award winner, is honored by the acknowledgment. He said, "Being recognized with a Christopher Award is important to all of us who worked on 'Gravity.' [Astronaut] Ryan [Stone's] journey in the film is about overcoming tremendous physical adversity, and equally important, personal pain and loss. Discovering the relationship between the two is at the heart of the film and her triumph is truly one of the human spirit, which is what the Christopher Awards are about."
TV & Cable
In "ABC News 20/20: Unbreakable," anchor Diane Sawyer profiles 15-year-old Pakistani schoolgirl Malala Yousafzai, whose passion for learning despite an assassination attempt has inspired a global movement in support of education for girls. "Bulloch Family Ranch: Episode One" (UP TV) introduces viewers to Julie and Rusty Bulloch, who have welcomed troubled teens and young adults into their home for almost 20 years in order to give them a stable and caring environment that will help them become successful, responsible adults.
"Jerzy Popieluszko: Messenger of the Truth" (WTTW National Productions/PBS) shares the story of a martyred priest in Poland whose faith, courage and dedication to human rights successfully mobilized the people of his country to nonviolently oppose the ruling Communist regime during the 1980s. "Life According to Sam" (HBO Documentary Films) covers three years in the life of Sam Berns—a teen born with the rapid aging disease progeria, which usually causes death by age 13—and Sam's mother, who uses her medical background to search for a treatment for her son and others like him. Inner-city stereotypes are defied in "POV: Brooklyn Castle" (PBS), which explores the success of I.S. 318 junior high school's chess team who, despite coming from below-the-poverty-line families, have won 30 national chess titles and are creating bright futures for themselves and other disadvantaged students like them.
Feature Films
"42" (Warner Bros. Pictures) chronicles the racial triumphs and tribulations experienced by Jackie Robinson after Brooklyn Dodgers president Branch Rickey made him Major League Baseball's first black player. True love saves the day, though not in the way you might expect, in Walt Disney Pictures' musical "Frozen," about two sisters, Elsa and Anna, who discover the power of self-acceptance and sacrifice.
Inspired by real events, "Gimme Shelter" (Day 28 Films/Roadside Attractions) shares the journey of a homeless, pregnant teen who escapes the grip of her abusive mother to find healing and a new family in a shelter for young mothers. In "Gravity" (Warner Bros. Pictures), astronaut Ryan Stone, who had lost the will to live following her daughter's death, fights to survive a space mission gone awry while also taking an emotional and spiritual journey from the darkness of grief to the light of hope.
Books for Adults
Emmy Award-winning NBC News correspondent Bob Dotson details the lives of unsung American heroes whose selflessness, compassion and ingenuity have made this country a better place in "American Story" (Viking Press/Penguin Group). The lost art of letter writing nurtures the spiritual bonds between friends Amy Andrews and Jessica Mesman Griffith in "Love & Salt" (Loyola Press), which follows their journey through faith, doubt, the joy of a new baby, the deaths of loved ones, and the benefit of having God's love expressed to us through another person. In "The Miracle of Father Kapaun" (Ignatius Press), Wichita Eagle reporters Roy Wenzl and Travis Heying explore the life of the Korean War chaplain and Medal of Honor winner whose ministry to soldiers of all faiths during battle and as a P.O.W. boosted morale and saved lives.
In "On These Courts" (Touchstone Books/Simon and Schuster), CNN.com's Wayne B. Drash profiles former NBA star "Penny" Hardaway, who returned to his hometown of Memphis to serve as a coach and positive role model for young basketball players dealing with failing grades, incarcerated fathers, gang pressures, and crime-ridden streets. Jim Ziolkowski, who left a fast track career in corporate finance to create the nonprofit buildOn—which turns inner city teens into community leaders by breaking cycles of poverty, illiteracy and low expectations—chronicles his work in "Walk In Their Shoes" (Simon and Schuster), written with James S. Hirsch.
Books for Young People
Any child suffering from a bad mood will delight in author and illustrator Courtney Pippin-Mathur's "Maya Was Grumpy" (Preschool and up, Flashlight Press), which depicts a little girl whose grouchiness is lifted by her grandmother's clever and giggle-inducing ideas. Author Suzanne Collins' autobiographical picture book "Year of the Jungle" (Kindergarten and up, Scholastic Press), illustrated by James Proimos, recalls her attempts as a first-grader to stay brave while her father fought in Viet Nam, and explores the effect of war on young children. A bond forms across generations in author Paul Fleishman and illustrator Bagram Ibatoulline's "The Matchbox Diary" (ages 6 and up, Candlewick Press), in which a little girl visiting her great-grandfather comes to understand his journey as an Italian immigrant to the United States through the items he keeps in an old cigar box.
A squirrel that gets sucked into a vacuum cleaner and emerges with superpowers teaches the cynical girl who adopts him about the power of love and believing in the unbelievable in author Kate DiCamillo and illustrator K.G. Campbell's "Flora & Ulysses" (ages 8 and up, Candlewick Press). The powerful memoir "The Boy on the Wooden Box" (ages 10 and up, Atheneum Books for Young Readers/Simon and Schuster) by Leon Leyson, with Marilyn J. Harran and Elisabeth B. Leyson, recalls the wartime horrors experienced by young Leon when the Nazis invaded Poland, his will to survive, and the lifelong admiration he felt for German industrialist Oskar Schindler, who risked his own life to save him, his family and many others.
The 2014 special Christopher Awards will be announced soon.
The Christophers, a nonprofit organization founded in 1945 by Maryknoll Father James Keller, is rooted in the Judeo-Christian tradition of service to God and humanity. The ancient Chinese proverb—"It's better to light one candle than to curse the darkness"— guides its publishing, radio, leadership and awards programs. More information about The Christophers is available at www.christophers.org. [Editors: A complete list of winners is available on request.]