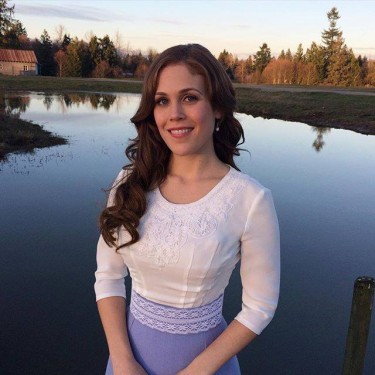 UPDATE APRIL 20, 2016: "When Calls the Heart" wins the 2016 Christopher Spirit Award. Read more here.
———————————————
Since she was five-and-a-half years old, Erin Krakow has been on the road to a successful acting career. That road included graduating from Juilliard, working in theater – both plays and musicals – and eventually television, on the Lifetime series "Army Wives." But it's her starring role as school teacher Elizabeth Thatcher on the Hallmark Channel's top-rated series "When Calls the Heart" that has earned her an ever-growing fan base and allowed her talent to shine.
Erin joined me recently on "Christopher Closeup" to discuss season three of "When Calls the Heart," what it means to her to be a role model for young women through the show, her affection for her fans, the gratifying nature of working on a program families can watch together, how social media has made TV more like theater, and much more.
Our phone interview was filled with laughs, and Erin comes across much like her Elizabeth Thatcher character: intelligent, kind, and thoughtful. Here is an edited version of our conversation (the full 28-minute podcast is below it):
Tony Rossi: You finished [shooting] season three a couple of weeks ago, so I'm curious: are you happy to be home because you need a bit of a rest – or do you miss the work and camaraderie from the set?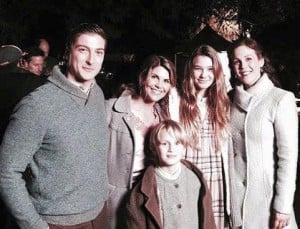 Erin Krakow: At this point, I've been home for about a week…I love, love, love my job. I love the people I work with. We have a great time. I'm passionate about this show and this character, so it is bittersweet. It's hard to say 'so long' at the end of the season, especially not knowing what the future holds for us. We don't find out until the show's been on the air for a little while as to whether or not we're coming back for another season. So with things up in the air, it's not easy to step away from it.
TR: That's why everybody listening needs to watch "When Calls the Heart" Sunday nights at 9/8 Central on the Hallmark Channel, and tweet about it so this show does get a season 4.
Erin Krakow: Right!
TR: This is your third season playing Elizabeth Thatcher. How do you think the character has evolved since you started the show?
Erin Krakow: I think that people will see she's evolved quite a bit. At the beginning of season one, we find that Elizabeth is coming to Coal Valley from this big city of Hamilton. She comes from a lot of money. She's pretty much a princess. She's very much a fish out of water in this small coal mining town, which creates a lot of conflict for her. She's just trying to do her job well as a teacher in this town, and she ends up being judged by a lot of the people there. The mothers don't know if she's necessarily the right fit to be teaching their children. Jack Thornton, the Mountie of the town, is resentful of her because he feels her father has taken him away from his dream post to bring him to town to babysit her. So everyone is judging her and she's just trying to do her job.
Then in season two, we end up spending a lot of time in Hamilton, where Elizabeth is from, and we get to know her family and see her "in her element" – or what her element once was. This is really tricky for Elizabeth because, at this point in the story, she's changed and grown quite a bit. She's no longer the princess that she once was. So for her, it's about figuring out where her place really is and where her heart is calling her to be.
Then this season, not to give too much away, we're back in Hope Valley. We're spending basically all of our time there. And we're seeing that Elizabeth has learned – and is continuing to learn – how to stand on her own two feet. She's realizing how important it is to her to be independent, to be this strong woman, to know how to take care of herself – and that's not just to prove it to everyone else, but to herself as well.
TR: You just mentioned Elizabeth finding her place. I was able to screen the first two episodes of season three and that is one of the things that struck me about Elizabeth. She seems more comfortable in her place. She knows where her place is now: in Hope Valley. Is that something you appreciated? Bringing that aspect of the character to life after searching last season?
Erin Krakow: I did. And I appreciate you're saying that. I'm glad that came across. That is in large part due to our fantastic writers. But yeah, I'm really grateful. Season two was tricky, right? Because I didn't want Elizabeth to seem weak, I didn't want her to come across as a woman who didn't know what she wanted because in season one, she's very clear about what she wants. She traveled across a great distance to get to this small town. She puts herself in a situation that is scary and new to do this thing that she loves. She is a pretty driven woman. So to see her in a position where she was maybe waffling a bit – she was being seduced by the comforts of home and being with her family and reintroduced to this childhood friend who has turned into quite the eligible bachelor. There were a lot of things that were pulling at her. It was challenging for Elizabeth. And getting to play her this season as someone who knows where she belongs and what she wants to be doing – it's nice! Its really nice. I don't know how else to put it. It's good to be back on solid ground.
TR: I think one of the strengths of the show is the fact that there are so many strong, female characters, between you and Lori Loughlin's Abigail and Pascale Hutton's Rosemary, these are women who stand up for themselves, who speak up for themselves. How does that story element resonate with you and your fellow actors – but also with viewers?
Erin Krakow: We start the whole show just after a tragic disaster in the mine that left many of these women without their husbands and children without their fathers. So a lot of them have had to learn to take care of their families on their own. And yes, Abigail, played by Lori Loughlin, she is the absolute pinnacle of strength in the town.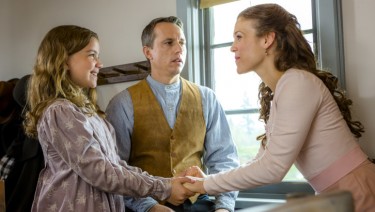 We hear a lot from the fans. With social media, we're getting to interact with them directly. There are families who are watching with their kids – young girls who are watching. I think it's pretty great that we have the opportunity – I hesitate to use the word 'role model' – but to be sort of role models through these characters for young girls, getting to see that you can be a strong woman, you can do things on your own, and follow your dreams and stand up for yourself. These are lessons that are important for young women to be learning. You know, I'm focusing on women, but it's great for guys and girls to be seeing this.
TR: I interviewed executive producer Brian Bird before season two started, and the thing I said to him is that when I was a kid, my parents would look for TV shows that we could watch together that they wouldn't be embarrassed to watch with me. Now that I'm older and they're older, I look for TV shows that I can watch with them that I won't be embarrassed by. And "When Calls the Heart" is one of those shows. Do you appreciate that this is a show an entire family can watch together?
Erin Krakow: I'm really glad to hear you say that. Yes, I do appreciate that. [We] hear from the fans that this is a show they can watch with any member of their family. And not only is it appropriate for everyone, but [there] really is something for everyone. It's a show that has romance, action and adventure, morality, community coming together to help each other, friendship. There are great storylines with Elizabeth's students. [And families] can discuss it together once each episode ends. There's something to be learned from every episode. People send me photos online of their kids sitting in front of the TV. It makes me really, really happy.
TR: Along those same lines, there aren't many TV shows that integrate a faith dimension into their storytelling, but "When Calls the Heart" does it really well. Without being too spoilery, I will say that in the second episode of season 3, the story involves the townspeople being challenged to practice what they profess to believe in Sundays. They have to live out their faith in a way. Is that faith dimension something you personally appreciate too?
Erin Krakow: It goes hand in hand with the show being so family friendly. You mentioned that you talked to Brian Bird, and he is so good at expressing this. I have often used this word that he used to describe our show. He says that it's "radical," because we're creating a show that is so good for families. It does offer that faith-based element as well. It's not something that you're finding on television these days. It's been missing for a long time. There's a reason why our fans are so passionate about it, are so loyal, are so determined to get us future seasons. It's because it hasn't been there for a long time, and I think people have felt that void. And having it back, I think they don't want to ever lose it.
TR: You mentioned the fans so let's touch on the Hearties, who are a unique group of people among TV fandom. I looked this morning at the Facebook page. They're 31,000 plus strong now of devoted fans.
Erin Krakow: My goodness.
TR: What has your experience of the Hearties been, because some of them you actually got to meet on set recently – and you interact with them, like you said, on social media?
Erin Krakow: It's been a fantastic experience. I come from the theater, and at the end of a play or musical, you get applause. And as the play is going, you get a sense of if you have the audience with you, if they're enjoying it. You get that immediate feedback. For a while there, you didn't really have that with film and TV. It wasn't such a direct connection. Now, we're tweeting with them, we're talking to them directly during each episode. We're getting that feedback right away. We're getting to know these people. We had this remarkable experience on set this season. They called it the Hearties Family Reunion and it was basically like…Comic-Con…
TR: (laughs) I guess that's a good comparison.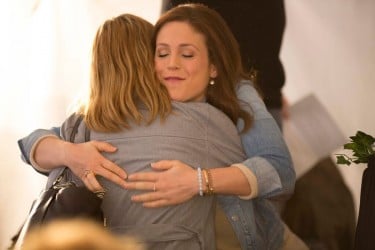 Erin Krakow: Yeah, it was a fan convention and there were a lot of them. They came up to set and we did a Q&A with them, and we had an autograph session and got to meet them. It was, for me, really nice getting to meet these people that I've been talking to for such a long time, who are so passionate about the show. I'm meeting some of these people and going, 'Oh, of course, you're so-and-so.' I know a lot of them by name because we talk to them so much. And quite frankly, some of them have shared very personal stories with us about how the show has affected them: in some ways brought them closer to their family, has helped them after their own tragedies and setbacks. These are stories that you don't forget. And knowing that we've had this kind of impact on people from a television show – and I'm not saying that to take away from it – I just think we didn't realize what kind of impact this show would have on the fans, and we are so, so grateful for them.
TR: You mentioned your theater background before, so let's go to the personal side of Erin Krakow. What first got you interested in acting – and were there any special people or mentors whose encouragement made a difference in your career?
Erin Krakow: I first got interested in acting before I can really remember it happening. I was five-and-a-half when my brother was born, and my mom told me this was where things started because suddenly I was no longer the only child. I had to share the attention, and that meant singing songs at the top of my lungs and doing dances around the house to get the attention of my parents. I wasn't neglected or ignored, but that's where it started.
From there, it developed into wanting to participate in school plays. Then, we moved to Florida and it just so happens we were close by this great performing arts school: Alexander W. Dreyfoos Jr. Palm Beach County High School of the Arts. It was so fantastic. I learned so much when I was there. We had all of our regular academic classes, but I also got to take a lot of acting classes and classes learning about theater in general. I got to do musical theater and scene study and all of these things that helped me realize this was my passion and that this was what I wanted to do. That was a great learning experience. Then, getting to go to Julliard and continue my acting education. I can't even begin to describe how wonderful that was.
Going back to your second question about the people who inspired me, certainly my teachers at those two schools were huge. These were people who honored the thing that I wanted to do most in life and who were there to show me the way, to help me open the door and figure out the artist that I was becoming. For that reason, it's extra special that I get to play a teacher on "When Calls the Heart." I feel like I am honoring them in some way by getting to play this role. Hopefully, they think I'm doing a decent job.
TR: I think Elizabeth Thatcher is the teacher we all wish we had, so I think you're doing a pretty good job there.
Erin Krakow: That's very sweet, thank you. Well again, kudos to the writers.
TR: I read in another interview that you come from a very supportive family. How are they supportive, and how did that rub off on you?
Erin Krakow: In talking to a lot of my other actor friends, they'll say things like their parents wanted them to have another career to fall back on in case things didn't work out. I don't think that's a bad approach, by any means, but my parents didn't push me in that direction. It had always been so important to my parents that my brother and I follow our dreams, do whatever it is that's going to bring us the most joy in life. So they didn't blink an eye when I said I wanted to be an actor. They were excited for me to attend the arts high school. My brother actually attended the same school. My grandmother was – she still is – a visual artist. So I think that our family in particular has a lot of respect for the arts. My brother and I write music together, and my parents have always supported that. But they've also been at probably every performance we've ever had. They've always been there for us and supported whatever it was that we wanted to do in life, and they continue to do that for us. We're very lucky.
TR: You just mentioned theater and music – and live TV musicals are suddenly becoming popular. Is that something you would ever consider doing, maybe a live musical on TV – or even come back to Broadway, come back to New York and do theater again?
Erin Krakow: Oh, I would love it. Of course, yes. That's an easy question. I'm so happy working on our show right now, and I guess L.A. keeps me a little further away from the Broadway scene than I was. One day, I'm sure I'll get back to it: the theater and singing and music, those are things that are never far from me or far from my heart. So yes, the answer is yes! (laughs)
TR: When you were an aspiring actress, you probably had a perception of what life as a working actress would be like. Since you're now successful in your career, has the reality differed from what you expected or is it similar?
Erin Krakow: I think it's pretty similar actually. When I first started working on "When Calls the Heart" season one, it was some of the longest work days I've ever had. I never expected that I would sleep as well as I did during season one (laughs)…The reality is I wanted to be an actor because I love this life. I love getting to create characters. The lifestyle was something I was familiar with. I knew what I was getting myself into, and I was looking forward to get to work and do that every day. So it hasn't been all that different. It's just been something that I love more and more with every day. I think that's a good sign.
TR: At The Christophers, who sponsor this show, everything we do reflects this motto, "It's better to light one candle than to curse the darkness." When you hit times of darkness in your life, times of struggle, how do you light that metaphorical candle that moves you toward a brighter future?
Erin Krakow: Well, that's a really beautiful motto you guys say. I love that. Great question. I think focusing on friends and family and the people who care most about you is a really important first step. But I also think continuing to count your blessings. That's always been something that's been instilled in me. There are so many things in my life that I'm grateful for. There are certainly moments of darkness, times that are darker than others. But I guess I try and focus on all of the things that I'm grateful for. That helps. That and, in general, trying to stay positive or putting things in perspective.
TR: In terms of blessings, I would say that "When Calls the Heart" is one. So tell viewers why they should watch this show and how you think it can maybe be a blessing in their lives.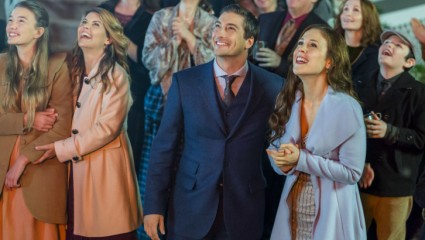 Erin Krakow: "When Calls the Heart" is a unique television show right now. It's a show about the strength of community, faith, love, following your dreams, adventure, education. I don't want to sound cocky about our show, but I really believe in it and I'm very proud of it. So if you haven't seen seasons one or two, you can catch up on Netflix and iTunes and I believe a few other sources. You can get the DVDs. But season three is premiering on February 21st on Hallmark Channel at 9/8 Central, and we really, really hope that you'll join us.
(To listen to my full interview with Erin Krakow, click on the podcast link):
If the audio player doesn't appear, click here to listen.
(Photos property of Hallmark Channel/Crown Media, production photographer, Eike Schroter. Photo #2 property of Ali Skovbye)
Stay in touch! Like The Christophers on Facebook: