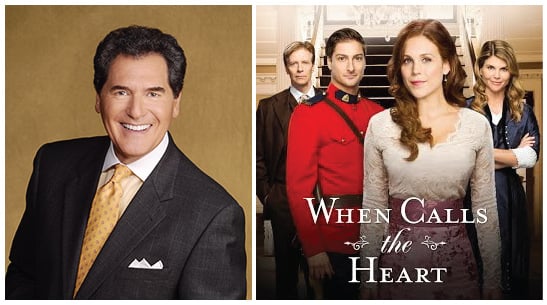 NEW YORK, April 20, 2016 — At the 67th annual Christopher Awards ceremony here on Thursday May 19th, Emmy Award-winning broadcaster Ernie Anastos will receive the Christopher Life Achievement Award, while the family-friendly Hallmark Channel series "When Calls the Heart" will be honored with the Christopher Spirit Award.
The Christopher Life Achievement Award recognizes individuals whose personal and professional contributions to making the world a better place have left an indelible mark on our culture. Previous winners include jazz legend Dave Brubeck, actor Carroll O'Connor, and author/historian David McCullough.
For more than 35 years, Ernie Anastos has been—and remains—a respected and beloved television news anchor. His desire to work as a broadcaster emerged at age 10, and his illustrious career has brought him to New York's top television stations as the lead anchor at WABC-TV, WCBS-TV, and currently at FOX 5 News. Anastos's professionalism and dedication to reporting stories in ways that educate—and sometimes inspire—has earned him accolades that include more than 30 Emmy Awards and nominations, the Edward R. Murrow Award, and a place in the New York State Broadcasters Hall of Fame.
Anastos's talent may be overshadowed only by his generous heart. He can often be found devoting time to charities, such as St. Francis Food Pantries of New York. Proceeds for his children's book, "Ernie and the Big Newz," were donated to The Make-A-Wish Foundation.
The four things closest to Anastos's heart, though, are his faith, family, fans, and Greek heritage. His grandfather was one of the first Greek Orthodox priests in the United States. Anastos also developed close ties with the Catholic Archdiocese of New York, including organizations such as The Christophers and Catholic Charities. In an industry that often focuses on the negative, Anastos credits his faith with giving him the hopeful, positive attitude that serves as the foundation of his life, work, and interactions with the public.
You may not expect a TV series on the Hallmark Channel to be described as "radical," but such is the case with "When Calls the Heart," winner of the 2016 Christopher Spirit Award for telling stories that reflect the Christopher motto, "It's better to light one candle than to curse the darkness." The show's radical nature doesn't stem from its pushing the envelope on edgy content, however, but rather from its embrace of stories that an entire family can watch together—a rarity in this day and age. It has been compared to TV classics like "Little House on the Prairie."
Created by executive producers Michael Landon Jr., Brian Bird, and Brad Krevoy—and supported by Hallmark Channel president and CEO Bill Abbott and Executive Vice President of Programming and Network Publicity Michelle Vicary—"When Calls the Heart" was inspired by the Janette Oke novel of the same name, and stars Erin Krakow, Daniel Lissing, Lori Loughlin, and Jack Wagner. It takes place in 1910, and tells the story of Elizabeth Thatcher, a young teacher who gets assigned to the frontier town Hope Valley, where residents are good-hearted people with a deep sense of community. Community is also at the heart of the show's success: namely, the online fanbase known as "Hearties." Their Tweeting during each episode has set new social media records for Hallmark Channel programming and continues to win the show more and more viewers. The series was recently renewed for a fourth season.
Why does "When Calls the Heart" resonate with so many people? Executive producer Brian Bird explains, "The goal is to tell universal stories with themes like forgiveness, redemption, sacrifice, courage, and banding together to help one another. The characters on our show reflect those virtues and hopefully make a lasting impression on our viewers."
The Christophers, a nonprofit organization, is rooted in the Judeo-Christian tradition of service to God and humanity. The ancient Chinese proverb —"It's better to light one candle than to curse the darkness"— guides its publishing, radio, online and awards programs.
To see this year's Christopher Award winners in the categories of Film, TV, Books for Adults, and Books for Young People, click here.
(Photos courtesy FOX 5 NY/Hallmark Channel & Crown Media)
RELATED:
– "When Calls the Heart" Season Three Suggests The Best Is Yet to Come
– Actress Erin Krakow Talks Role Models, Family Friendly TV, and Counting Her Blessings
– "When Calls the Heart's" Brian Bird on Family TV Shows, eFangelism, & Modern Parables
Stay in touch! Like The Christophers on Facebook: