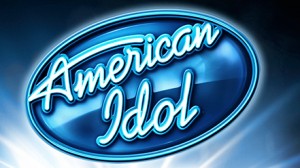 A seven-months-pregnant Kelly Clarkson served as a guest judge on "American Idol" last night and made it something of a family affair. When contestant Mackenzie Bourg was singing, she said her unborn son started doing flips in her stomach so he must have liked what he heard.
That "family" theme fit in with the night as a whole during which most of the contestants talked about how they used to watch "Idol" with their families growing up. It shows what a gap the show's absence will be for a lot of longtime viewers.
But there was even more family talk in Clarkson's closing performance of her semi-autobiographical song "Piece by Piece," which she couldn't quite get through without crying (though she blamed it on pregnancy hormones). The lyrics deal with the fact that Clarkson's father abandoned her family when she was very young and the damage it did to her self-worth for a time by not having him around. But the song also takes a more positive spin, noting that her husband is a devoted father who loves their daughter, River Rose, and would never leave her.
In an interview last year with the Associated Press, Clarkson revealed how her daughter's birth affected her perspective on the importance of fatherhood: "I think when you hold this little human you've created, now I think I understand the depth of the loss I had not having a father figure growing up. I didn't really get that or grasp what that was until falling in love with my husband and seeing him be a father and what that actually is when it's done well."
Clarkson also added that while she doesn't have a relationship with her father, "I'm not in that place anymore, like where I'm sad about it. I'm in a very forgiving place about it and everybody's human. But I think I get really choked up because I just realize how lucky I am… And a lot of girls that grew up with their daddy issues and with not having that figure in their life, you know, take a very different road, and I just feel lucky that I'm not that girl."
Watch Clarkson's performance of "Piece by Piece" and read the lyrics below the video. They're like a call to action to men to step up and love their children because the lack of that love can sometimes have damaging, long-term repercussions.
And all I remember is your back
Walking towards the airport leaving us all in your past
I traveled 1500 miles to see you
Begged you to want me
But you didn't want to
But piece by piece you collected me
Up off the ground but you abandoned things
And piece by piece you filled the holes that you burned in me
At six years old and no
He never walks away
He never asks for money
He takes care of me
He loves me
Piece by piece
He restored my faith
That a man can be kind
And a father could stay
And all of your words fall flat
I made something of myself and now you wanna come back
But your love isn't free
It has to be earned
Back then I didn't have anything you needed
So I was worthless
But piece by piece you collected me
Up off the ground but you abandoned things
And piece by piece you filled the holes that you burned in me
At six years old and no
He never walks away
He never asks for money
He takes care of me
He loves me
Piece by piece
He restored my faith
That a man can be kind
And a father could stay
Piece by piece…
Piece by piece I fell far from the tree
I would never leave her like you left me
She will never have to wonder her worth
Because unlike you I'm gonna put her first
He'll never walk away
He'll never break her heart
He'll take care of things
He'll love her
Piece by piece
He restored my faith
That a man can be kind
And a father should be great
Piece by piece…
Stay in touch! Like The Christophers on Facebook: