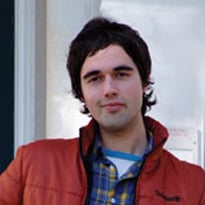 Matt Weber admits that he had lived a relatively trouble-free, "Andy Griffith Show/Leave It to Beaver" life until the day his stomach burst open at the age of 30.
No, it didn't happen like a scene in an "Alien" movie. Rather, an extreme level of acid caused his stomach to perforate inside his body, which then caused that acid to spill into his body cavity toward his other organs. Emergency surgery saved his life and also prompted some deep reflection on the topics of life, love, God, and especially marriage, being that Matt was still a newlywed when all this happened.
Matt is now sharing his experiences in his compelling new memoir "Operating on Faith: A Painfully True Love Story." But if you're thinking the book is an earnest, depressing, "Woe is me" tome, you'd be wrong. In addition to being poignant, spiritually wise, and an endearing love letter to his wife Nell, it's also very funny. Because Matt Weber can't not be funny.
The Catholic humorist, author and host of "The Lens" on CatholicTV.com joined me on "Christopher Closeup" recently to discuss all the excitement in his life since we'd last spoken in 2013. At the time, all was right with the world. Matt said, "In my 29th year, I got engaged, then I got married, then we went on our honeymoon to Costa Rica, we bought a house, we adopted a dog. If you could script out my life, that's exactly what I would have hoped [would happen]. There was no drama and no major problems."
Then, drama happened. Not suddenly, but over time. Matt had been having on and off stomach issues for a year that would sometimes cause him pain, but he didn't take them too seriously at first, thinking they were just a passing thing. Eventually, the situation got so bad that he couldn't eat anything without throwing up.
For instance, there's a chapter in the book entitled, "What Happened in the Honeymoon Suite on My Wedding Night." Matt explained, "Usually, you can assume what happened. But I promise you that what you assume is incorrect! I barfed all over the place, and my poor wife was just trying to move the wedding dress away from all the puke."
Matt kept getting worse, and soon realized that for his wife Nell, the "in sickness and in health" marriage vow would become a reality much sooner than either of them expected. He said, "All of a sudden I find myself down 20 or 30 pounds, and at the hospital doing an endoscopy, trying to figure out what's going on. Then, right from this endoscopy, I was rushed to the emergency room at Beth Israel Deaconess, had the bottom third of my stomach removed, was in the Acute Care Center for about eight or nine days…I'm sitting in this hospital, seeing 40 staples in my stomach, seeing my parents and my wife sitting around me praying. After day three or four in the hospital with no sleep, great amounts of pain, and trying to assess what had just happened to me – that's when the spiritual component, the religious component comes in."
Considering that Matt had lived a good life as a devoted husband, son and brother – and that much of his life was focused on drawing people to the faith through his Catholic media work, it would have been understandable had he felt let down by God for allowing this suffering to happen to him. But Matt never traveled down the road to self-pity. He had read Job and knew that sometimes bad things happen to good people. But at the same time, he knew there was a God component somewhere in the experience, so he was determined to find it.
Matt said, "There's a great T.S. Eliot line that says, 'I had the experience, but I missed the meaning.' I put that quote in my book, and I thought, 'I had this experience, but in the experience I wasn't looking for the meaning. I was just trying to get over this.' But it's in the reflection on the experience that I thought, 'Okay God, what was this all about? What is the lemonade that I can pull out of these lemons?' In many ways, Tony, it's this book. If I can take all the things that happened to me and make them into some positive point for someone else, then I'm actually glad it happened because then it ends up being something that helps other people."
One of the most important things Matt gained is a new perspective on his relationship with God that is tied to his relationship with Nell: "My wife is one of the best people in the world. She's my best friend. She's my heart and she's my soul. She's everything that I think is good with the world. In very many ways, it's easy to pray to Jesus and pray to God and have that relationship when you're sick and in need. But not everyone sees that in the caretaker – in your wife – in all the things that they do for you, that is that person living out the words and deeds and acts of Jesus Christ. I think my relationship with God was really strengthened in that I saw God and Jesus and everything that is good in the Bible, everything that we hear in the Gospel, played out in my wife's words and deeds and actions. It was this new way in which I was experiencing God through this new vow that I had taken with my wife."
Matt got a little misty talking about Nell during our conversation, and said this book is ultimately a 'thank you' note to her to let her know everything she did for him is appreciated and not taken for granted. But as emotional as our interview (and the book) got, Matt's famous humor was never far from the surface.
I asked him how he's able to inject humor into everything, even intermittently in life's painful moments. He said, "Humor, to me, is one of the best ways to connect with people. I didn't want this book to just be a bunch of chapters of me whining about my pain. I wanted there to be moments in between where it's like, 'Things are not going well, but you can still find some joy in that.' I guess that's the way I approach most of life. You need to have joy in all components. I think the light, the candle in the darkness can be that joy, that joke, that laughter. When some things are really bad, to have a little joke there is a good way to bring things back down to a more positive level."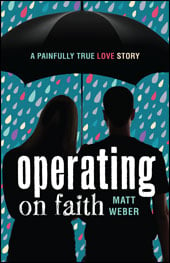 Matt concluded by noting that he hopes "Operating on Faith" will bring readers who've experienced pain in their lives back to that positive level: "If you're listening and you didn't have 30 percent of your stomach removed, maybe you overcame cancer or maybe you are dealing with some major medical issues right now that are much worse than a 10-day stomach surgery. I'm hoping that you can find some sort of support and some sort of faith and a loving component in the reading of this book – and, of course, along the way, get a couple of laughs in the process."
(To listen to my full interview with Matt Weber, click on the podcast link):

Stay in touch! Like The Christophers on Facebook: