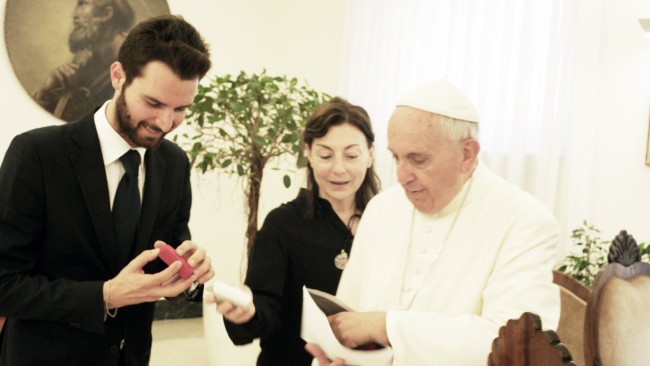 UPDATE 2: Now the Vatican is saying Pope Francis won't be acting in the movie after all. The original press release said he would "play himself," but those may have been poorly chosen words when "appear as himself" would be more appropriate. Technically, there's a difference. "Play" makes it sound like acting, while "appear" could mean film of him meeting some children from the movie will be used. But at this point, who knows whether the pope will show up on-screen or not? The only sure thing is Father Steve Grunow's note below.
——————————————————–
UPDATE 1: Father Steve Grunow of "Word on Fire" ministries just sent me an email that Pope Francis will not actually be the first pope to appear as himself on the big screen:
Tony, I saw your post about a new film in which Pope Francis would appear. You cite this as a first, but Pope Pius XII appeared as himself in the movie "Embezzled Heaven" in 1958. I think that though Pope Francis is first in many things, Pope Pius gets the number one distinction here. Peace, Father Steve
I suspect that Pope Pius gave up acting because he decided that what he really wanted to do was direct.
——————————————————
Original post:
I just received the press release announcing this and am sharing it here.
Rome / Los Angeles – February 1, 2016 – A "first" in both cinema and Catholic Church history will be made as the leader of the worldwide Catholic Church, His Holiness Pope Francis will play himself in the family film "Beyond the Sun" from AMBI Pictures.

In his feature film debut (and film debut for any Pope in the history of the Church), His Holiness Pope Francis portrays himself in the inspirational story based on the Gospels, told in several tales with Jesus's message, so children can learn and incorporate Jesus's parables.

The idea for the feature film emanated from Pope Francis asking the filmmakers to do a movie for children that communicates Jesus's message.

Pope Francis is willing to participate in the movie to support charity as all profits from "Beyond the Sun" will be donated to two selected charities – El Almendro and Los Hogares de Cristo (located in Argentina) which support Pope Francis' social and spiritual message within the film. These organizations help aid at-risk children and young adults in need.

"Beyond the Sun" is a family adventure story where children from different cultures emulate the apostles while searching for Jesus in the world around them. The film will be uplifting and is intended to spiritually engage and encourage audiences of all ages to transmit Jesus words, to understand them and integrate them to live a better life, make good choices and help others.

Graciela Rodriguez wrote the film's screenplay based on her own concept.

AMBI co-founders Andrea Iervolino and Lady Monika Bacardi are fully financing and producing the film through their AMBI Pictures banner. Co-producers are Graciela Rodriguez and Gabriel Leybu.

For Producer Andrea Iervolino, the movie represents a full circle return to where his career began. At the age of 15, Iervolino made his first film in his hometown of Cassino, Italy. It was the church in his home town that opened its doors and let him shoot this film within, sparking a career that has seen him produce over 50 films by age 27. "Beyond the Sun," will have a special distinction among them.

Said Iervolino, "Our excitement and gratitude toward His Holiness, Pope Francis participating in this film is beyond words. This is not just a movie for us, it's a message, and who better to have on your side to deliver an important societal and spiritual message than the Pope." Iervolino added, "This movie will provide funds to support extremely worthwhile causes that we take very seriously. This message and cause are very dear to the entire AMBI family and we are honored and inspired by the level of collaboration from the Vatican."

Monika Bacardi said: "It is a great honor for Andrea and I to have the opportunity to work with His Holiness, Pope Francis, to spread the awareness of his message, through this film. We will make a movie everyone involved with can be proud of. Not only will families from around globe enjoy this film and be entertained, but they will be moved. There are creative ways to help those in need all over the world and we hope this film does just that. We appreciate Pope Francis's permission to film him and use his image in our movie."

Principal photography is slated to begin early 2016 in Italy. AMBI will oversee worldwide distribution for "Beyond the Sun" through its Los Angeles-based international sales division, AMBI Distribution.
Stay in touch! Like The Christophers on Facebook: