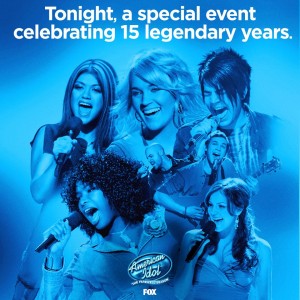 (Artwork/Photo property of Fox)
On last night's series finale of "American Idol" (yes, it pains me to write that), a lot of Idol alums returned to sing and pay tribute to the show that gave them a leg up in their music careers.
There were some outstanding performances, including the country segment featuring Season 10 winner Scotty McCreery and runner up Lauren Alaina. The segment introduced by Harry Connick Jr., focusing on the importance of lyrics and melodies in popular music, was also a winner, with outstanding vocals from season 7's Carly Smithson and season 2's Clay Aiken, among others.
But as I've said before, "American Idol" became a venue for singers with a Christian background to share their faith through music. That was especially true last night with Carrie Underwood's performance of her song "Something in the Water," off her 2014 Greatest Hits album. The lyrics essentially pay tribute to the spiritual power of baptism, not a typical message for prime time TV.
Here's the video of Carrie's performance along with the lyrics. Below that are some other great performances from what was an ideal and emotional final show. For now.
"Something In The Water"
He said, "I've been where you've been before.
Down every hallway's a slamming door.
No way out, no one to come and save me.
Wasting a life that the Good Lord gave me.
Then somebody said what I'm saying to you,
Opened my eyes and told me the truth."
They said, "Just a little faith, it'll all get better."
So I followed that preacher man down to the river and now I'm changed
And now I'm stronger
There must've been something in the water
Oh, there must've been something in the water
Well, I heard what he said and I went on my way
Didn't think about it for a couple of days
Then it hit me like a lightning late one night
I was all out of hope and all out of fight
Couldn't fight back the tears so I fell on my knees
Saying, "God, if you're there come and rescue me."
Felt love pouring down from above
Got washed in the water, washed in the blood and now I'm changed
And now I'm stronger
There must be something in the water
Oh, there must be something in the water
And now I'm singing along to amazing grace
Can't nobody wipe this smile off my face
Got joy in my heart, angels on my side
Thank God almighty, I saw the light
Gonna look ahead, no turning back
Live every day, give it all that I have
Trust in someone bigger than me
Ever since the day that I believed I am changed
And now I'm stronger
There must be something in the water (amazing grace)
Oh, there must be something in the water (how sweet the sound)
Oh, there must be something in the water (that saved a wretch)
Oh, there must be something in the water (like me)
Oh, yeah
I am changed (I once was lost)
Stronger (but now I'm found)
(was blind but now I see)
Stay in touch! Like The Christophers on Facebook: