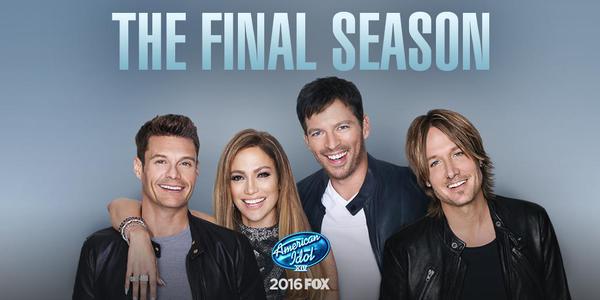 (Photo property of Fox)
If God were a regular TV watcher, I suspect "American Idol" would qualify as one of His favorite shows (or at least make it onto His DVR).
That's because since it debuted in 2002, "American Idol" has featured many contestants who come from a background of singing in church, either as a member of the congregation or part of the choir. That doesn't mean these contestants necessarily sang Christian songs on the show, but they often brought a soulful, gospel-tinged quality to even secular music.
Couple that fact with the current judging panel's own religious background, and the show will be sorely missed as a place where teens and young adults with both talent and faith can pursue a career in the music industry.
Over the years, I've had the opportunity to interview a number of "American Idol" contestants about their spiritual lives. In light of the show's final episode on Fox on Thursday April 7th at 8/7C, here's a look back at some of those conversations.

Scotty McCreery (Winner, Season 10)
Scotty is known for wearing a wristband that says "I Am Second." The purpose is to remind himself that God comes first in his life. The "I Am Second" movement exists all around the country, but the Garner, North Carolina native first heard about it in high school when his local church started feeding the football team dinner before games on Fridays. They'd gather to eat while listening to a message from someone in the community, always with the theme 'I Am Second.' All the players would then head to the game and walk onto the field wearing their wristbands to remind them there was something bigger in life—even bigger than Friday night football in the South.

That reliance on his family, friends and faith didn't go away once McCreery arrived in Hollywood to compete on "American Idol." He noted that the fame and constant pressure to perform came hard and fast. But he had a way to deal with the pressure. He said, "Sometimes, I would Skype with my church group back home when they were doing a service with the youth. I'd say hello, and we all prayed together. Then I'd go do the show."
Brooke White (5th Place, Season 7)
In May 2012, Brooke gave birth to her and her husband Dave's first child: a daughter named London. Since I had seen the movie "Les Miserables" a few days before interviewing Brooke, I had the lyric "To love another person is to see the face of God" in my head. I asked her if that reflects how she feels about her daughter.

She said, "I agree with [that lyric] completely. The other day, I had just gotten home from New York and performing at the Rockefeller Center tree lighting, which was incredible. I laid her down to take a nap and she locked eyes with me. For such a little person to make such meaningful eye contact, I was just stunned…I was stressed out at the moment and a little overwhelmed – and she looked at me and, truly, it was like the face of God. It's like she was telling me, 'This is what's important, and it's okay.' That was such a blessing. I needed it in that moment. Since she was born, everything shifted in my mind. I know most every parent goes through some sort of transformation, but for me it was instant with London. She came out not crying; her eyes were open, and she was this alert little person ready to live. I can't wait to see this little person blossom and grow. I love her. She's perfect. She is love."

Mandisa (9th Place, Season 5)
Tony Rossi: Listening to the song "Stronger" and other songs on "What If We Were Real" reminded me of something the actress Patricia Heaton said on this show last year about confronting tough times. "The life of a Christian," she said, "doesn't guarantee sunshine and lollipops." And I think that's the impression some people have of Christianity: that if you accept Jesus, all your troubles will disappear. But it's not that simple. How has centering your life in Christ helped you better deal with the hardships we all encounter?

Mandisa: I think so often as Christians, we feel like we have to put on our brave face and show the world how wonderful everything is. The fact of the matter is, we're not promised that everything is going to be wonderful. We're actually promised the exact opposite. We're promised that in this world, we will have troubles. But the solution to that is not the absence of troubles. The solution is that we have the opportunity to walk out of those troubles with the Lord.

It's not to say that we're perfect. It's to say that we're to bring our imperfections to Him, the only one who truly is perfect, and that He'll help us to walk those things out. "Stronger" recognizes that we're going to have difficult times, but it also recognizes what we can get out of those difficult times. One of my New Year's resolutions is to memorize a new passage of Scripture every month, and my passage for January was 1 Peter 5:6-11. Verse 10 says, "And the God of all grace who called you to His eternal glory in Christ, after you have suffered a little while, will Himself restore you and make you strong, firm and steadfast."

I love that. It owns up to the fact that we're going to suffer a little while. But it also says that at the end of that suffering, we're going to come out stronger. So I try to remember that when I walk through difficult times. It doesn't mean that God has left me; it means He's walking me through those and I'm going to come out stronger in the end.
Colton Dixon (7th Place, Season 11)
Before appearing on Idol, Colton and his sister were part of a Christian rock band called Messenger – and his fans are now known as Messengers. That word is especially important to the young artist. He says, "I went with Messenger because of the verse John 13:16, 'No servant is greater than his master, nor is a messenger greater than the one who sent him.' It keeps things in perspective. Whenever I would walk out to that crowd, I would realize God is so much greater than I could ever be. I'm just here to share His word. So if He can use me to lead you to Him, great. That kept things in check for me and kept me grounded."

As much as Colton wants to be a witness for Christ, he admits he falls short sometimes so people should be wary of putting too much faith in him: "I think what outsiders looking in on us have to realize is that you're not following us; you're following a guy named Jesus. We're not perfect and we're never going to be. We're trying just like everyone else. We're trying to welcome people with open arms, so that's what I try and tell people who are Christians. There's always someone watching, so you always have to be on your 'A' game no matter where you're at."
Danny Gokey (3rd Place, Season 8)
"Fear and faith have one thing in common: they both ask you to believe in something that hasn't happened yet."

Former "American Idol" contestant and country singer Danny Gokey lived those words after his wife Sophia died due to a congenital heart defect during their fourth year of marriage.

Sophia had experienced ongoing medical problems since 2005, but during a surgery in 2008 meant to correct the issue, she had a negative reaction. During a follow-up procedure, her heart failed and she was put on an artificial heart. She never regained consciousness and passed away soon after.

For Danny, this was a devastating time, especially because both he and Sophia had grown up as faithful Christian believers, who constantly prayed for healing…

Danny continued to pray for God to give him some direction – and one day, he got an answer. But it wasn't one he liked. He recalled, "The answer that I got was, 'Force yourself to let it go.' I was like, 'You're telling me I have to let it go, and I didn't even cause the problem? You're the Creator!'"

It was at that point Danny realized he had to make a choice: anger or hope. Hope, he realized, was an act of the will, not an emotion.

He said, "I sat on my bed with tears coming out of my eyes and I literally pictured myself with one hand hanging onto Sophia's casket. In my other hand I pictured a hammer. I pictured banging my hand and breaking my hand off the grip of the casket and forcing myself to let it go. When I did that, it was a process, but it was like someone pulled a plug from my heart. The toxic emotions – the injustice, the bitterness, the questions of, 'Why? I don't understand, it's not fair!' that built up this toxicity of emotions – they just drained once that plug was pulled out. I started realizing how the condition of our hearts affects the way we see. If your heart is full of bitterness, anger and resentment, you're going to look at this world as a very evil place. That's exactly what I was doing. Once I let that go, I found this beautiful place. The sky was bluer, the grass was greener, I don't know how to explain it. It's powerful to have a pure heart."
To listen to more "American Idol" interviews, visit www.christophers.org/americanidol
Stay in touch! Like The Christophers on Facebook: