We were about this far from attending our first Byzantine liturgy today. Inhuman lethargy prevented our troop from mobilizing itself.
As we wait to go to our neighborhood Roman liturgy I'm listening to the following lecture by Fr. John Behr, dean of St. Vladimir's seminary:
I know his work mostly through The Mystery of Christ: Life in Death. Becoming Human seems to adopt the eucharistic-liturgical-patristic sensibility of the earlier volume in a slightly more contemplative mode:
"This book reflects upon various dimensions and implications of the astounding fact that Christ shows us what it is to be God by the way he dies as a human being and, in so doing, simultaneously shows us what it is to be a human being. Connecting the end -"It is finished"- with the beginning – "Let us make a human being"-
Fr John Behr challenges us to think again about who we are, as male and female, what we are called to become, and the relation between life and death in this journey. Presented in a poetic and meditative manner, adorned by images and offset quotations, this book inclines the reader towards a meditative reading, weighing, rather than skimming, each word and image."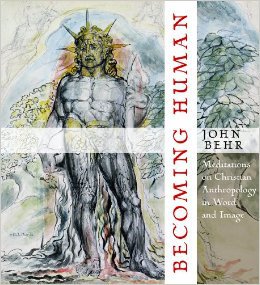 Give it a listen to explore some of the exciting things going on in Eastern Orthodox theology.