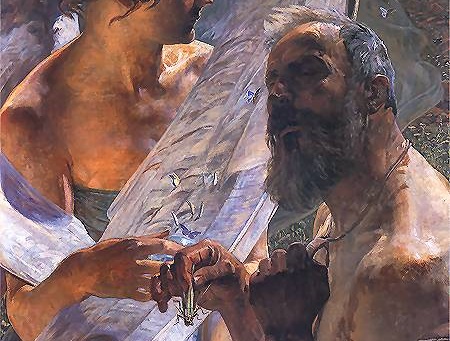 Biblical references frequently remain abstractions until they collide with our reality. After opening Henri-Daniel Rops' Daily Life in the Time of Jesus and read ingabout locust eating I searched for (what else?) a youtube video (see below). That's when I realized that locusts are merely grasshoppers in their swarming stage.
I've spent some time in Norway where they have unusual foods like reindeer salami (you feel a little like you're eating Bambi's mother) and whale steak. My paternal grandmother was one of the greatest Polish cooks I've ever known. She could and would cook anything; she lived to cook and eat. One of the strangest concoctions she made was cattle blood soup. Pig feet, tartare, and tripe soup were also common delicacies that don't seem so unusual to me. When my parents and I were in a refugee camp in Italy the whole camp was given octopus. There was a mutiny. While in Nantes, France, real France (which is basically four cities and a farm), I had some frog legs, antelope, but not snails.
Back to Daily Life in the Time of Jesus and what it has to say about locust-eating:
Maybe the world of the Bible wasn't as strange as Karl Barth would have it?

One of the most surprising forms of food [during the time of Jesus] was the locust: through indeed it is hard to see why this should surprise anyone who prizes the frogs and snails of the French cuisine. Everyone knows that John the Baptist lived in the desert upon "locusts and wild honey." But he was not the only one to appreciate this delicacy. The tractate Taanith goes so far as to claim that there are eight hundred kinds of edible locust, all belonging to the migratory race; but it does not specify their names. But in any case there were four in current use. Sometimes they were cooked rapidly in salt water, and then they had a shrimp-like taste and some a shrimp-like color; and sometimes their heads and legs were taken off and they were dried in the sun. Once dry, they were either put up with honey or vinegar, ore else ground to powder. This locust powder, which tasted rather bitter, was mixed with wheat-flour to make a much esteemed kind of biscuit, rather like those which the Chinese cooks produce under the name of "shrimp-bread."
The next paragraph of the book slides right into oil after talking about locust preparation:
Yet another book about the strange not but not entirely strange world of the New Testament.

This whole cuisine was of course based upon oil: butter was the rare exception. Palestine had a very great many olive-trees, so many that the excellent, strongly-flavored oil was exported. The olivers themselves were eaten, too, either in brine or in oil, as we eat them today. The oil was very often made in a little press at home, but there were also much larger concerns, real mills, in which men or asses turned and upright grinder in a tank. There were various qualities of oil; the best, the virgin oil, was kept for liturgical purpose and for the most delicate pastries. How could men have lived without oil? For it was not only used in cookery but also in pharmacy and medicine. It is not surprising that at least thirty passages of the Bible holds it up as a symbol of strength and health.
See how nicely eating dovetails into theology just as the human body does? You might want to look at my TOP10 list of books on the theology of eating.
Did you know you can literally eat crow (follow the link for recipes)?
What's the weirdest food you've eaten?