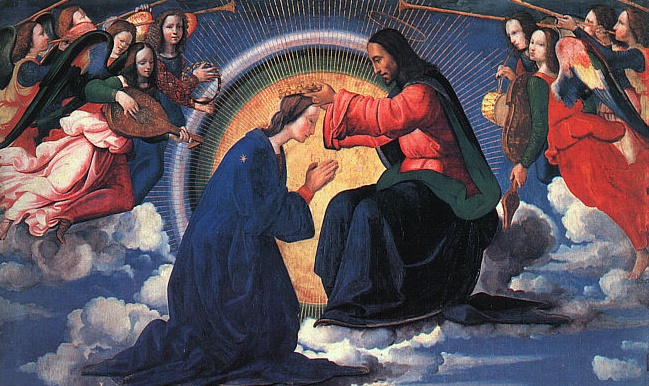 One of the great blessings of the rosary is its repetitiveness. This repetitiveness fosters the kind of presence to God and neighbor inherent to the practices recommended by Kevin M. Johnson in his indispensable interview. Repetitiveness empties our mind of the junk that veils the presence of God in our lives.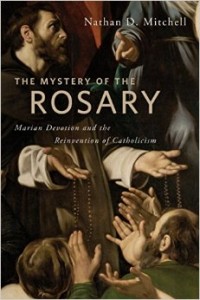 1. This repetitiveness can sometimes get a little bit impersonal. Stratford Caldecott's All Things New: The Mysteries of the World In Christ gives you an easy tip for addressing this. Insert the the name of a person or a cause where you would say "pray for us sinners." Apparently this way of including petitions in your rosary developed ages ago in the now much maligned German church.
2. Read Nathan Mitchell's The Mystery of the Rosary: Marian Devotion and the Reinvention of Catholicism about how the rosary came to be an all=-inclusive practice of piety. The standard account of Counter-Reformation Catholicism is that it standardized and flattened out the wild variety of medieval Catholicism. Mitchell instead argues that Trent and all that was behind a new flowering of varieties of piety.
3. Work those beads wherever you go to include all your workaday reality within its scope. If you need encouragement, here's Czeslaw Milosz's "Beautiful Lady" section of his poem cycle "A Theological Treatise" from his most theologically saturated collection
Second Space
:
Beautiful Lady, you who appeared to the children at Lourdes and Fatima,

What astonished these children was your loveliness, unsayable.

As if you wished to remind them that beauty is
one of the components of the world.

Which I am able to confirm; I too have been a pilgrim in Lourdes
by the grotto, where you hear the rustle of the river and,
in the pure blue sky above the mountains, a narrow scrap of moon . . .
==================
Some old media cartoon reflections on the rosary:
For more theological surprises from Stratford Caldecott look at excepts from his works on the following topics: the Creed's symmetry, on the God of the Christians AND the Muslims, on the salvation of animals, biblical numbers, and especially this one on the Eucharist and torture. The man one of the most highly original theological thinkers of our time.
Please remember to donate through the PayPal button on the upper right hand corner of this blog's homepage. Blogging is not a lucrative enterprise despite all of its indubitable glamor and accolades. We have a car to fix, rent to pay, and I'm chronically underemployed.