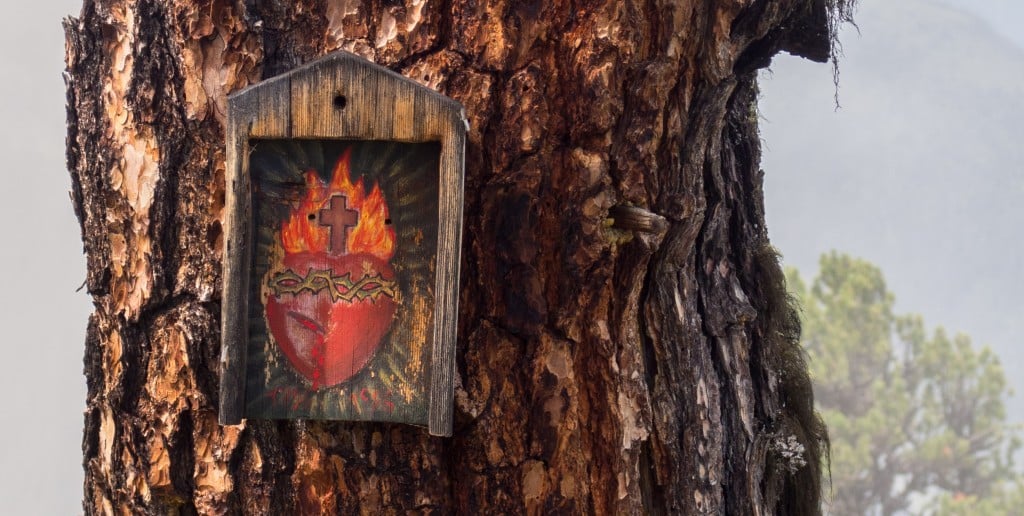 This is a guest post.
================
Emily Edmondson is a graduate student at the University of Notre Dame pursuing a Master's of Theological Studies. Originally from Texas, she completed her undergraduate education in Theology at Baylor University – a Baptist school where she took some suspiciously Catholic courses. When not doing theology, Emily enjoys cooking, linguistics, and southern scenery. You can find her on Twitter @nosdnomde where she unsuccessfully attempts humor.
================
Why Remain Catholic?
Flannery O'Connor's first novel Wise Blood tells the story of Hazel Motes, a war veteran returned home to Tennessee after sustaining injuries. Motes is the son of an itinerant preacher and exemplifies all the stereotypes one might associate with "the preacher's child." These, of course, aren't piety, respectability, and devotion to the divine. Rather, Motes is suspicious of religious practice, though obsessed with it, and once in an encounter with a gospel preacher declares that he is going to start an un-religion:
Well I preach the Church Without Christ. I'm member and preacher to that church where the blind don't see and the lame don't walk and what's dead stays that way. Ask me about that church and I'll tell you it's the church that the blood of Jesus don't foul with redemption" (O'Connor, 58).
A Church-Without-Christ is what I find to be an appealing idea to many of my peers whether once Catholic or never Catholic. The idea of belonging to a group fouled with redemption is not a claim many are willing to make. Some may find certain aspects of what the Church does to be appealing (though we unmistakably have our vocal critics) whether that be advocacy for immigrants, relief work, advocacy etc. Of course, these aspects of what the Church does can just as easily be found in an un-religion, or in a Church-Without-Christ. While advocating a preferential option for the poor is an important part of Catholic Social Teaching on the dignity of the human person, there is no particular need for ecclesial fidelity to be aware of poverty issues. It is much less of a commitment to belong to a Church-Without-Christ than the Church of Christ if one's vision of justice doesn't transcend human institutions. Why remain Catholic when we can have the easier Church-Without-Christ instead?
Elizabeth Scalia (aka The Anchoress) recently invited Catholics with any access to the blogging world to share why they choose to remain Catholic in what she describes as an era where doing so is counter-cultural, counter-intuitive, and sometimes risky. This is a question that sticks with me, especially when studies like the recent Pew Forum Study on America's Changing Religious Landscape can make the future of religious adherence seem, superficially at least, somewhat dismal with the decline of the Church and the rise of the nones-without-Christ. Despite the negative 3.1% change in Catholic adherence in the U.S., I still find being Catholic compelling.
To clarify my "still" in that last sentence, I am a convert. I have not been Catholic very long (about five years now). My conversion was both something completely routine and something very drastic. I converted from an Evangelical Christian community, which is not that big of a change in comparison to other conversion stories. Yet, for my socialization among mostly non-Catholic friends and family, there was a radical change that required I completely re-order my social world in addition to learning how to see the world sacramentally.
Learning how to see the world sacramentally entailed a creedal professing of God as Trinity and pairing that creed with the worship of a Church. While "Church" wasn't excluded from my pre-Catholic lexicon, it generally meant some sort of architectural structure, or –vaguely – the count of all true believers throughout creation. This understanding of "Church" is really no Church at all, as it is the onus of each individual believer to relate to God. Put another way, I was involved in a nominally Christian enterprise that was a Christ-without-Church.
In that vague conception of "Church" lies one of the initially compelling reasons to my conversion, the stumbling block to my Catholic faith on the hard days, and a deep-seated reason why I remain Catholic: the Church dares to take seriously Christ's Incarnation and how that Incarnation calls all human persons to relate to God; the Church is that place of Christ's sacramental presence of salvation for all human persons, united together in worship as God's people, not as God's individuals. The Church is the sign which reminds that through Christ's sacramental presence, human persons are destined to be united with God. This encounter with God, first experienced in Christ's incarnation, is what the Church preaches first and foremost, because all of the Church's ministry hinges on how creation is being transformed into relationship with God.