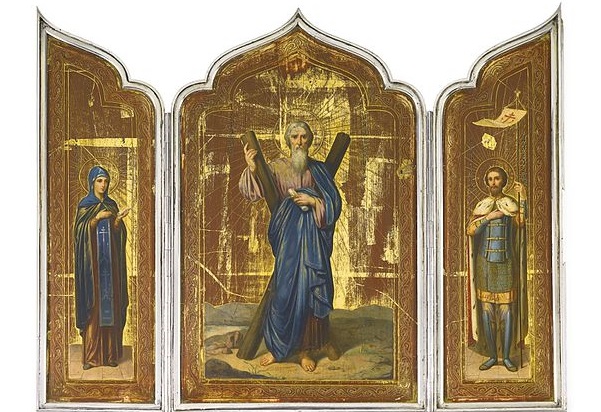 The close of Advent is not an end but a renewal of the work of deification.
Dum medium silentium tenerent omnia et nox in suo cursu medium iter haberet etc. (Sap. 1814). 'For while all things were in quiet silence and the night was in the midst of her course, etc.' Here in time we make holiday because the eternal birth which God the Father bore and bears unceasingly in eternity is now born in time, in human nature. St Augustine says this birth is always happening. But if it happens not in me what does it profit me? What matters is that it shall happen in me.
–Meister Eckhart, OP in the German Sermons of the Collected Writings
This German Sermon of Eckhart's usually raises hackles of professional heresy hunters. However, as you can see, Eckhart is quoting an authority on the matter. That authority is the Bible first, then Augustine, one of the greatest Church Doctors.
Eckhart is playing upon two very little known traditions within the Church. The first is the double understanding of the Nativity as happening first in heaven then on earth, that is, on earth as it is in heaven. Upon reflection, this Eckhart sermon talks of a second Nativity on earth, recommending we imitate both the Father and the Madonna.
This, in fact, brings the grand total of Nativities to three. I'm open to correction here since I tanked in AP Calculus, but the math seems theologically sound to me. Three is a kind of magic number in theology at least since the time of Augustine (yes, he's everywhere), who projected trinities onto every aspect of the human realm in his last major work On the Trinity.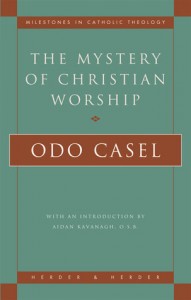 Editing Fr. Nguyen's piece on Alfred Delp as Advent guide reminded me of another ancient tradition, the tradition of Christians seeing themselves as "Other Christs." Candida Moss has written a book on the topic entitled, The Other Christs: Imitating Jesus in Ancient Christian Ideologies of Martyrdom, which I've only skimmed so far. Christians as Alter Christi also popped up in my translation of a book on theology as a way of life that could go to press in 2016.
I once again ran across the "Other Christs" tradition again on Christmas Eve, while reading Odo Casel's The Mystery of Christian Worship, between the Nativity Play and the first Vigil Mass. This was the third time I was reminded of it, so being the superstitious Augustinian that I am, I decided that it is the fullness of time to write about it. Here is the sentence in The Mystery of Christian Worship that gave me pause:
Every Christian is a Christ, as St. Augustine says, "We are to be joyful and give thanks that we are not only become Christians, but Christ."
In the next sentence Pater Casel than connects the Three Nativities motif above with the Other Christs motif:
And Methodius of Philippi in the Banquet of the Ten Virgins says: "The Church is with child and lies in labour until Christ be formed in us and born in us; everyone of the saints is to become Christ by participating in Christ."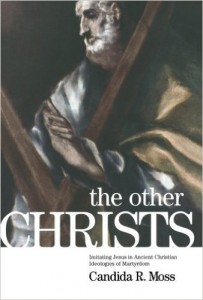 To round things out for you here is the Augustine passage in a fuller context from his Treatise on John, which can be found in Nicene and Post-Nicene Fathers: First Series, Vol. 7: Augustine:
Because also we are members of the Son; and like as what we the members learn, He Himself in a manner learns in His members. How does He learn in us? As He suffers in us. Whence may we prove that He suffers in us? From that voice out of heaven, Saul, Saul, why do you persecute me? (Acts 9:4) Is it not Himself that will sit as Judge in the end of the world, and, setting the just on the right, and the wicked on the left, will say, Come, you blessed of my Father, receive the kingdom; for I was hungry, and you gave me to eat? And when they shall answer, Lord, when saw we You hungry? He will say to them, Since ye gave to one of the least of mine, you gave to me. (Matthew 25:31-40) Let us at this time question Him, and let us say to Him, Lord, when will You be a learner, seeing Thou teachest all things? Immediately, indeed, He makes answer to us in our faith, When one of the least of mine does learn, I learn.

Let us rejoice, then, and give thanks that we are made not only Christians, but Christ. Do ye understand, brethren, and apprehend the grace of God upon us? Marvel, be glad, we are made Christ. For if He is the head, we are the members: the whole man is He and we. This is what the Apostle Paul says: That we be no longer babes, tossed to and fro, and carried about with every wind of doctrine. But above he had said, Until we all come together into the unity of faith, and to the knowledge of the Son of God, to the perfect man, to the measure of the age of the fullness of Christ. (Ephesians 4:14) The fullness of Christ, then, is head and members. Head and members, what is that? Christ and the Church. We should indeed be arrogating this to ourselves proudly, if He did not Himself deign to promise it, who says by the same apostle, But you are the body of Christ, and members (1 Corinthians 12:27).
Did you know about this theological tradition of Other Christs? You should know it in its safely confined and truncated form. Nowadays, the priest is considered to be an Alter Christus. And in some ways this tradition is preserved in the Eastern Orthodox emphasis upon theosis, that is, divinization.
For more on the tradition of the two nativities see the post Two Nativities? Can You Divine the Original Christmas Story?