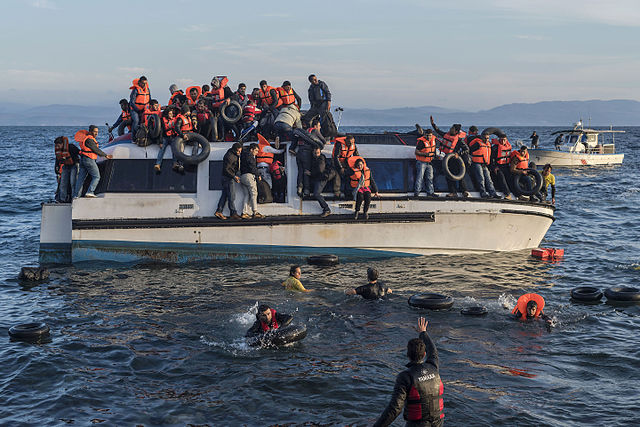 No, this piece is not about the latest front in the Culture Wars.
Or, maybe it is, but in a different sense.
The pope has sought to refocus the Church's attention from relatively insignificant First World issues to ultimately significant Third World issues (granted, usually caused by the incompetent foreign policy of the First World).
Just in case you were wondering . . . Yes, the islanders of Lesbos, home of Sappho, have long fought sexual minority activists for the exclusive right to use the title "lesbians" to solely refer to the inhabitants of their island.
Lesbos is the hub of the EU's incompetent resettlement program. People who have long sought asylum in the EU, because of political instability caused by the EU and the USA, are now about to be deported en masse to Turkey. I wonder if in the end this is going to overtake the German deportation west from Poland after WW2 as the largest such operation in human history.
The Guardian speculates, I think rightly, that the pope's gesture of adopting three Muslim families is a clear sign of protest against these inhuman policies:
There's more to Lebos than just Sappho.

Fuelling belief that the Catholic church is at odds with the EU's stance on the crisis, Pope Francis took 12 refugees back to the Vatican. An official confirmed all those taken from the camp were Syrian Muslims, six of them minors who arrived Lesbos before the deportation deal came into effect.

A spokesman for the Holy See said: "The pope has desired to make a gesture of welcome regarding refugees, accompanying on his plane to Rome three families of refugees from Syria, 12 people in all, including six children.

"Two families come from Damascus, and one from Deir Azzor (in the area occupied by Isis). Their homes had been bombed. The Vatican will take responsibility for bringing in and maintaining the three families. The initial hospitality will be taken care of by the Community of Sant'Egidio."
Beyond the headlines you will find next to zilch about the remarkable day-to-day work of the Community of Sant'Egidio. This is where I come in.
I briefly worked with this organization when I was on a 2001 study abroad in Rome. I'm fairly certain they helped our family out when we were refugees in Rome in 1986.
Sant'Egidio was founded in 1968 and claims about 50,000 members in 70 countries. It concentrates upon working in areas where governance has broken down and secondarily addressing the needs of people who suffer because of such systematic breakdowns.
Its work ranges from providing food, clothing, and housing to high-level and high-pressure mediation between conflicting sides, with support for patients with AIDS and campaigning against the death penalty somewhere in between.
They're not your typical parish social justice group, which is usually a debate group with token gestures made toward an abstraction called "the oppressed." Sant'Egidio people really, really, really like to get their hands dirty.
Their conflict resolution experts are especially highly sought after by all sides in intractable conflicts such as the one over Palestine and in any number of flashpoints in Africa. That's the reason why you see armed guards near Sant'Egidio's modest headquarters in Rome's Trastevere neighborhood.
If we are to avoid a new springtime for Hitler due to the refugee crisis, then you can be sure Sant'Egidio will play an important role in it.
SIDEBAR: For the sake of balance I should mention that Sant'Egidio also fosters much great intellectual work. The founder of the movement, Andrea Riccardi, is an eminent historian of the papacy. I'm still waiting for his acclaimed biography of John Paul II, said to be the new standard in the genre, to come out in English. They also inspired a young Jesuit biblical scholar to do physical work with the poor of Rome and to teach the Bible to street kids. This scholar who later became a cardinal, Cardinal Carlo Maria Martini, wrote many books, among them, one with Umberto Eco (who might've been a sometime member of the movement), a book-length interview Belief or Nonbelief?
To learn more about the dire implications of the refugee crisis see my A New Springtime for Hitler? piece.
Stay in touch! Like Cosmos the in Lost on Facebook:
Please also consider making a donation to this blog through the donation button on the upper right side of its homepage.