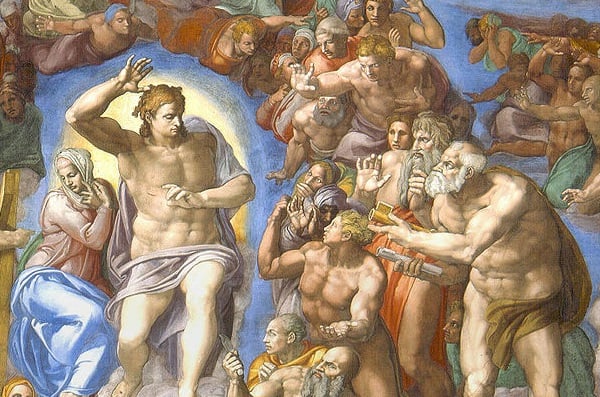 No, it's not nudity, as you can still tell from the cover photo even if I did a bangup job of cropping out some serious naughty bits from that fresco. The Roman Catholic Church in its long history has seen it all: saints, sinners, suckers–a veritable historical alphabet soup. There's nothing new under the sun for us Catholics. This is one reason why people freaking out about Pope Francis is so un-Catholic.
However, once in a while, something truly new, an event in the philosophical sense, truly happens even in Catholicism. Rolling Stone reports on one such thing:
The Edge became the first artist to ever stage a contemporary music concert inside Vatican City's historic Sistine Chapel Friday when the guitarist played a short acoustic set as part of a conference on regenerative medicines. The Edge, who called the unique venue "the most beautiful parish hall in the world," performed U2's "Walk On," "Yahweh" and "Ordinary Love" as well as a cover of Leonard Cohen's "If It Be Your Will" backed by an Irish choir.
I'm neither surprised by the song selection, nor the choice of artist. Leonard Cohen is one of the most profoundly metaphysical singer-songwriters of our time. He comes from a Jewish background, has an abiding interest in Christianity, and even spent several years in a Buddhist monastery (while his manager stole his career earnings). The best documentary on Cohen is Leonard Cohen: I'm Your Man, which was directed by a Catholic of a traditionalist bent, Lian Lunson.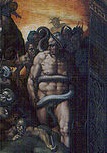 U2 has always delved into theological issues. Their lead singer, Bono, comes from a mixed Catholic and Church of Ireland background. Early on the bandmembers considered dropping their musical career and starting a quasi-monastic community–some might see that as an opportunity missed.
Bono said his father finally acknowledged the value of his music when he played for Pope John Paul II. Bono also worked on debt relief with the late pope and continues to be actively engaged with connected issues, such as the refugee crisis. The seriousness of these issues also reminds me of a joke about Bono from the 80's:

A: He was too close to The Edge.
Q: Why did Bono fall off the stage?
No, wait, this one:
Guy dies and goes to heaven, and he's stoked to see all his heroes: Jimi Hendrix, John Lennon, Kurt Cobain, etc. Then he sees Bono, and says to St. Peter, "Hey, Bono's still alive, why's he up here?"

St. Peter replies, "Oh, that's God. He just thinks he's Bono."
I almost forgot, Bono once even wrote an introduction to the Psalms. These days he's working on a video series on the Psalms with biblical scholar and translator Eugene Peterson (whom I once stumped with the second word, he couldn't figure out how to pronounce it, from this Shakespeare t-shirt at an IMAGE Journal Glen Workshop):
Finally, U2's most theologically rich album is the phenomenal Achtung Baby (the first album I ever bought). One of the songs off the album riffs on Syriac themes on the Holy Spirit. I like this video of it the best, because it features The Edge's wife belly dancing:
Stay in touch! Like Cosmos the in Lost on Facebook:
Please also consider making a donation to this blog through the donation button on the upper right side of its homepage.