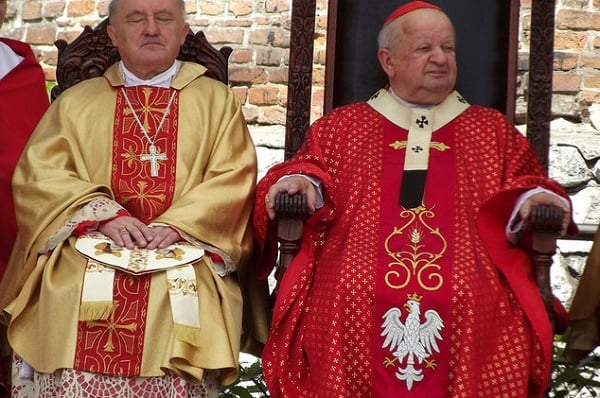 Poland is not becoming a theocracy over abortion, because it was never a secular democracy to start with. Western commentators forget this.
The Patheos "Religion Now" portal recently published a piece full of interesting contradictions on Poland entitled "Poland's Battle Between Theocracy and Secular Democracy" by Beth Holmgren.
Professor Holmgren teaches Slavic and Eurasian Studies at Duke. She specializes in writing about women in the former Soviet sphere of influence, especially in excellent scholarly tomes such as Poles Apart: Women in Modern Polish Culture and Women's Works in Stalin's Time: On Lidiia Chukovskaia and Nadezhda Mandelstam.
My experience with her work is why I was expecting a more sophisticated non-Western-centric take on the abortion debate in Poland than this Manichean vision:
In early April, the Middle Ages engaged in an unusual skirmish with the 21st century in cities across Poland. During a Sunday mass in this overwhelmingly Catholic country, priests read their congregations a letter from the Polish Episcopate calling for an unconditional ban on abortion. Scores of women then walked out in protest, their exodus filmed in famous churches such as St. Mary's Basilica in Gdańsk and Saint Anne's Church in Warsaw. In St. Anne's, one young woman started a heated argument with the priest on camera. Outside, thousands of women gathered on city streets and squares, listening to pro-choice speakers and holding up signs, many homemade, that flashed their opinions: "Hands off my uterus," "No to torturing women," "I'll have a child when I want to." They brandished coat hangers, an implement of dangerous self-induced abortion first politicized by American feminists in the 1960s.
The sharp separation of Church and state articulated by Professor Holmgren here has never existed in the United States. There are plenty of other problems with the piece on a conceptual level. It's something that I'll have to put off for a while, because my full-time job does not allow me to spend hours writing merely because somebody is wrong on the internet.
In the meantime, I was able to start a discussion with some of my Polish colleagues about getting Polish scholars to write for this blog. It will be my attempt to, if I may borrow from Gayatri Spivak, let the subaltern speak. This is maybe something that's coming in the near future on a regular basis.
In the meantime, Zbigniew Stawrowski, head of the Tischner Institute, forwarded a chapter of his The Clash of Civilizations or Civil War to me. This piece gets the ball rolling on our discussion of Polish religion and politics by reconfiguring the notion of a "confessional state" in some interesting ways.
I hope this gets the ball rolling on the discussion, so tolle lege this longread: