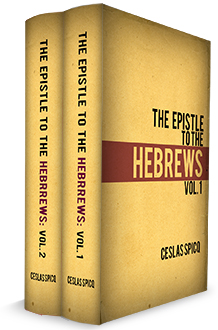 Logos Bible Software is in the midst of gathering interest and support for the publishing of French scholar Ceslas Spicq's (1901-1992) commentary on the letter to the Hebrews that was published in 1952/3. According to modern Hebrews scholars, Spicq's work was a gem, but only available in French until now. It will be two volumes and for $40 you get 900 pages of commentary!

If you are interested in Hebrews, check out the Logos webpage on this
English translation
. If you are doing a Master's or Doctoral thesis on Hebrews, I am
sure
you will want to get in on this early while it is discounted!
Let me just say that I have not read much of Spicq's work, but he published a very handy reference volume called
Theological Lexicon of the New Testament
which is always something I consult when I am doing translation and word-study work. So, if his other work meets the same standard of excellence, it is well worth looking into!