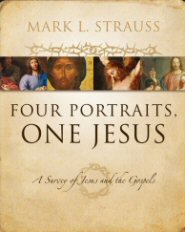 Recently I read Mark Strauss' Four Portraits, One Jesus: A Survey of Jesus and the Gospels (Zondervan, 2007). It is the best introduction to the Gospels I have ever read! A number of good textbooks exist (Blomberg, Powell, Stanton, Adams), but Strauss' volume is (1) comprehensive, (2) attractive, (3) fair/balanced, and (4) current.
Now, knowing it is a Zondervan textbook, you could guess that it has a conservative perspective. No doubt. Strauss shows a preference for traditional authorship, but he does not argue for it dogmatically.

I have called this an "amazing textbook" because, even though I like its basic content, it works really well 
as a textbook
. There are loads of visuals – pictures, charts, lists, explanatory sidebars, etc… Some of these charts are among the best in NT studies I have seen in 
any
textbook. Also, at the end of each chapter, you will find
(1) Chapter summary – really nice 1-2 page outline of basic pts made in the chapter. Perfect for studying for an exam or refreshing on the info for pastors working on a sermon or Bible study.
(2)Key terms
(3) Discussion and study questions – very well written questions good for reviewing.
(4) Bibliographies for further study. When you get into the Gospels themselves, Strauss offers suggestions for a range of commentaries from basic to advanced.
If you teach a course that introduces the Gospels, this book should be in your office. Even if you don't use it as a textbook, you might still find the charts really handy. Thank you Mark for this gift to students 
and
teachers!