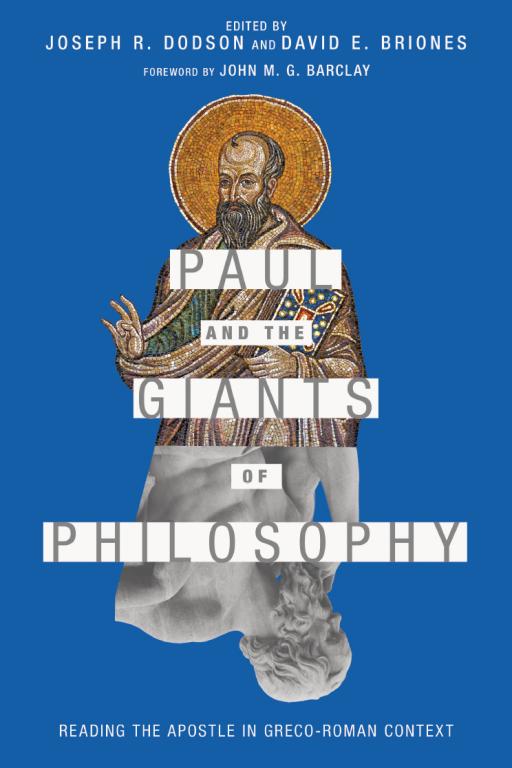 If you follow me on social media, you might know that I am really excited about the new book, Paul and the Giants of Philosophy, edited by Joseph R. Dodson and David E. Briones. I have a short essay in this work, and I have had a chance to read some of the other essays. It is an excellent comparative study, bringing the Apostle Paul into conversation with the moralists and big thinkers of his time. Below is a bit more about one of the editors, Joseph aka "Joey" Dodson (who I am going to hang out with this weekend, as it happens!).
NKG: How did you become interested in the subject of Paul and ancient philosophers?
 JRD: I became enamored with Socrates and Plato in ninth-grade when Mr. Gilmore lectured on their lives and works. I doubt Mr. Gilmore was familiar with N.T. Wright's comment about Plato being the "New Testament" for the people in the first century, but Mr. Gilmore said something similar. "Socrates was like the Greek Jesus, and Plato's books were kinda like the Greek Bible." Intrigued, I checked out my library's dusty copy of The Republic. Being one of those too-cool-for-school popular kids (e.g., an athlete, the prom king and most of the other John Hughes' stereotypes), I remember hiding The Republic between the seats in my truck to keep my friends from seeing it so as not to ruin my reputation. Since I was also a part of an anti-intellectual church tradition, I would also stash the book under my bed to avoid freaking my parents out because their little Baptist boy was reading pagan philosophy. [NKG: LOL!]
It took me a couple of years in college to realize I didn't have to hide my love for learning and that it was really okay to read ancient philosophers in addition to my Bible. This became all the more the case when I was assigned to write an undergraduate exegetical paper on Paul in Athens (Acts 17), where the apostle himself quotes philosophers and where Luke presents Paul as a "new Socrates." (It dawned on me: I too was a "spermologos"!) [NKG: editor's note, spermologos means "seedpicker" = "babbler"; get your mind out of the gutter] Later on I discovered Paul was not the only Jew to employ and integrate ancient philosophy. I started reading the writings of Philo, the Wisdom of Solomon, 4 Maccabees, and other Jewish works, which in turn lead me further beyond looking at Paul in light of Socrates and Plato to investigating Paul in dialogue with Seneca and Epictetus (for that story, see https://dailystoic.com/joseph-dodson/ ).
NKG: This is an academic book (Paul and the Giants of Philosophy, PGP), but the audience in mind is students, pastors, and anyone interested in the New Testament and in Paul. (Dodson edited a more scholarly book called Paul and the Greco-Roman Philosophical Tradition and also Paul and Seneca in Dialogue). Why would you say this kind of book (PGP) is helpful for Christians in general? What can pastors, for example, learn from this study? 
In The Republic, Socrates argued humanity would never reach the eutopia until kings are philosophers and philosophers are kings. I have a similar burden. It is to raise up pastors and Christian leaders who have the mind of a scholar and the heart of a shepherd. Because most people do not have the time or energy for academic works, I desire to take what's cooking in the ivory tower and walk it down to the church in order to share it with our brothers and sisters doing the amazing work of ministry on the ground. Since placing Paul in dialogue with an influential ancient philosopher has been a burgeoning enterprise in the academy lately, I asked some of these authors to take their work and boil it down for students, pastors and interested laypersons. Similar to what John Barclay says in the preface, I myself learned so many new things about Paul and his theology from reading these essays. Aspects and passages at which I had previous yawned, now – because of these new insights – I gaped. "Wait, is that what Paul meant by faith in 1 Corinthians?!," "Wow, that really changes how we should apply Romans 14-15 in our churches," and so on and so forth. To borrow from what my co-editor, Dave Briones, says in the introduction: comparisons (properly done) lead to clarity in understanding the gospel, which leads to more poignancy in preaching to our people and to greater effectiveness in making disciples of them.
NKG: When you are not "scholaring," what are your favorite hobbies?
I love traveling and watching Netflix with my wife, hiking and hanging out with my boys, drinking coffee and reading poetry with my daughter, and watching sports (especially the New Orleans Saints).
NKG: What are some other writing projects you have in the pipeline or are working on?
 JRD: Well I am not nearly as prolific as you are, but related to this interview, I am writing the "Philosophy" entry for the new edition of IVP's Dictionary of Paul and His Letters. I have also been asked to write an essay on 4 Maccabees for The Septuagint and Old Testament Apocrypha volume (ed. James Aitken and Bruce Longenecker). In addition to these, I am writing a book on Romans 7 for Lexham Press, a commentary on Colossians-Philemon for Thomas Nelson, and one on Romans for Brill. 
NKG: Thanks for sharing, see you soon!