New Book
SHALL BE BRIGHT AT LAST: Suffering and Hope in the Letters of Paul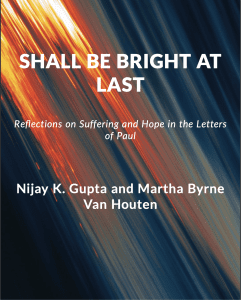 A couple of years ago, I taught a graduate seminar on the subject "Suffering, Pain, and Hope in Paul." Coming out of that wonderful course, 8 seminary students and myself wrote sermon-style reflections on suffering and hope in Paul.
This book is part of an open-book initiative of George Fox University, so we produced it so it could be free for anyone and everyone everywhere forever.
My own contribution is called "Don't Worry, Be Happy!," a reflection on Philippians 4:6-20. These essays are meant to be gritty and real, not sappy and fake. We all share difficult life stories and we lean towards hope, even though we cannot always see the silver lining. The Church has a hard time talking about suffering and pain. I hope this book will help to broach this subject. I encourage you to consider utilizing this (free!) book as a group Bible study resource or for personal formation.
Click on the image below to read my chapter.